Relatively new to racing, Sandy and Eugene Arundel left the TBA Sales Complex on Saturday evening with three more horses to complement their fast-growing string.
The blunt reality is that people like the Arundels are a godsend for an industry under a punishing ride. They love their horses and are intrigued and captivated by the game.
It's a well-known principle in all walks of life that unbridled enthusiasm, unfamiliarity with the terrain, and starry eyed ambition can be an eclectic passport to disappointment.
But the 53 year old Sandy and her 60 year old husband Eugene are seasoned highly successful business folk in their own right and are not entering SA racing's starting stalls wearing blinkers. The proud grandparents are semi-retired and are really just out to enjoy the fruits of their labour through their horses and the sport of kings.
Sandy, who boasts no horsey or pony club pedigree, tells how she left the rigours of a top position in an IT multinational and the corporate world behind her some years back. Today she and her husband run a multifaced IT hardware and heating, cooling and ventilation business.
And their racehorses – no matter the price ticket – are simply the family's pride and joy. They now have around 18.
"We have really and truly met some wonderful folk in this industry in the eighteen months that we have been involved. With the pandemic dominating the landscape for much of that time , we also realise that things can only get better and are excited with our plans to race across KZN, Gauteng and the Cape. We are not high-profile party animals but want to stay involved – to go racing, watch them run, watch them at work and have fun," she tells the Sporting Post in a catch up earlier this week.
While racing is perceived as a hard knocks cut-and-thrust game, where nobody really gives a damn, or an inch for that matter, the Arundels are a true breath of fresh air and clearly determined to be in it for the marathon haul.
The couple, who are very actively involved in their IT business which has its Head Office in Bedfordview, commute between their homes in Johannesburg and the Simbithi Eco Estate near Ballito on the KZN North Coast.
In our chat with Sandy, she gives the impression that the North Coast has become their preferred home from home.
She told how their plans had unfolded in a positive direction after being introduced to trainer Wendy Whitehead by family friend and informal adviser, Gold Circle's near pension Executive Graeme Hawkins – after last week, surely South Africa's only Equus champion racing administrator?
The straight-as-a-dye Wendy Whitehead was the perfect foil and just the kind of no-nonsense horse and people-loving personality that Sandy and Eugene were looking for.
"We just clicked with Wendy from day one. We didn't want an arms-length kind of trainer who picked and chose when they took our calls. Like most owners, we're looking for honesty, interest and somebody on the same page as us. Straight-talking only hurts if you are sensitive. If my horse is slow, tell me. I won't love them any less," laughs Sandy as she tells about the thrilling two days of last week's National 2yo Sale at the TBA Sales Complex in Johannesburg.
They were involved – much to Sandy's discomfort – in the bidding war highlight of the sale. The subject of the duel between Warne Ripon, Arun Chadha and the Arundels was the well-bred #291, Maggie Smith, who ended up the second top lot on the sale – and the leading filly.
The Mauritzfontein-bred What A Winter daughter out of a three-time winning New Approach mare, was eventually signed for at R850 000 by Wendy Whitehead.
"It's an awkward situation bidding against people who want the horse as much as you do. They have done their homework and shortlisted her. Maybe I'm too much of a softie and I didn't want there to be a loser out of it. But I'm really pleased that we got her!"
The Arundels also picked up the Wilgerbosdrift-bred Morgan La Fey, a R450 000 daughter of champion freshman, Rafeef. The beauty is closely inbred to National Assembly, and a half-sister to five winners out of Gr1 winning champion Laverna.
Their 'cheapie' was #193, a Piemonte Stud-bred Crusade colt called Grande Lupo, who was secured for R90 000.
The diverse basket of purchases are explained by the Arundels' selection strategy.
"Myself and Eugene do our shortlisting based on the page and conformation. We have learnt that compromising on conformation can be a ticket to serious vet bills! Once we have the list it's over to Wendy Whitehead and Robbie Dawson, who are very kindly our expert-eye second checkers. Once they have confirmed what we believe we have seen, then we have the confidence to try and buy. Grande Lupo has everything in the right place. He is an athletic and beautiful specimen. I love his colouring too!"
All three of the Arundel's BSA National 2yo Sale purchases are going to Wendy Whitehead.
In an unusual move by an owner, which illustrates the unique approach by the Arundels, the new trio will replace their three March 2021 Cape Premier Yearling Sale horses who will leave Wendy soon to join the Eric Sands yard at Milnerton as  a precursor to being targetted at the CTS Gold Rush.
Sandy bought one of the two 'Prospector's' certificates that were available after the Cape Premier Yearling Sale.

In January 2023, 16 Prospectors will have an opportunity to participate in the CTS Gold Rush, a 1600m race in which a capacity field of 16 runners will participate. The Prospectors will be able to negotiate outright purchases or partnership deals in the lead-up to the race.
The R7,5-million on offer will make this the richest race in South Africa. The winning owner, or owners, will receive a lucrative R5-million.
"We live in hope and one has to dream big in racing! Hopefully at least one of them will be able to run for the big prize," says Sandy, as she tells that they came into racing in the climate of modest stakes – so are not too concerned about that favourite hobbyhorse of inevitably angry debate.
"If I could wade in with a suggestion, maybe the breakdown of stakes could be reviewed. Spread the love – take some away from the winner and spread it wider. The other day we ran fourth and got a return that didn't cover much. I'm not sure that's the answer, but the winner costs as much as the fifth horse to feed and keep. Just a thought."
‹ Previous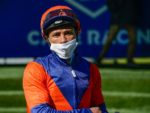 Craig's Motivated For A Big Season