The 2014/15 season has truly belonged to Sean Tarry. He has been in devastating form in all the major feature races and approaches the 2015 Vodacom Durban July with an enviable arsenal of runners as well as strong designs on the National Trainers' title.
There are few feature races on the South African calendar that Sean hasn't won in his 18 years in the profession. I can say that with confidence as he keeps a running tally on his website. He's having a heck of a season, so it's hard to guarantee these figures will still be accurate by the time we go to print, but his latest stats read 1,168 winners, 107 stakes winners and 29 Grade 1 winners. He has broken the trainer's earnings record and his tally stands at a little over R24 million for the season. With several weeks still to go and all to play for in the forthcoming Vodacom Durban July, his focus and determination are absolute.
About Sean
Sean Tarry was born in Johannesburg on 6 August 1968. He grew up in Northcliff and attended Randpark Primary and then Northcliff High. Although brother Mark had a fascination for pedigrees, there was no real family connection to racing, so Sean didn't harbour any serious ambitions to be a trainer until matric. "Teachers in those days didn't give you much encouragement. You were told to stop daydreaming and focus on a proper career, so although I always thought about the option, I never took it seriously."
After his national service, Sean tried his hand in the retail trade. Things didn't go according to plan and finding himself at a bit of a loose end, he decided to take a gap year and spend some time outdoors. He gravitated to the local racing yards. "What I had in mind was more just a bit of time out – I was never really making a plan to stay." Best laid plans!
He explains, "My brother-in-law, Damon Rahme was trying to take out his license and spending some time with Bertie Hayden. It was an easy 'in' for me. I was never Bertie's assistant or anything, just tagging along with Damon and checking it out. Damon took out a license himself and for a while I spent time with him, then I went to June Casey to learn stable management. Mark had a few horses with June and again, it was an easy 'in'. I wasn't being paid as a stable employee or an assistant, I was just learning. After that, I spent some time with Greg and Karen Anthony – Mark had horses there as well – and that was basically it."
Flying start
With support from brother Mark, Sean went out on his own in May 1997, proving from the word go he had what it takes when Supreme Magic won on Sean's training debut. A week later he saddled his first feature winner when Sorevof won the John Breval Handicap. "Not long after, we won the 1999 Gosforth Park Fillies Guineas with Golden Apple – and she was also just touched off in the Woolavington. She's another horse Mark bred and owned and is the dam of Pomodoro."
Career Highlights
"My first Gr1 was the 2005 Met, so that would obviously be a big one. National Colour winning the Computaform Sprint and being touched off in the Nunthorpe Stakes was really big for me at the time. And probably the two July wins. Obviously every winner I appreciate, every Graded winner I'm thrilled about and every Gr1 is elation and relief, but I think those would probably be top of the tops."
"Being the giant slayer also seems to be a big one. Succesful Bidder downing Pocket Power in the 2007 Gold Challenge and Buy And Sell beating him in the Champions Cup were also satisfying. When you're up against big names that can't be toppled and you're able to get your horse home first, it's special too."
Client Management
"I always say that if we're going to travel together, then we need to have the same expectations, the same starting point and the same destination. I try to deliver in terms of results on every horse as best as I can. I don't like being told where to run or how to manage my horses – if you've selected me to train, then let me get on with it. I am very fortunate – most of my big clients are driven by results and obviously not by my PRO skills, because I don't do a lot. There are people who want to hear about their horse every week and much as I'd love to be that person, I'm not. There's not a lot of extra reporting, or by the way reporting and I'm probably not in touch with clients as often as I could be. When things are going well, if horses are going to run or when things have gone horribly wrong then they need to know, but there's no point putting pressure on them for every little bump in the road. It works for us."
Stable strategy
"I think it's very hard to plan long term goals – you are certainly motivated as a team to be competitive each year and win as many Grade Ones as you can. That's what the game is about – Grade Ones. Regardless of how many winners or stakes I've earned, if I haven't had a Grade One I feel I have failed. To me it all revolves around Gr1's and Gr1 horses and I think if you want to have them in your yard, then you have to go and find them. You can't rely on support to come your way, like owners or agents sending them. It does happen here and there, but you have to put the hard yards in at the sales – that's your future. You can't plot your graph or define it too clearly for a season, you can only do as well as the horses you've got in your yard at the time. If you don't have the Gr1 horses, then you've got to lower your sights. It's not nice, but you've got to be realistic." Fortunately that doesn't happen too often these days.
Keys to success?
Sean is known as a yearling picker par excellence and it is this skill above all others that has formed the foundation of his success. "My eye for picking horses has developed over time. I think you need to have an eye for detail and you also need to pay attention to detail. There are certain things you learn through experience you can live with, certain things you can't. I always say all horses are not perfect, but the perfect horses are generally not the good ones! So you've got to be forgiving in some areas if you are really strong on a horse in others, so I suppose it's a balance and you've got to find that balance. I just feel more confident if I do it myself."
Team
"We've got around 175 horses in the yard. It's a tricky balance with a large string – one doesn't always get round to every individual horse, but that's why routine is so important. A good routine is like a well-oiled machine. Horses thrive on routine and when something is out of the norm, it sticks out quite easily when there's a problem."
"Deshone Steyn heads up my Durban yard and has been with me since the time Succesful Bidder won the Drill Hall Stakes. He's a solid, reliable person. He obviously has his own personal challenges, but they don't seem to get in the way of getting the job done and he's one of the bankers."
"At home we've had quite a change around in the past few seasons with people coming and going, but two who have been with me from the start, and worked their way up through the business, are Shylock Mtwesi and Andries Nzongo. They are my left and right hands. Andries got to assistant level before Shylock, but they're both there now and it's absolutely amazing to see how these guys blossom once you empower them. We've got a lady by name of Sonnika du Plessis who has only been with me a short time in the role of stable employee and she helps in terms of emails, IT and all our computer stuff. She's also helping Andries and Shylock become computer literate."
"I also need to mention my farrier, Andy Rivas, who has been with me from the start, my vet Toby Tadmore and physio Sue Ainsworth-Taylor. Baker McVeigh look after my horses when they travel out of Johannesburg and Mark Moody is our farrier in Durban. Then there's a lady called Retha van Deventer who runs a spa at my yard. It's not mine, but I seem to be the only customer. I'm not complaining – although she might be! Those guys are pretty much part of the team and the family."
Jockeys
"I've got a team of guys I work with and even if it's not necessarily guys that ride for me a lot, we know each other well. At the moment, the guys who know me, know my horses and my expectations, are S'manga Khumalo, Raymond Danielson, Craig Zackey, Julius Mariba – who's hit a flat spot, but is a good enough rider to bounce back – and Piere Strydom. There are a few youngsters as well, but those are the guys I see as part of the team. I'm also not the easiest to work with and I don't give out rides early when noms come out, but I've learnt to work with them and them with me. We're comfortable with the way we do things and it simplifies my life not to have to worry too much about riders."
Older horses
Sean is unique in running horses for longer than we're used to, but usually with a great deal of success. The 7yo Gold Onyx finished 3rd in the Queen's Plate and a flying 2nd in the Met. "I find older horses quite interesting. For clients that have experienced me hanging onto horses till they're 6 and 7 and not gone to the top, it's probably a bad experience. However, I'd say 6 or 7 times out of 10 when we identify a horse as having a lot of ability and they have been problematic, or I've not been able to extract wins out of them easily, with a lot of them we've got them there with patience and time, but unfortunately not all of them. Once you've seen it and done it, most people see the value, but unfortunately economics usually dictates. Sorevof had his last race when he was 11. I don't know what the science says in terms of horses being fully skeletally developed, but to me they're not fully mature until they're 6 or 7, so it's hard to believe we are kicking them into touch at 3. Having said that, I do understand why – even if you had a lot of patience and cash and could try and look after every one and get them there, it's not always possible, but I don't like to limit a horse's career or chances by their age."
July day
"I'm pretty focussed on the main race and we'll probably have 5 in the July, including Legal Eagle, French Navy, Halve The Deficit, Gold Onyx and Tamaanee. Listen, it's nice to have a few in there. Obviously things have gone smoothly up to now, besides Gold Onyx's prep run. He overraced, got too close to the pace, went too early and then didn't finish, but he needed the run. Besides that, Tamaanee lifted a shoe in the Woolavington, so those two runs one has to ignore. Otherwise, it's all gone pretty smoothly, but we're still a long way out."
"To win races like that you cannot have a bad day, everything needs to go right. Put it this way, if you have 3 horses with equal ability, the horse with the better prep will win. Sometimes a classy horse can get away with a few hiccups and beat a horse with a smooth prep, but you'd like to think if the handicapper has his sums right, they should be a lot closer together. So in a handicap it's even more important that things go right."
Championship
"It's looking very positive, but I'm not the sort of person who would ever think of celebrating before the last meeting. It looks like it's going to happen. I'm not sure whether it's mathematically possible for someone to pass me, but it's not a foregone conclusion. It looks hard, but I'd rather just get July day behind me."
It's a privilege to chat to Sean on the threshold of his biggest career achievement and we wish him all the best.

‹ Previous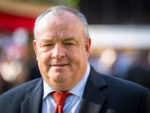 Mike de Kock