The absence of the regular big-hitting out-of-town jockeys in the Eastern Cape has created great opportunities for the lesser acclaimed riders.
And a man taking the gap with both hands is one Shadlee Luke Fortune, who registered a career milestone at Fairview last Friday.
The 23 year old Capetonian, who grew up on the unforgiving streets of Elsies River in the Cape, told the Sporting Post that he was grabbing the reins with both hands and was determined to make a serious go of a career that started with his first ever race ride on Kings Gold at Clairwood in September 2013.
While a genuine Capetonian at heart, Shadlee is loving life in 'the Bay' and working hard on building his confidence after sustaining a race-riding injury late last year.
He found himself laid low through the recovery period, and then Covid-19 struck.
"It was a tough few months and a low start to 2020. But I'm glad I moved up here to rebuild. I'm enjoying some good support and the local racing people are warm and hospitable," adds the rider who has 'no weight issues' and goes to scale at 53kgs max.
The animal lover misses one aspect of Cape Town – his beloved 'baby, Bloo'.
"I love my dog! He is spoilt and I have to phone him now and again. He also watches me ride. As long as the family feed him his cheese every evening, he is content," he laughs.
At Fairview, Shadlee rides work at the Alan Greeff and Grant Paddock yards, and tells us that he goes wherever else 'they will have me'.
His two winners last Friday were for Grant Paddock (Varsity Bourbon) and the Alan Greeff feature success with American Princess.
It was Shadlee's second straight win on the Master Of My Fate filly – and his maiden career stakes success, after he won the Diamond Stayers at Flamingo Park in 2018 on Sea Bean.
"American Princess is top-class. She won so well, and she won't stop here, in my opinion. I looked back on her form and she has won from 1400m to 2400m. So she is above average and she really gives me a great feel," he added proudly.
He has clearly matured substantially in the seven years since we last chatted, and we had to make sure we weren't speaking to his Cape champion jockey cousin, Aldo Domeyer, when we rang him.
"Aldo used to let me answer his phone. And most people thought they were speaking to him," he laughs, as he tells us that he is proud to be associated with the famous Fortune family.
"Being a Fortune has its pro's and cons. As it probably does in most families. Most of the time people are pleasant. When they aren't, I remind them that  I am my own person. Now I have to just focus on being half as good as my SA Champion Uncle Andrew and my cousin. I have unlimited ambition and age on my side," he points out modestly.
Top Cape jockey Aldo Domeyer, who was a massive hit in Hong Kong too, once told us that his younger cousin would do very well and added rather modestly that he 'reminds me a lot of myself.'
Shadlee decided at the age of 6 that he wanted to be a jockey. Uncle Andrew apparently walked in one day after races and the young man looked up at him and said, 'that's it!'
The young Fortune completed his junior schooling at Claremont Primary, and then went on to SACS before leaving for the SA Jockey Academy at the end of Grade 9.
He was part of the same intake as Tristan Godden, last Saturday's Gr1 Golden Horse Sprint winning rider Callan Murray, and Matthew Thackeray.
Shadlee's first winner came at his 16th ride aboard National Forest for Hekkie Strydom at Fairview.
Cousin Aldo rode in the same race.
"At the pull up I heard somebody screaming my name. I turned and saw Aldo showing me a thumbs up with a broad smile and he couldn't stop congratulating me and said that he was proud of me. Then my Uncle Granville (Cupido) was on course, as he had a runner on the day. Having them both there to share my joy made the moment for me. It was very emotional," recalls Shadlee.
He turns 24 on 26 August and tells us that he enjoys being at home and is no party animal – and says that he is working hard on getting his career on track.
The fact that the local jockeys are getting more chances due to the lockdown are something of a well-timed godsend.
While he wouldn't be drawn into the discussion that a better balance could be achieved in the riding ranks through curtailing raiding jockeys, he does concede that the fact that the jockeys that are doing the work in the mornings are riding the winners, is a major inspiration and confidence builder.
"Marc Deetlifs will be doing my rides from next season and I am determined to boot home more winners. I'd also love to try and secure a sponsor too – but is that a bit cheeky to ask?" he laughs shyly.
‹ Previous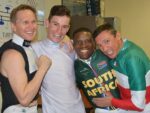 Striker – One More Season!