The name Monty Roberts needs little introduction in the world of racehorse training. And one of his newest protégés, Simon Marrier d'Unienville, is already making his mark in his hometown of Midrand, Gauteng.
In little over a month of working at the Randjesfontein Training Centre, Simon is already known as the 'go to guy' for racehorse problems, counting top trainers Sean Tarry and Dianne Stenger among his new clients.
"The response from the trainers has been phenomenal," said Simon. "At the moment I have more horses lined up than I know what do with. The problems vary from horses not jumping at the gates, to youngsters too wild for the riders to start, to those that need sedation to be shod. I assess each horse I'm asked to work with, create a training plan, and work session-by-session to help them overcome their fear."
Simon has spent the past three and a half years studying under world-renowned 'Horse Whisperer' Monty Roberts and his team of Certified Instructors from across the globe.
"Many people call it horse whispering or 'natural horsemanship' but we don't use the term. As Mr Roberts says, 'what's natural about saddling and riding a horse?' so we rather say non-violent horsemanship or gentle, effective horsemanship. We use an understanding of psychology and Equus, the horses' natural communication system, to build a willing, trusting partnership with the horse – allowing us to work through any remedial issues they may have," he said.
Growing up in Durban as the son of an immigrant Mauritian father, Simon says horseracing was part of his weekly life from as early as he can remember.
"Mauritians love their horseracing and there wasn't a time in my life when my dad wasn't off down to the Tote to place his bets and watch the races. Some of my family was involved in the industry so we spent a lot of time at Summerveld."
Simon played polocrosse in high school but left horses behind when he began a career with a civil engineering firm that involved extensive travel around Southern Africa.
In 2016, after having the opportunity to have horses back in his life, Simon made a decision to pursue becoming a Monty Roberts Instructor and working with horses full time. Determined to be the fastest qualifying instructor, Simon was certified in August 2018 and has dedicated his new career to making a difference in the lives of people through the healing power of horses.
When he's not working with remedial racehorses, Simon runs a non-profit, Horses 4 Hope, which holds regular equine-assisted workshops for at-risk youth.
"I'm one of 14 Lead-Up® Instructors world-wide which is a Monty Roberts programme that's been scientifically proven to reduce violence in vulnerable youths," he said. "We work with teenage orphans from our local Child Welfare and other NPOs. It's wonderful to give back and help make a difference in the lives of these kids, while introducing them to horses at the same time. I'm committed to reducing violence against both horses and humans."
At the age of 41, Simon is proving it's never too late to change your career and still make an impact.
"Mr Roberts is such an inspiration. He's twice my age and still touring the world, doing demonstrations and working with difficult horses. And he'll be the first one to tell you he's still learning. Learning from and working with him has been the greatest honour of my life. Tens of thousands of horses owe their continued career, and mere existence, to him and his methods. He gave me the inspiration and courage I needed to completely change my career. The Roberts are amazing people and becoming a certified instructor makes you part of their extended family. Their encouragement and support, and that of my family, have gotten me where I am today. And I am grateful for every moment I spend doing what I love," he added.
One of Simon's key areas of focus is in training more South Africans in Monty Roberts' methods.
"It's almost always not a horse problem, it's a people problem," he laughs.
"Mr Roberts says the most important piece of equipment in horsemanship are the hands that hold it. And if I can teach the hands to be gentle, I'll have a lot less work for myself."
And Simon's assistant, Bianca van Vuuren, is one of the first students in training in South Africa to become a certified instructor.
In addition to holding Monty Roberts certification courses, Simon has created a two-day groom training programme which he hopes to start implementing at Randjesfontein and other training yards in the near future.
"The work riders, grooms and jockeys I work with are thirsty for knowledge and open to new ways of doing things. When I work with a remedial horse I don't just work with the horse, I work with their trainer, rider(s) and grooms too, helping them understand the cause of, and solution to, the problem. And I believe all jockeys, work riders and grooms should undergo a short horse psychology course in addition to their vocational training. By understanding how horses think and why they act the way they do, they could avoid creating the problems in the first place."
"I read in Sporting Post a couple of weeks back that one of the head grooms at a Cape training facility had been to a Monty Roberts demo and calls him a 'magician'. And it's true. What we [Monty Roberts trainers] can achieve in such a short time is truly remarkable. But unlike magicians, none of what we do is an illusion or a guarded secret," he added.
Visit www.equiville.co.za for more
When asked what she thought of Simon's work with her horses so far, Dianne Stenger said:
"In my time as a trainer – that's over 30 years – I have yet to encounter so talented an individual, nor a person more knowledgeable in this field. He is truly a phenomenal horseman."
Pics supplied by Yvette d'Unienville
‹ Previous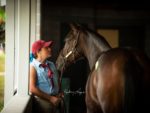 Love Horse – Will Travel!