When Justin Snaith won a record breaking 8 races on Met day 2016, in his podium speech after Baritone's win in the last of the afternoon he stated he'd gladly swap the eight wins for a victory in the Met, resolving to apply himself even harder. It took him two years, but on 27 January 2018, he did it, not only winning the Sun Met with Oh Susanna, but saddling five winners on the day, including three Gr1's. With Justin taking a well-deserved break, his brother Jono gave us a bird's eye view of 'Snaith day'.
Phenomenal effort
First and foremost, the win came thanks to an enormous amount of dedication and self-sacrifice from Justin. "Justin has put a lot of effort in – more so than I've ever seen," says Jono. "He does everything himself, even driving the horses to the beach. He's had to sacrifice a lot with his family – and his young daughter in particular – to have the day we wanted. I'm just glad it paid off."
New Approach
In December last year, Justin announced a new strategy for this season – and it's one that's paying dividends. Jono explains, "It wasn't anything specific, Justin just changed his approach for the Cape season. In the last two years we went flat out from the first bell and although it was successful, by Met day the horses were tired, so this year we decided to take it easier. We were a lot more forgiving at home, we didn't run the horses often and when we did run them, it was to bring them along. It was purely a less is more approach. And the results are here," he smiles happily.
This year's Met card showed evidence of a more disciplined approach, with notably only a single runner in the Summer Juvenile Stakes – usually one of their major targets – and rather than the volume of runners of years past, they noticeably opted for quality over quantity. "Because Justin is so competitive, he always wanted our 2yo's to win first time out, which required a lot more hard work into those early races and attention from the handicapper. We haven't run many 2yo's this season, which we think will be a positive later on."
"On L'Ormarins Queen's Plate day, we ran more horses than we might have wanted to, but we got a call from the NRB asking to help fill races and we try and help Kenilworth where we can."
WFA
Jono was a proponent of changing the Met to Weight-For-Age, campaigning via the Industry Liaison Committee for the switch. "The July is a sensational race, but it's a handicap and therefore it's seldom the best horse that wins it. Pure WFA encourages the best horse to win and we want the best horses to win our best races. It took a hard 6 months' slog, but we got it through. Funny enough, at the time, Justin said, 'do you realise, you've just cost me the Met?' I said I still believed it was the right decision for racing in the long term, but as it happened, we supplemented Oh Susanna late and the pure WFA suited her, but I think even with an extra 2kgs she would have won," he states confidently.
"If you look back at the results, Legal Eagle is the best miler and he won the Queen's Plate and we think Oh Susanna will be a superstar in time to come and I think in both cases, the best horse won on the day. It's a good result for racing."
Smooth Prep
"We've had such a good vibe in the yard this season and Justin was so happy with the horses and the team, the day couldn't come soon enough. The strategy paid off. We've never brought such a robust group of horses to the course and I've never seen Justin that confident."
How the day unfolded
After saddling first two past the post in the day's opener, Sergeant Hardy opened the throttle in the Cape Flying Championship, bringing home the trophy for Veronica Foulkes and her son, Oscar. "It couldn't happen to nicer people," says Jono. "Sergeant Hardy cost R70k and look what he's done. He's all heart. It shows you don't have to spend millions to have some fun. It's a lovely story for them and for all the small breeders. In fact, you have to give Vaughan Koster a mention here too for Snowdance – what he does off a small base is phenomenal – Legislate, Bela-Bela, Snowdance – for us, he's been frighteningly good. Well done to him as well."
Confidence Booster
"When Snowdance won the Majorca, we were walking off the podium and Justin turned to me and said, "I'm telling you, the way she won, this year we're winning the Met. And he was right. He was so confident in his team of horses – he knew one would do it for him, he just didn't know which one. They were so hard to separate and they all had a winning plan."
The Met
The Met is a race everyone dreams of winning. "But you can only win with one horse," reflects Jono. "We would love each and every one of our runners to have won it and if things had been different or the race was run on any other day, the result could as easily have been different, but it was Oh Susanna's day. Even so, it was our other clients who were the first to congratulate us and the camaraderie made it extra special."
It's been a long slog. How does it feel to finally have that trophy in their stable? "Even though we got hit by champagne from Grant, no-one felt a thing!" he jokes. "We're just glad to be part of history, but Justin is the real star. He's dedicated himself totally to the horses. Everyone knew how important this day was. I'm glad it paid off."
It was particularly special to bring home a Gr1 double for Drakenstein, with the Majorca Stakes as well as the Met. "From a Drakenstein perspective, what they put in, is what they get out. What Gaynor does for Kenilworth and South African racing in terms of marketing our brand internationally, as well as running the L'Ormarins Queen's Plate, is such a big asset to the South African product. We are so lucky to have her and it's just nice as an industry to give her something in return with the big wins. I think Saturday will be one of the most memorable days of her life and something she'll treasure for a long time. What is even more special is that her children flew in specially for the Met and her whole family were there, including Johann, who picked Oh Susanna as something special after the Fillies Guineas. He wasn't focussed on Snowdance, but on the horse that flew up from last to run second. He said, 'That's the one.' I thought he was nuts, but how right he was. A month later she won the Paddock Stakes and then the Met."
Noting that Justin has a knack with fillies, Jono quips, "Even at school! Look at his record: Dancer's Daughter, Captain's Lover, Ebony Flyer, Bela-Bela and now these two. I think the handicapper will have their hands full trying to rate these two this week. I'm not sure they'll meet again – they're each specialists over their distance – but if they ever did, it would be a helluva race."
Grant
"He's amazing and is riding with so much confidence. With Justin and my dad both being competitive riders, good hands are very important to them and Grant has beautiful hands and is very forgiving with horses. He gives them their heads, drops them in and settles them and that's really important for us."
Team Effort
Jono pays credit to their support team and even the lead horse gets a mention. "We've got a fantastic team at home. On race day we've got my mother in the stables out the back, checking on all the horses and managing Royal Bounty, who is our lead pony" (for those who missed it, Sue painted a silver lightning bolt onto Royal Bounty's hindquarters in homage to Usain Bolt).
"Our Derby runner is a good example. Do It Again is a bit of a stressy horse and him and the lead pony are best mates, even at home. He doesn't go anywhere without his mate. He really helped on Saturday, but Royal Bounty is worth his weight in gold. You'll see my dad on him every morning at the track. If any horse has an issue, my dad just trots up on Bounty and sorts it out. He's also one of the soldiers in the yard."
Last, but not least, he pays tribute to their fantastic team of grooms. "Our guys really are world class. I've been to the best farms in the world and I think people underestimate how good our grooms are. The likes of Patrick and Jabu who come to the course with us – each one of them could be trainers in their own right. It's a team effort the whole way through."
Wholesale support
Commenting on the vocal crowd support around the podium Jono says the regular punters love Justin because he is always so open about his runners – "and they clearly made a lot of money', he quips. But he's quick to mention that it was support closer to home that really made the day. "We have an amazing group of owners in the yard, who are the most important part of our team. They are the reason for our success and we could not do what we do without the support from every one of them. Although we had multiple clients with horses in the Met, they were the first to come and congratulate us and were amazing in their support."
Organisation
"I think the sponsors Mumm and Sun International have done a good job in giving the Met a fresh look and feel. Brandhouse did an amazing job for 39 years and it's not easy stepping into J&B's boots, but I think they've done a sterling job and should be proud of themselves."
"People also don't know how much time and effort Ken Truter and Lyndon Barends put into making the day happen and I must say thanks to them for the way they dealt with everything to ensure sure the day ran smoothly."
Would it be possible to compare 2016 to 2018? "If you had to ask how the two compare, although one is a world record and will always be close to Justin's heart, I'd say this year would be a hard day to top. I think this was just extra special and will probably be the best day of his career."
Never ones to think small, they are already focussing on the future. "When the export protocols are sorted out, our goal is to win a Gr1 race at Ascot with a South African horse, South African jockey and South African owner. That's our dream. And hopefully one day we can make it a reality for South African racing."
‹ Previous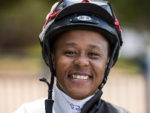 Muzi Yeni