During his career spanning almost three decades, professional jockey STUART RANDOLPH (43) has firmly established himself as one of South Africa's leading riders. His impressive portfolio of 1600 wins in his career, including 10 at Group 1 level and 62 in other graded and listed contests, bears testament to his abundance of talent and endurance. The highlight of his successful career was when he steered the P.E. visitor Cereus home in the 2001 Gold Cup for trainer Alan Greeff. He rates the late great, Jet Master as the best horse he has ever ridden. Stuart has competed with distinction in Mauritius, winning the jockeys championship, and has also campaigned successfully in Dubai, France, Macau and Zimbabwe. His biggest local achievement remains winning the Eastern Cape Jockeys Title. Randolph has secured himself five rides at this Friday's added Clairwood racemeeting and reading between the lines, he fancies the chances of KING JACE and UMBANI for the Garth Puller yard. We wish him all the best for the day and in his future endeavours.
.
What is your name?  Stuart Randolph.
What is your star sign and birthdate?  Aquarius and I was born on 15 February 1971.
Where were you born and where did you grow up?  I was born in Sussex, England and grew up in South Africa.
Where do you live?  Hillcrest.
Tell us about your family?  I am married to Samantha and we have 2 boys, Connor (4 years old) and Luke (2 years old), plus 3 dogs.
Do you have a 'nickname'?  No, not that I know of.
Favourite food?  Spanish & Italian.
Favourite drink?  Anything really. As for alcohol I'd be considered an apprentice drinker.
Favourite music?  I'm an 80's child.
Favourite sport?  Rugby, football & most water sports.
Favourite soccer team?  Arsenal.
Favourite holiday destination?  Spain.
Favourite racecourse in South Africa?  I enjoy all of them really, no favourites.
Favourite author?  Graham Hancock, Tony Robbins, John Kehoe & R Collins.
What would your super power be? I can see into the future.
What is the trait you most dislike in yourself?  I tend to procrastinate a bit.
What is the trait you most dislike in others?  Arrogance.
Who is the one person that you would love to meet and why? Any captain who flew the Concorde. It was an amazing aircraft!
Property aside, what's the most expensive thing you would buy? Would definitely be an airplane, if I had the money!
Mention some of your hobbies? Flying, golf and most watersports.
Is there anything the public don't know about Stuart Randolph that they would be interested to know?  Mmm, I'm a pretty private person. Perhaps the fact that I have a private pilot's licence is not well known.
Where did you go to school and what qualification did you achieve? Jockey Academy. Matric.
Who influenced you to become a jockey? My late grandfather.
In which year did you begin your apprenticeship, where were you based and who were your fellow apprentices at the academy?  1986. KZN. Martin Ball, Stephen Moffatt, Willie Ries and Doug Whyte.
Which senior people in racing had a major influence on you early on in your career?  Mr. A D Furness, Mr. R Rixon, Michael Roberts, Felix Coetzee & Mr. Millard.
You have enjoyed a satisfactory career in horseracing. Let's discuss your achievements. Your first winner; where, for whom and when was it?  Indiana Jones at Clairwood for Mr. A D Furness in 1987.
Total career wins to date, both locally and overseas?  +- 1 600.
Total number of feature race wins? 72.
Total Grade 1 wins? 10.
Total of other graded winners?  Grade 2, 3 & Listed = 62.
Best finishing position on National and Provincial Jockey's Log?  Top 8 on the National Log and top 2 on the KZN Provincial Log. 1st in Eastern Province and 1st in Mauritius.
Most memorable day in racing?  Luckily I have had many great days but winning the 2001 Gold Cup on Cereus for Alan Greeff was truly memorable.
Mention some of the highlights of your career?  5 winners on a day, 5th in the July five times, winning the Mauritius jockey championship and winning the 2001 Gold Cup on Cereus for Mr. Alan Greeff.
Which is your favourite Grade 1 race to ride in?  Dubai World Cup… I wish!
Mention the different countries you have ridden in?   Zimbabwe, Mauritius, Dubai, Macau and France.
Best racehorse you have seen in your life, either in the flesh or on the television? The best I've ever ridden was Jet Master.
Most competitive jockey you have ridden against?  I must say that our South African jockeys are very competitive but Felix Coetzee must get a mention.
Best friend you have made within horseracing?  I have a few good mates.
What has been your funniest moment in the saddle? My breeches came undone in a race. Got to blame my tumble dryer for shrinking them!
Best advice you have received about this wonderful sport, from whom did it come and more importantly, what was it?  'Keep it clean and work hard' is very good advice given to me by Tony Furness.
Most famous racing person that you have met?  I've had the privilege to have met a few famous owners, trainers & jockeys while working in Dubai & France.
Are you currently stable jockey to a trainer? I am currently a freelance jockey.
Which trainers do you ride most for?  Michael Roberts & Frikkie Greyling (Kotzen stable).
Which horses that you are currently riding will be worth following?  I think Harry's Son, trained by Paul Lafferty, will be worth following when he runs over a bit of ground.
The KZN season is not too far away. Which horses will be worth following during the season?  Master Of My Fate.
Are there any up and coming horses that could be worth watching in the future? Two up and coming horses which have caught my eye are Rich Girl and Beloved Country.
What is your most comfortable riding mass?  55kgs.
The Grade 3 King's Cup is scheduled to take place at the end of month at Clairwood and the racemeeting clashes with Classic Day at Turffontein. Which meeting will you be engaged in?  Will be at the Clairwood meeting.
Do you feel like you still have room to grow as a jockey?  Absolutely! As a jockey you never stop learning and growing.
Healthy competition is important for a jockey's progression. Who do you rate as top jockeys in KZN and can you learn anything from them?  Anton Marcus, Kevin Shea & Anthony Delpech have all ridden extensively overseas.
If you were pushed for an answer, right now, which horse in South Africa would you choose to ride in the Vodacom Durban July?  Still too far away.
Do you think the attitudes of apprentices have changed since the time you were in the academy?  Ha! Ha! Times have changed.
Can you name a few apprentices that you think will hold their own once they qualify from the jockey academy?  Keagan de Melo has recently qualified and is presently doing well for himself.
Have you heard the news that Multichoice will be terminating the contract with Tellytrack from 26 March 2014? What are your thoughts on this?  Very strange after 20 odd years, sad really.
Is there anything you would change about racing?  Increase prize money for all concerned.
Describe the condition of the Greyville track?  That would be unfair as each racecourse has had its problems over the years. I'm sure it will all be rectified soon.
Were you part of the jockeys that protested at the recent night racemeeting on the track?  Yes. Every jockey who rode in that 1st race felt it was unsafe, in their professional opinion.
What do you make of the addition of the polytrack at Greyville?  I think it's a great idea.
Do you think the track will be ready for the Daily News 2000 and then the Vodacom Durban July?  I'm sure Gold Circle will have it all ready, bar a few teething problems, as seen with other racetracks all over the world with this type of racing surface.
With many of the top jockeys having sponsors, do you have one?  No.
Do you think having a sponsor makes a jockey's life much easier?  Financially, the extra bit would help I guess.
Which of the current South African stallions really excite you? Silvano and Var are both doing extremely well.
Do you ever have a bet on a horse or is your enjoyment limited to riding winners? Ha! Ha! With my judgement I'd rather stick to riding winners.
What short/long term ambitions do you have for yourself?  Overseas trip maybe. Finish my commercial licence.
What do you like to do when you're not racing?  Flying.
You had a good day at Clairwood on Sunday 16th with two winners. This Friday at Clairwood you are down to ride 5         horses. How do you rate them? The only two horses I can talk about are in races 4 and 7.
Race 4: KING JACE (3) – He has good form and trainer Garth Puller tells me he is working very well. Looking at his opposition I give him a good chance.
Race 7: UMBANI (8) – He is another Garth Puller trained horse. He is distance suited and is also expected to run a good race.
Does the old maxim, "Behind every successful man is an equally successful woman," apply to Stuart Randolph?  I'd have to agree.
‹ Previous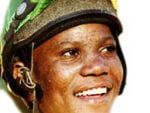 Gift Funeka