Six months after the Steinhoff scandal threw the South African horseracing industry into temporary disarray, top former Mayfair Speculators trainer Tara Laing reflects on the success of her business survival strategy.
In a chat with the Sporting Post she tells what one can achieve with an eclectic mix of love, fire, faith and passion. And says she is open for business!
"I know it may sound like a cliché but it really is only about the horses and the people at the end of the day. The network of support – at home and in the business environment – and one's personal emotional and technical skill set are tested to the max when the going gets tough. And just like Mathew de Kock said in last week's profile interview, I also have been very fortunate to learn from some of the very best in the game," she says with a confident smile.
"Without blowing Justin's trumpet, working for the Snaiths for ten years probably made me who I am today. Everyone knows that Jono is the bank manager -he taught me 'value for money' and 'money for value', and that maxim has stuck with me," she smiles.
This isn't the same Tara we spoke to six months ago.
The Steinhoff news had just broken in early December – a body blow that was going to pull the rug out from under her world – and throw a curved ball at her great job and a happy  life!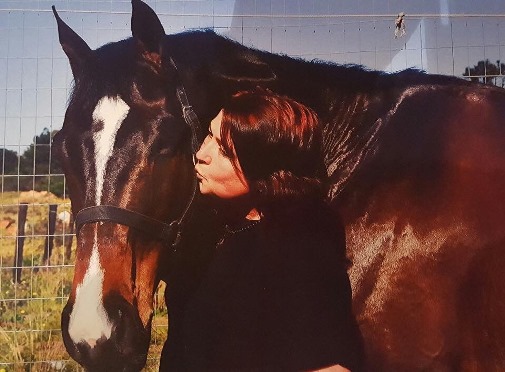 She was naturally knocked stone cold by the bomb that very few saw coming.
But Tara was off the canvas and back on her feet in a matter of days and resolved that she had a family to feed and educate, a life to live and a job to do.
The usual human responses of 'why me Lord' and 'where to now?' have been quickly replaced by a mature philosophical serenity – and an unbelievable tangible determination to succeed.
She says it didn't take her long to realise that her entire life experience and passion would go up in smoke and be wasted if she was going to give it all up.
"You can't have only three big yards here in PE. I had to stay and balance the power – be one of the quartet!  It was important for my family, my supporters and my self-respect too."
The no-nonsense straightshooter, who is now sporting a 'brainy brunette' look from her old style blonde image, says she has learnt a lot about business life in six months.
"It takes more than a hurricane force wind to blow out a Scottish flame," laughs the avid horsewoman, who was born and bred in the Highlands of Scotland and went to boarding school in the Eastern Transvaal and Natal.
She owned her first pony at the age of 2 and started competing at the age of 4, representing Scotland at Scone Palace when she was 6 and competing Nationally and Internationally in all disciplines. Quite a pedigree!
"I suppose we all fall into a comfort zone of sorts.Having all the bills paid on time and the best of everything, while earning a salary is probably the ultimate way to train racehorses. Contrary to what many people may think – that trainers work half days and play golf – running a racing yard takes up a lot of time and emotional stress. And the horses have to come first. So not having to worry about the bank manager or the feed or rent, helped a helluva lot in my years with Mayfair Speculators!," she quips as she unravels the dizzying early December blur that kept her distracted for more than a few days.
Tara says she was fortunate to meet a lot of good people while running the powerful Snaith yard and also built many valuable associations during her time with the Mayfair Speculators operation.
"Treat everybody properly and try not to burn bridges is a message I would probably give to any matriculant stepping out into the big wide world. We all make mistakes. It's the people that make the least of them – and learn most from the ones they do make that tend to get ahead. It's probably easier said than done, like most things in life. But we only find out how smart we are when the pressure is turned on," she says.
Tara recalls the naysayers who suggested she wouldn't make it. That just motivated her more.
"The phone calls of support and encouragement far outweighed those and came thick and fast. And those people have been true to their word, giving me horses to train."
She says she is loathe to mention names at the risk of omitting anybody.
"Etienne Braun, Fred Crabbia, who I trained a lot of winners for at Snaith, and Mario Ferreira are three gentlemen who have been major supporters. My new owners also include Paul  Loomes, Stefan Potgieter, Bruno Cayeux, Pippa Mickleburgh at Avontuur Estate, Braam van Huyssteen, Dr Ashley  Parker, Peter Gibson of Hartley SA, Gavin Venter, Grant Knowles, Dr Stefan  Steyn,  his son Ruaan Steyn, Dr Hlele Nhlapo, Hein Kuhn and Andre Hauptfleisch, to name but a few.
It is thanks to these wonderful supporters that Tara is currently enjoying the best season of her career. She has never looked back and has high hopes for the future.
With a few of her 70 boxes still open and available, she is looking to build on her amazing season that has seen her saddle 63 winners from 377 runners at a win strike-rate of 16,7%.
"The Eastern Cape is no longer the major centre dumping zone that it used to be. I have been here fifteen years and have seen how the standards have improved. It is very competitive – we have the four big yards and then a good few very capable trainers with smaller strings. And thanks to Phumelela and the Racing Association, our stakes are good and certainly in line with the Western Cape."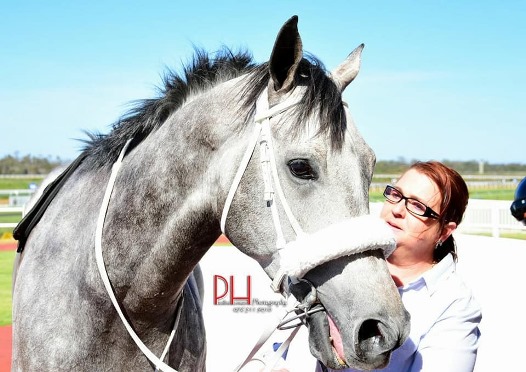 Tara goes on to add that the polytrack brings a great dimension to the options for a horse who may be battling elsewhere.
"We don't lose meetings through bad weather and we have learnt how to train on the all-weather. Some horses love it, others don't. But it is something that Joburg and Cape Town don't have. And it has seen the resurrection of many a horse's career!"
Tara has won most of the local features a good few times but her record in the East Cape Sprint Cup is unparalleled. She won this race in 2014, 2015, 2017 and again at the end of March with the 7yo Exelero.
The new generation Team Tara is now sponsored by Morris Vee Sports Bet.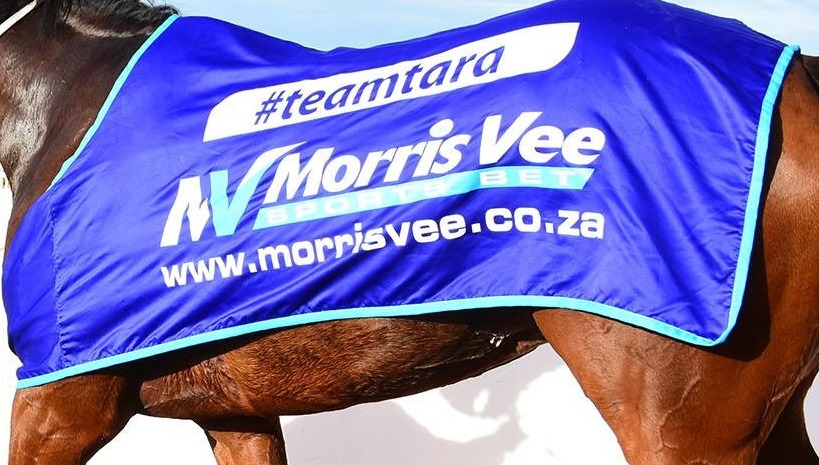 "They are a KZN-based family business and I was approached by them. It's an arrangement that lifts both our profiles and it's a privilege to be one of their three sponsored trainers.  We have started like an express train with 4 winners in 3 meetings!"
Her team includes her partner, top former jockey and now an owner, Gavin Venter who works mornings only.
"My staff is headed by my head lad, Pardon.  I have 23 staffmembers in total, which also includes 6 terrific Work Riders and 2 Nannies. Then my Dad Ray does the books and keeps his hand on the cash-flow. A solid balanced team we are – and we are focussed on producing a great winning experience for owners!" she says proudly.
"Looking to race your horse in a top centre with a first-class team? I have open boxes. Give Team Tara a try! My mobile number is 083 983 1569," she says as she leaves and goes out back to saddle her next winner, with the rain falling gently at Fairview.
‹ Previous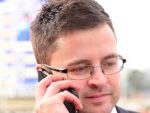 Mat's On A Mission