The sole survivor of Gold Circle's well-intentioned migration of trainers from the Northern Cape after the Flamingo Park debacle of 2020, Ashburton-based Tienie Prinsloo continues to grind away despite a despairing lack of support.
An emotional Tienie heaped praise on rising star Rachel Venniker after the Dacha-sponsored rider piloted her first winner as a 2,5kg claiming learner at Hollywoodbets Greyville on Monday.
The fast improving Rachel continues to change perceptions of lady riders in some quarters, and rode a cracker for UK-based owner Ron Harris aboard the Prinsloo-trained Living Waters.
The 48 year old Tienie chose to speak Afrikaans when interviewed by Warren Lenferna in the post-race interview.
Watch the race and interview here:
The former Kimberlite thanked Mr Harris for the loyalty.
The man who won the Northern Cape Championship with a string of only 13 horses, is trying to remain competitive in the tougher climes of KwaZulu-Natal with just 17 horses. His small string means that he has to keep his charges ticking over and he does an excellent job with a close to 29% place strike-rate.
"I know everybody is under pressure and wish there was more support. I treat my patrons with honesty, respect and kindness, and we communicate regularly. I could be doing great things with some decent stock. It's very tough, but thankfully I have been contacted by a good owner and will also be buying for another at the BSA November 2yo Sale.
"We are enjoying the holiday province so it would really be nice to be more competitive. The training facilities are excellent at Ashburton. And it's not like Kimberley where the small town environment means that everybody knows everything. Elsa and myself are enjoying the lifestyle and are here to stay. All I need is some more horses. We can't win races without horses and owners!"
Tienie invited any owners or prospective owners to email him at: [email protected].
"I am not a hard sell sort of guy. I'd be happy to chat to anybody and see if we can be of assistance," he concluded.
‹ Previous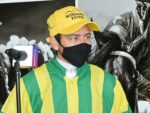 Stingray Lurks Below The Surface