Willem Engelbrecht is the first to admit that he has had his fair share of "sheer luck" on his side, but whether by design or by accident he has managed to breed some outstanding racehorses.  Not least of these are Captain's Lover and her half sister Ebony Flyer, both winners of the Gr 1 Cape Fillies Guineas, and there are precious few broodmares that can throw two individual Classic winners  – especially by different sires.  Willem was lucky (or wise) enough to cotton early to the stud potential of such locally-bred stars as Jet Master and Captain Al, and reaped the rewards in no uncertain terms. Willem's blue-grey-and-red colours are a regular sight on Cape Town racecourses, with the ultra-game Great Kali doing his owner/breeder particularly proud at the moment.  With his on-going support of proven stallions like Dynasty and Captain Al, the Willem Engelbrecht breeding programme can only continue to produce the winners and perhaps Ebony Flyer will add another chapter to the potato farmer's burgeoning success story by winning this weekend's Gr 1 L'Ormarins Queen's Plate, a race in which she finished an excellent third last year.
What is your name and age? Willem Johannes Engelbrecht and I am 62 years old.
What is your star sign and birthdate? Cancer – born 10 July 1949.
Where were you born? Moorreesburg.
Where do you live? Elandsbaai.
Tell us about your family? I am married to Joan and have two kids Boeta and Anél.
Do you have a nickname? No.
Favourite food? Steak.
Favourite Drink? Johnny Walker Blue Label.
Favourite Music? Country and Western.
Favourite Sport? Horse racing.
Favourite Rugby team? None.
What is your favourite holiday destination? I don't go on holiday.
Your blue, grey and red racing silks are well known and have been around for a long time.  Where and how did it all begin? My father began the crayfish export on the West Coast.  He chose blue and red for his fishing boats.
How many horses do you own? On track, 18.
It seems that you prefer to send your horses to the 'smaller' trainers.  How do you choose your trainers? I don't think a trainer can make a difference to a horse's performance.  If a horse can't run, no trainer can improve him. If Alan Higgins can't train a winning horse, the best trainer in South Africa won't.
Which of your trainers have you had the most success with? Alan Higgins.
Which are the most successful horses you have owned? Gold Flame won the Met in partnership with the late Derrick Rogers in 1973.  Blue Cossack in partnership with the late George Fernandez won the Cape Derby and the Mainstay for us.  The champion sprinter Automation, and then recently Joshlin.
You are the breeder of the wonderful filly EBONY FLYER.  Tell us about it? Pure luck!
Did you think EBONY FLYER was special from day one? No, because she was too big as a foal.
Why didn't you keep a share in her? I sold the mare to Team Valor with a foal at foot, and I am still happy with the price.
EBONY FLYER's main mission in South Africa is the upcoming Queen's Plate.  What do you think are her chances of winning the Group 1? She is a filly taking on the colts but I think she is the best filly in South Africa.
Of course, winning the race will get her an automatic invitation to participate in one of the features on Breeders Cup night.  That would once again prove to the world the quality of breeding in South Africa. What are your thoughts on that? It will be good for South Africa to have a runner on Breeders Cup day.
The dam of EBONY FLYER is Sunshine Lover, who incidentally was also the dam of top filly Captain's Lover.  Do you own the mare, and if so, who is she now in foal to and what plans do you have for her in the future? I sold Sunshine Lover to Team Valor, because they are good supporters of my race horses.
You breed from Klipdrif Stud.  How many mares do you have at Klipdrif? 31.
Are your matings done scientifically or do you have a secret formula? I had a secret formula, but John Koster from Klawervlei caught me out!  Jallad brood mares are top of the log.
It seems that your favourite stallions are Jet Master and Captain Al.  Which other sires do you really like and intend using in the future? I like Dynasty for the future, and I think he will be champion sire in two years. Western Winter and Windrush are also worthwhile moneywise.
Apart from EBONY FLYER and Captain's Lover which other top horses have you bred? Joshlin, Lizarre, Bit On The Side, Dance With Al, Joshua's Dream.
Was there any particular reason for using Captain Al and Jet Master early on in their breeding careers?  Was it down to sheer luck? Sheer luck.
Do you breed mainly to sell and when do you decide to race those you breed in your colours? I put a reserve on my yearlings.  If I don't get the reserve I race them myself.  Unfortunately, I sold all the champions!
Have you had any success stories with a mare that didn't cut it initially but eventually repaid your faith shown in her? Yes, Sunshine Lover.
Which sale or sales do you prefer send your draft to? I prefer the Cape Premier Sales and the National Yearling Sales.
What is the top price you have received for any horse sold thus far? I received R2 million for Lizarre's half – brother and I have a full sister to Lizarre on the Cape Premier Sales in January 2012.
What are the most important lessons you have learnt about racing and breeding in your career to date? The most important lesson is to give a horse time to develop and then it will show you the best results.
From your own observations what do you consider to be very important factors in order to make a success of breeding? To use proudly South African stallions like Captain Al and Dynasty.
Outside of racing you are a potato farmer.  Where do you farm and who is your main buyer? I farm outside of Elandsbaai and our main buyers are Pick 'n Pay and Shoprite Checkers.
Apart from breeding and your potato farming interests what else in life really excites you? I am in the hotel business and I am a big animal lover.
Which has been the most memorable and exciting day you have had in racing thus far? Joshlin, who left the sales unsold at R20,000.00 and she went on to win the Group 2 Sceptre Stakes.
What do you think could be done to create excitement into racing to create more enthusiasm for the game by the public? Champion horses attract people to courses.  Stake money must be raised to buy good horses.
How do you celebrate a big win? With Johnny Walker Blue Label.
What is your philosophy on the racing game? At  the moment racing is suffering.  In future more should be done about finding sponsors, and if stake money in racing is not raised the racing game will be in big trouble.
‹ Previous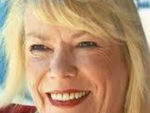 Sabine Plattner