The Bloomhill Stud-based former Gr 1 Premier's Champion Stakes and Gr1 Daily News 2000 winner Rabada will be transported down to Summerveld on Saturday 16 September for a Stallion Day.
Bloomhill's Sandra Trethewey said recently that they were inviting all owners, trainers and breeders to the event.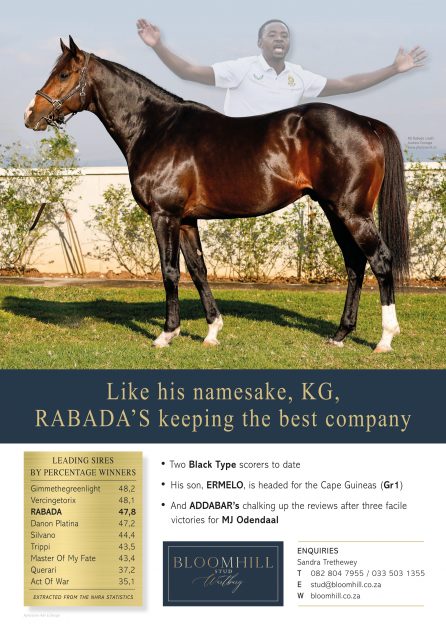 "It will be nice for them to see him in the flesh because obviously his progeny are doing so well at the moment. It's something a bit unconventional but we need to do it because when buyers see his progeny at the sales they can say that they have seen the stallion and he's actually magnificent.'"
She continued that they had enjoyed some nice support for Rabada recently, 'but not enough'.
"We're sitting on about 12 mares and I would like to get it up to 20 or 30, so it will take some serious marketing on our part after he was left out of the Sires Catalogue."
Unfortunately the dam of one of his recent success stories, Addabar, is deceased. However, they are hopeful he could still get the dam of his Listed Gatecrasher Stakes third-placed Ermelo.
Trained by MJ Odendaal, Addabar is now a three-time winner from just seven career starts, and is the subject of a 'generous offer' from Bahrain.
MJ managed to land the Summerhill Stud-bred Addabar, after vat and other expenses, for about R180 000 at the sales.
Another Rabada son, the Doug Campbell-trained Ermelo, could be headed for the Cape for the summer.
The Rabada stallion day at Summerveld  will be held on Saturday September 16 at 10h00.