Only son of Giants' Causeway at stud in South Africa
– Product of Two Champions
GIANTS'S CAUSEWAY – 3 x USA Champion Sire, Sire of Sires
DIVINE PROPORTIONS – French Champion 2yo & 3yo. Won 5 Group 1 races including 2 Classics – French 1000 Guineas and French Oaks
– The Racehorse
 SPEED won two of 3 starts at 2yrs, both over 1200m
CLASS finished 3rd in Gr3 Prix la Rochette, only 2 lengths off French Champion 2YO Colt, Siyouni
TIMEFORM 104p "likely to make into a smart 3yo" (injury forced him to miss Classic Season)
TRAINED ON won the Listed Grand Hcp de Deauville over 1600m at 5yrs. TIMEFORM 106 at 5yo.

Pedigree
Suitable mares for Eightfold Path could include significant elements from his female line
Blue Peter (Model Man, Dominion Royale, London News, Modern Day), Hay Fell (Hardicanute;  Tropicana/Bold Tropic);
Mill Reef/Shirley Heights/In The Wings/Singspiel (Indigo Magic, Alado, Await The Dawn, Lateral, Potala Palace;
Casey Tibbs;  Almushtarak;  Antonius Pius), Never Bend (Mill Reef, Riverman/Irish River, Bold Reason, Green Desert (Kahal));
Dalmary female line descendants (Sadler's Wells, Fairy King, Nureyev, Thatch, Golden Thatch, Waterville Lake); etc.
FEE: R10.000 +VAT live foal
(R3 000 nom; R7 000 Live Foal)
Top Performing Offspring - Eightfold Path (Local SA only)
horse
wins

(SW)

places

(SP)

stakes
AR
Good Rhythm 15c
2 (0)
2 (0)
R 170,375
94
The Rising Legend 14c
4 (0)
5 (0)
R 334,925
94
Brigtnumberten 14c
4 (0)
5 (0)
R 329,075
94
Born A Bully 15c
1 (0)
6 (1)
R 118,700
85
Hartleyfive 15f
1 (0)
2 (0)
R 112,250
83
Wings Of Light 15f
2 (0)
1 (0)
R 136,800
83
Double 'O' Eight 14f
3 (0)
1 (0)
R 223,850
83
Mbali 14f
2 (0)
4 (0)
R 206,875
82
Number Eight 14c
1 (0)
0 (0)
R 65,625
82
Sand Path 14c
2 (0)
3 (0)
R 167,500
82
‹ Previous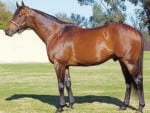 Dynasty