This Sire Is No Longer Active
2017 – back in racing after low fertility
2016 – First season at stud
2015 – Champion Miler
2014 –  Horse of the Year, Champion 3yo Male, Champion Middle Distance
The Fastest horse ever over a mile ar Kenilworth
Winner of 4 Gr1 races
Gr1 Cape Derby
Gr1 Daily News 2000
Gr1 Gold Challenge
Gr1 Durban July
placed in another 3 Gr1 races
Son of Equus Horse of the Year & 3x Equus Oustanding Sire DYNASTY

Pedigree

Pedigree Evaluation

Advert
Suitable mares for LEGISLATE could include
The Drum Beat Bunch, incl Drum Beat (widespread, incl Trocadero, Jolly Drummer, Victory Moon, etc.); Court Martial (widespread, incl Lyphard, Elliodor, Count duBois, Western Winter, Capture Him, Lords, Welsh Harmony, National Emblem, etc.); Mixed Marriage (Sharpen Up, Gone West, Western Winter, West Man, Count duBois, etc); Farthing Damages (Pole Position, Mummy's Pet, Whistler, etc.), Advocate (Forli); Prize Court (Mexico, Harry Hotspur); Dramatic, Field Master (Captain Al, etc.); Sansonnet, Tudor Minstrel (widespread, incl Mrs Peterkin, Dancing Champ, Kabool); Aristophanes (Forli); Kashmir, Abernant (widespread, incl Golden Thatch, Thatching, Derring-Do, Roland Gardens, Jan Ekels, Badger's Drift, etc.), Aimee (Blushing Groom, Rainbow Quest, Saumarez, Badger's Drift, etc.); Pretense (Fall Aspen, Fort Wood, Kabool); Averof, Foveros; etc.
Sweet Lavender descendants, through Lavendula, Perfume, Source Sucree, Ambiorix, etc. (widespread, incl My Babu, Joy, Klairon, Regent Street, Ambiopoise, Irish River, Spectrum, West Man, Turn-To, etc.); descendants of Sweet Lavender's full sister Rose Red (dam of Aurora, leading to Alycidon, Borealis, Acropolis, Clouds, etc.); etc.
Dalmary descendants, incl Thatch, Golden Thatch, Thatching, Waterville Lake, Nureyev, Sadler's Wells, Fairy King, etc
Bride Elect descendants, incl Royal Prerogative (notably combined with Golden Thatch, as in Goldmark, sire of Rebel King; Royal Chalice), Prized, Hethersett (sire of Blakeney, sire of Commodore Blake), etc.
R20.000
R5.000 nom; R15.000 Live Foal
‹ Previous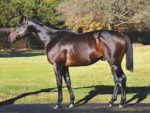 Lance