Gr1 winner at 2 & 3
WON Gr1 Premiers Champion Stakes
WON Gr1 Daily News 2000

click for Pedigree
SUITABLE LINES for Rabada could include
kin-links like those found in Captain Al's 3rd dam Beylic, incl Court Martial (Elliodor, Model Man, etc. – widespread), Abernant (Golden Thatch/ Goldmark, etc. – widespread), Tudor Mel­ody (Welsh Harmony, National Emblem, etc. – widespread), Welsh Pageant, Drum Beat, Mexico/Harry Hotspur, New South Wales, Persian Wonder, Preamble, Aver­of/Foveros, Mixed Marriage (Gone West/ Western Winter, etc.), Derring Do/Roland Gardens, Petition (Danzig – widespread), Regent Street, Bush Telegraph (London News), Dominion Royale, etc.
Then there's the link to the Dalmary female line, through Golden Thatch, Lorenzaccio/Ahonoora, Sadler's Wells and close relatives Fairy King, Nureyev.
Of couse Rabada's male line cannot be ruled out. Elements of note from Brave Tin Soldier's pedigree make-up include Mr Prospector, Danzig, Halo, Northern Dancer, Buckpasser, Seattle Slew. In this context Lecture looks interesting, especially if he can be had in the already successful combo with Al Mufti (noted above as sire of Victory Moon; Al Mufti's dam is by Buckpasser. Also, mares whose bottom female line provides close links to Bold Irish (see above under SIRE LINE) could be an option.
(posted 2018)
STUD FEE: Fee On Application

SPRING VALLEY STUD
PO Box 501 Mooi River 3300
Enquiries & Bookings:
Bruce le Roux
C: 082 493 5773
T: 033 263 5036
E: [email protected]
‹ Previous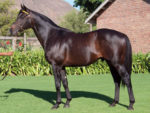 Querari (GER)