Gr1 winning sprinter
Sire of Gr1 winners and top stakes performers

Pedigree

Pedigree Evaluation
Suitable mares for Seventh Rock include:
Royal Prerogative, notably in combination with Golden Thatch (Goldmark) or other close kinlines, such as Argentina (Averof, Flaming Rock).
Mixed Marriage, notably through Sharpen Up (Fine Edge, Kris/Diesis), Gone West (Western Winter, Count Dubois (from female line of Kris/Diesis), West Man (dam by Riverman), Dupont).
Mixed Marriage kin-relatives, notably Court Martial (Elliodor/Model Man), Abernant (Golden Thatch, Badger's Drift, Dynasty) – or other strong Tudor Minstrel descendant, such as Aimee in Blushing Groom (Saumarez, Jallad, Spectrum) or Welsh Pageant (Saumarez).
Dalmary female line descendants, notably Sadler's Wells (Fort Wood/Dynasty), Fairy King (Tara'sHalls/Second Empire), Nureyev (Caesour), Ahonoora (Imperial Stride, dam from female line of Kris), Golden Thatch.
Flower Bowl, notably through His Majesty/Graustark (Caesour, Parade Leader).
Combinations of multiple Nasrullah & close relatives, such as found in Kenmare (4 lines, plus other kin-link to Seventh Hussar).
Top Performing Offspring - Seventh Rock (Local SA only)
horse
wins

(SW)

places

(SP)

stakes
AR
Rocky Valley 13c
5 (0)
2 (1)
R 446,200
113
Guiness 11c
4 (1)
1 (0)
R 569,825
110
Seventh Plain 12c
5 (3)
6 (2)
R 2,055,462
107
Stonehenge 11c
5 (1)
7 (2)
R 684,975
106
Crystal Glamour 12f
4 (0)
7 (4)
R 875,450
102
Donny G 12c
7 (0)
14 (0)
R 793,075
101
The Stone Thrower 12c
2 (0)
7 (2)
R 327,800
100
Seven Lives 14c
4 (0)
1 (0)
R 293,775
98
Rockin Russian 14f
3 (0)
7 (2)
R 509,712
98
Rocky Night 15c
2 (0)
2 (0)
R 219,350
98
‹ Previous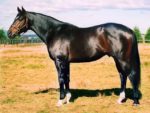 Sarge