Leading First Crop Sire in SA 2019
Equus Champion 3yo Colt SA
Undefeated Gr1 winner in SA.
Won Gr1 Jebel Hatta in Dubai
Timeform 124

Pedigree

Pedigree Evaluation

Feature Results

Advert
Suitable mare lines for Vercingetorix are:
kin-links to Vercingetorix' 3rd dam Scarteen and 4th dam Noble Vixen, incl Court Martial (Elliodor, Model Man, etc. – widespread), Abernant (Golden Thatch/Goldmark, etc. – widespread), Tudor Melody (Welsh Harmony, National Emblem, etc. – widespread), Welsh Pageant, Drum Beat, Mexico/Harry Hotspur, New South Wales, Persian Wonder, Preamble, Averof/Foveros, Mixed Marriage (Gone West/Western Winter, etc.), Derring Do/Roland Gardens, Petition (Danzig – widespread), Regent Street, Bush Telegraph (London News), Dominion Royale, etc, etc
kin-links with Buckpasser and female line – widespread, incl Al Mufti (Captain Al!) and other Lassie Dear (incl Tiger Ride, Wolfhound, AP Indy), National Assembly (National Emblem, etc.), Northern Guest, Argosy/Seattle Slew, Dancing Champ (Victory Moon), Complete Warrior, Caesour, Windrush, Lalun (Never Bend, Bold Reason), etc.
STUD FEE: R30.000 +VAT Live Foal
(R15.000 nomination; R20.000 live foal)
Top Performing Offspring - Vercingetorix (Local SA only)
horse
wins

(SW)

places

(SP)

stakes
AR
Padre Pio 16c
4 (0)
4 (2)
R 428,675
109
Astrix 16c
3 (0)
2 (0)
R 290,750
107
Vaseem 16c
2 (0)
2 (1)
R 917,950
107
Ikigai 16c
4 (2)
2 (0)
R 899,375
106
African Warrior 16c
4 (2)
1 (0)
R 1,037,375
105
Marshall 16c
5 (0)
2 (0)
R 270,875
103
Vernichey 17f
3 (2)
0 (0)
R 328,125
101
Hooves Of Troy 16c
2 (1)
6 (1)
R 341,450
101
Gallic Princess 16f
4 (0)
3 (0)
R 250,125
100
Battle Of Alesia 16c
1 (0)
5 (1)
R 169,125
99
‹ Previous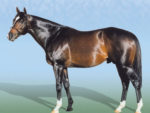 Var (USA)