Tickets for the Highveld's hottest horseracing event, the R5 million Betway Summer Cup, are now on sale as Joburg gears up for a sizzling race day at Turffontein Racecourse on Saturday 25 November 2023.
'SUMMER REIGN' is the theme for this year's event, with leading global online betting and gaming brand Betway and 4Racing doubling the stakes this year for what is one of Africa's richest and most eagerly-anticipated race days.
The Betway Summer Cup is above all the 'People's Race' – with the theme chosen this year after a popular public call for entries.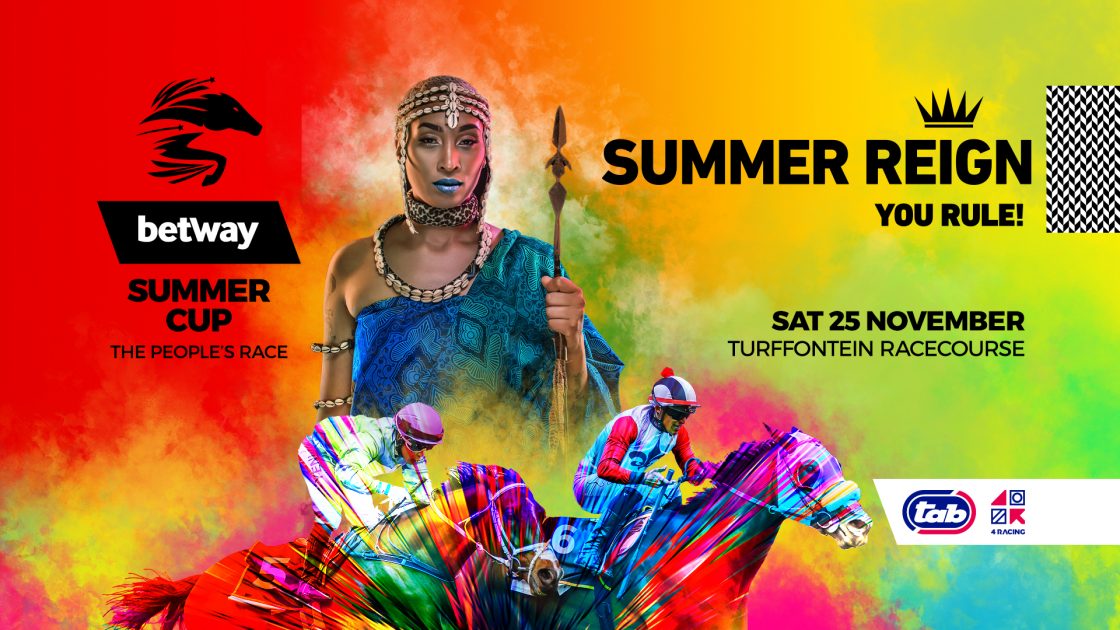 For the serious punters or the casual social race day visitors, the 2023 Betway Summer Cup and the 'Summer Reign' theme is your chance to 'own your Joburg Summer' in your own unique way, to let your hair down and have fun at the ultimate Jozi end of year bash!
The 2023 Betway Summer Cup is a racing and entertainment spectacle like no other, with all the bells and whistles, plenty of adrenaline, high-quality horse racing and a fun day of entertainment, hospitality and partying to usher in the Joburg festive season, with tickets on sale at Ticketpro today starting at just R100.
"The Summer Cup is the big one on the Highveld horseracing calendar and with the fantastic support of Betway we are really upping the ante this year, with record stakes of R5 million for this prestigious race. For owners and trainers there is now an even bigger incentive to enter the country's leading thoroughbreds and to reign at the Betway Summer Cup and for jockeys and grooms there is the prestige of winning one of South African horseracing's big three major races. And of course for punters this is a massive racing day, with big pools and top-quality, competitive racing throughout the day, so get your tickets early and join us for what is sure to be a sensational Betway Summer Cup this year," said 4Racing CEO Fundi Sithebe.
Not only have the stakes been increased, but Betway have also introduced a major incentive for all the Grooms of the horses in the final field of this year's Betway Summer Cup.
"The Betway Summer Cup in many ways is the highlight of the Highveld racing season. We all know the importance of the Grooms and as a reward for their many days and hours of hard work spent Betway will be giving each Groom of a thoroughbred who makes the final field in this year's Betway Summer Cup a R20 000 bonus," Betway's Jonathan Blumberg announced today.
On the 'Summer Reign – You Rule!' theme Sithebe said she was excited to see how racegoers would interpret the theme and make it their own.
"The 2023 Betway Summer Cup gives everyone the chance to reign on the Turffontein track this summer. So dress up and be bold with your race day colours. If going black is your superpower, you want to power dress or light up the day in all white or in your bright colours and African prints – go for it, do whatever makes you feel powerful and strong and makes you reign like Kings and Queens this Jozi Summer. We can't wait to host you at Turffontein for the Betway Summer Cup," concluded Sithebe.
Tickets are available from today at Ticketpro for just R100 for adults and R50 for kids under 12 and are available on the www.betwaysummercup.co.za website.
Tickets for a trackside private outdoor beer garden are available for R495 ex VAT, with music and seating and a cash bar and food vendors for a festive race day experience.
Hospitality packages are also available on the Turffontein Racecourse Deck and Elevation Room for R2 000 and in the Centenary and Aquanaut Rooms for R2 500, all of which includes a fully inclusive food, evening snacks and drinks package with a selection of local beers and drinks.
Media release by 4Racing on Sunday 3 September 2023.