Our tipsters list of VF-rated Bets
Updated 10.00am on racedays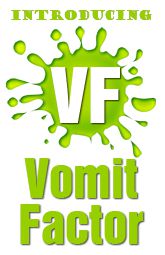 Vomit Factor is the level of sickness other people feel when a selection gets you through the exotics and theirs didn't.
Vomit Factor is the level of sickness our tipsters feel when the selection gets beaten.
VF also stands for Value Factor a confidence level combining price with how much of a good thing the selection is.
High VF is best.

Magic Tips:
Vaal 17th 6

:The Thinker(7)

-VF7
Mc Mark:
Vaal 17th 3:Elusive Flyer(1)-

VF7
Clockwatcher:
Vaal 17th 5

:Wrecking Ball(1)-

VF8
Meet our tipsters
Magic Tips – aka Monty Mariemuthoo.
Respected form studier and successor to Magic Lips at Winning Form
McMark – aka Mark McGillewie.
The only really sicko punter among our tipsters.
Clockwatcher – aka Steve Furnish.
Speed figures are his game and passion.