Champion 2yo Colt in Japan
Five-time winning miler (3x at 2) incl Gr1
Timeform 119
 Son of Champion Sire and Sire-of-sires DEEP IMPACT

click for Pedigree

click for Advert
Suitable Lines for Danon Platina could include:
Female line descendants of Feola, notably Aureole, Round Table, Nashwan, Nayef, Unfuwain, Right Approach.
Combinations of any or all of Bold Ruler, Native Dancer, War Admiral, Traffic Judge, Hasty Road, Intentionally. These will be widespread, but especially notable might be Buckpasser, Seattle Slew, In Reality.
In the South African context especially National Assembly, Fort Wood (and other descendants of Portage), Beldale Lustre (Buckpasser is also noted in Al Mufti/Captain Al, Northern Guest, etc.).
Green Desert can be had through Oasis Dream (Querari, Main Aim), Cape Cross (Quasillo, Great Britain), Kahal.
Flower Alley (half brother to 2 Gr1 winning sires in Japan by Deep Impact).
(posted 2019)
STUD FEE: R30.000 +VAT Live Foal

Array
‹ Previous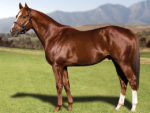 Coup De Grace (USA)