by Champion Sire and sire-of-sires DYNASTY
dam FULL sister to Champion Sire SILVANO

click for Pedigree
HORIZON's pedigree is not typical for highclass offspring of his sire Dynasty, suggesting greater influence from his dam Shina. She is a full sister to champion sire and sire-of-sires Silvano, whose female line has done well with Nijinsky, as has his damsire Beau's Eagle. Silvano's grandam has kinbreeding involving Prince John and Baby La (Silvano's 4th dam).
SUITABLE LINES for HORIZON could include
Nijinsky and close kin Storm Bird & The Minstrel, as well as kin-links through Nijinsky's dam Flaming Page, notably Tom Fool and the dam of Red God (sire of Blushing Groom). Tom Fool is sire of Buckpasser (in turn kin to Nijinsky). Buckpasser is especially noted as damsire of Al Mufti and National Assembly, as well as Northern Guest. Silvano's leading sons are Bold Silvano (dam by Al Mufti, who is present in six of Silvano's Gr1 winners) and Vercingetorix (dam by National Assembly, 2nd dam by Nijinsky's son Peacetime). Tom Fool is damsire of Dancing Champ (by Nijinsky). Nijinsky is close kin also to Mr Prospector (the pair noted together in major pedigrees, for instance Scat Daddy whose dam and paternal grandam both are by Mr P and have Nijinsky close up – and Scat Daddy's Triple Crown winner Justify getting another double from his grandam!).
Interesting in this context is Windrush, whose sire Seeking The Gold is Mr P x Buckpasser, and whose remote female line is the same as Silvano's.
Other notable lines are Tourbillon and Count Fleet, leading to Lalun (Sadler's Wells, Mill Reef) and My Babu (Joy, notably in Dynasty whose sire Fort Wood is by Sadler's Wells).
(posted 2019)
STUD FEE: R8.000 +VAT Live Foal

HEMEL 'N AARDE STUD
PO Box 1369, Hermanus 7200
Bookings and Enquiries:
DAVID HEPBURN-BROWN
C: 082 898 1231
T: 028 312 3509
F: 086 541 2173
E: [email protected]
‹ Previous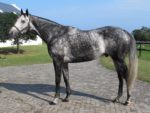 Heavenly Blue (AUS)