Sire of Gr1 performers in his first three crops
By CHAMPION Sire and sire-of-sires JET MASTER –
Dam CHAMPION Broodmare PROMISEFROMMYHEART – Champion 3yo Filly from the prolific Soho Secret family

click for Pedigree

click for Pedigree Analysis

click for Advert
Suitable mares for MASTER OF MY FATE could include
those of his own female line, including Elliodor (notably Model Man), Bush Telegraph (notably London News and sires descending from No Appeal – Lords, Song Of Songs, Piaffer), Dancing Blues, Regent Street (notably Miss Lily!), First Landing, League Title, etc.;
concentrations of Lavendula – widespread through Turn To/Hail To Reason/Halo (incl Roberto, Al Mufti, Captain Al; Damascus, Rollins; Right Approach, etc), and through other daughters of Source Sucree (Irish River, Dynasty, West Man), My Babu/Joy (notably Dynasty);
Mixed Marriage, notably Sharpen Up (Dominion Royale), Gone West (Western Winter, West Man, Count duBois, Dupont, Indigo Magic, etc.);
remote female line descendants, incl Tudor Melody (notably National Emblem, Saumarez, Second Empire – the latter's 4th dam very close kin to Secret Recipe), Forty Niner (Trippi), Forest Wildcat (Var); -etc.
(posted 2014)
STUD FEE: R30.000 +VAT
R5.000 nomination; R25.000 live foal
Best Rated Offspring - Master Of My Fate (Local SA only)
horse
wins

(SW)

places

(SP)

stakes
AR
Twist Of Fate 15c
6 (4)
9 (6)
R 3,339,850
114
Basadi Faith 16f
5 (2)
0 (0)
R 551,750
111
Tempting Fate 17c
3 (2)
0 (0)
R 312,500
105
Driving Miss Daisy 16f
2 (0)
6 (5)
R 672,350
103
Goliath Heron 15c
3 (0)
4 (0)
R 324,100
99
Master Keys 15f
5 (0)
4 (2)
R 410,525
98
Triple Fate Line 15c
3 (0)
3 (1)
R 256,350
98
Mastagambit 15c
3 (0)
1 (0)
R 220,425
98
Promiseofamaster 16c
2 (0)
2 (0)
R 175,625
97
Master Of Illusion 16c
2 (0)
1 (1)
R 193,375
96
‹ Previous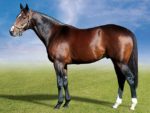 Mambo In Seattle (USA)