Runner-up in UAE 2000 Guineas
Timeform 109 (from only 6 starts)
by STORM CAT
out of full sister to FUSAICHI PEGASUS (Mr Prospector)
Sire in SA of
Samurai Blade (placed Gr1 SA Classic, Gr1 SA Derby) MR 108
Tiger Quest (SW, 2x Gr2 2nd ) MR 105
Tiger's Touch (Gr3 winner) MR 104
Yearlings in 2018 sold for up to R190k

Pedigree
Suitable mares for Where's That Tiger could include
descendants from the female lines of his sire and dam, and female lines which have done well with Danzig or Mr Prospector.
This includes Goldkeeper (an upside-down version of the stallion, by Mr P. out of a 3-part sister to Storm Cat), Royal Academy (close relative of Storm Cat), Winter Romance (grandam full sister to Storm Cat), Blushing Groom's sire Red God (dam Spring Run close kin to First Rose, and very close to Bold Irish, from the same female line).
Then there is Mr P. stallion Machiavellian (close kin to the dam of Where's That Tiger, as is Machiavellian's son Kahal whose damsire is by Danzig).
STUD FEE: R10.000+VAT Live foal
Top Performing Offspring - Where's That Tiger (Local SA only)
horse
wins

(SW)

places

(SP)

stakes
AR
Tiger's Touch 11f
4 (1)
3 (0)
R 475,625
107
Tiger Quest 10f
6 (1)
5 (3)
R 598,950
103
Perfect Tigress 15f
4 (0)
6 (2)
R 447,662
103
Samurai Blade 12c
3 (0)
10 (3)
R 761,850
103
Supertube 10c
4 (1)
3 (0)
R 377,825
94
Blackburn Roc 15c
1 (0)
7 (0)
R 201,900
94
Tiger Flame 11f
3 (0)
4 (0)
R 254,175
92
Icon Princess 15f
4 (0)
1 (0)
R 236,950
90
Temp The Tiger 15c
1 (0)
4 (0)
R 92,100
90
See You Tyger 15f
3 (1)
3 (0)
R 287,100
88
‹ Previous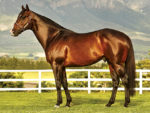 What A Winter