Gr1 placed Gr2 winner in UK
Timeform 122
by Gr1 sire & Sire-of-sires PIVOTAL
SW dam (Timeform 108) half sister to

Champion 3yo Filly SARISKA (Timeform 125 – by Pivotal)

click for Pedigree
SUITABLE LINES for Wings Of Desire could include
multiple lines of descendants of Selene (Hyperion, Pharamond, Sickle) and her dam Serenissima (notable Barley Corn); descendants of All Moonshine, including Eyewash (among others through Varinia (Karen's Art), Early Dawn (former sire in SA, strongly kinbred to All Moonshine), Fiddlededee (3rd dam of mare Feather Bed in SA)), All My Eye (through Sir Tristram, and through descendants of SA mares Quest For Success, and Chilean Beauty), Mossborough (Ballymoss, Stage Door Johnny, etc), French Polish (Entrepreneur, etc).
Pivotal's notable ancestor Careless Kate descends from the mare Ranai, leading to Watling Street, Paddy's Glycene (Bold Vixen, Lavender Bag), Fuchsia (Arctic Flower, High Frequency, etc), Lunatic (descends from Ranai, with sire Tom Fool a grandson of Pharamond, and dam by Hyperion), Coral Blue (Taibleu, Sobkis).
Blue Peter appears frequently in notable descendants from the female line, leading to Model Man (and others)
In a roundabout way another suitable influence could be Captain Al, who produced highclass runners from the mare Polar Charge (3-part sister to Pivotal), notably Always In Charge, Captain Lars. Captain Al gives kin-breeding through his notable female lines ancestors (notable Beylic) with Pivotal's Chifonnier and Wing Of Desire's 3rd dam Beacon.
(posted 2018)
STUD FEE: R25.000 Live foal

HEVERSHAM PARK
Daleside Valley, Gauteng
Terry Lowe – stud master
C 083 406 3281
E [email protected]
More stallion information on Wings Of Desire
‹ Previous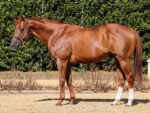 Willow Magic (AUS)