Equus Champion Miler at 3, 2014
Triple Gr1 winner
Gr1 Cape Guineas
Gr1 Cape Derby
Gr1 Queens Plate
Stakes Placed 2yo's in his first crop to race, 2018
The Son of an Emperor, out of a Broodmare of the Year from a Guineas-winning daughter of the leading broodmare sire of all time. At R1million, he sold accordingly.
His first four sires were all national champions.
His pedigree carries three strains of Northern Dancer. The scenario is typical of Sadler's Wells, Nureyev and Lyphard.
The best 2YO Anton Marcus sat on. Dual Group One Classic winner and Champion Miler at three.
L'Ormarins Queen's Plate champion and "X-Factor" racehorse at four.
Pedigree. Performance. Physical Perfection. No horse in recent history has gone to stud with richer credentials.

Pedigree
Suitable Lines could include
multiples of Fam 16 female line carriers, remote or otherwise – Noble Chieftain, Jungle Cove, Abadan;
Crepello, Reliance, Niniski, Averof; Gambut, No Argument, Identify and female descendants, Paraffin and female descendants;
Brown Ronald; Prince Bio;
Herbager (widespread); Petition (Persian Wonder, Danzig);
Buchan; Jubie; etc.
Top Performing Offspring - Capetown Noir (Local SA only)
horse
wins

(SW)

places

(SP)

stakes
AR
Bohica 16c
3 (0)
3 (0)
R 204,175
100
Enjoy The View 16c
2 (0)
2 (0)
R 184,250
94
Scarborough Fair 16f
1 (0)
6 (1)
R 197,450
93
Liverpool Champ 16c
2 (0)
3 (0)
R 175,125
93
Doublethink 16c
1 (0)
5 (0)
R 142,150
90
Kamadeva 16c
1 (0)
1 (0)
R 70,150
89
Brandina 16f
3 (0)
5 (2)
R 236,750
89
Capetown Affair 16c
2 (0)
2 (0)
R 148,937
88
Union Castle 16c
0 (0)
2 (0)
R 56,000
87
Straight Up 16c
1 (0)
1 (0)
R 76,125
84
‹ Previous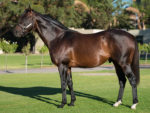 Canford Cliffs (IRE)