About three weeks ago (19th October) I had a small win and place tote bet on a horse called Jellicle which was running in the first race at Newmarket, England
The horse finished 4th of 16 runners as you can see from this attached link from the racing results as displayed in the UK "Racing Post".
SA Tab Rules quite clearly state under PLACE POOL -Rule 5.2, specifically Rule 5.2.3.2 that for sixteen or more runners, dividends shall be paid in respect of the horses placed first, second, third and fourth.
I submitted the tote ticket the following day and was told there was no divided to be paid on the 4th horse. I queried this and the assistant checked and confirmed that there was no payment.
I felt sure that my horse finished 4th of 16 and asked what recourse I had and was advised to submit a claim form which I duly did and this was forwarded to Phumelela by the staff at the Tote outlet. On the 7th of November, a lady rang me about the claim and insisted that I forward my original ticket to them.
A rocket scientist I am not but I'm also not dumb but I offered to forward a copy. At this point she informed me that the claim would be forwarded to their Internal Auditor.
I was contacted today, 9th of November and informed that there were only 15 runners, as there had been a non runner and this was the reason no 4th dividend was paid!
From the attached link you can see that a horse called Hikkaduwa finished 16th, albeit 19 lengths behind the 15th horse.
I have resubmitted the claim,this time with the attached 'Racing Post' results link showing that 16 runners ran.
To date,19th November I have had no further contact from Phumelela.
Where do we go now or who do I believe and what happened to any place money invested on Jellicle in that race. Further how often does this happen to the convenience of the Tote operator, in this case Phumelela.
The facts and rules declaration are clear for all to see.
This is not an issue over the small amount of money involved but the rules are laid down by TAB and are clear for all to see and should be abided by.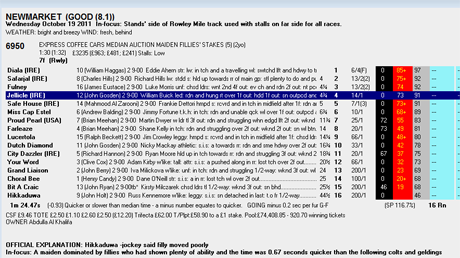 via email – John S. Baker, Port Elizabeth