The inquiry de novo was as a result of the previous finding and penalty imposed by an Inquiry Board on 3 December 2013 having been set aside, in terms of a court settlement agreement, in consequence of changed evidence having been presented to the NHA read more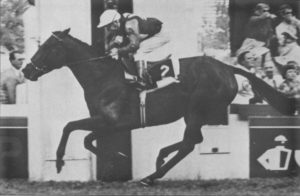 Recognise who this is?
Click here to write your comment, and tell us more if you can
Opinion
It is good to finally have the Durban season over and to be back in Cape Town
I suppose the best horse won the Gold Cup. He looked well handicapped and ran accordingly. We did not have much luck read more
Opinion
A Visit To Abington Place
If it is true that when horses, or those who ride or train them, do rare things, they make the people who were present that day feel good, then Mike de Kock's Abington Place yard in Newmarket is a centre for rare excellence. read more
Opinion
The racing was quiet - but plenty happening on the social front - but what about the jogging?
I had an incredible steak with Marsh, Guy and Kerry Shirtliff and a few other Saffers on Sunday evening – simply incredible! I have also joined the African Society – a social group that convenes bi-monthly for events. Next month a Braai is being held and I am extremely excited to meet the group read more
Opinion
The fnal push - Gold Cup and the Racing Masters - and I'm 'home James'
Personally, I think it will be a good idea to get together with the top guys to discuss what can maybe be done a little differently to try and improve things – Joey Ramsden read more
Opinion
Gai Waterhouse on her Ascot experience
Aussie's foremost lady trainer, Gai Waterhouse, shares her observations and experiences at this year's Royal meeting read more

Behind the affable exterior is a committed, dedicated professional with a ferocious work ethic read more
Profile
SA Horseracing's Hottest Property

"South Africa produces some of the world's best jockeys. And up until three months ago any one of the eight top jocks on the log were major opponents. Sure, it may well have come down to a two-horse race between myself and S'manga Khumalo now. And I am honoured and privileged, whatever happens. But I don't intend resting on my laurels just yet." read more

We turn the clock back 20 years to look at what happened in SA Racing during August 1995. read more

We turn the clock back 20 years to look at what happened in SA Racing during July 1995. read more