Meet Kelly Mitchley, one of South Africa's busiest and most experienced horsewoman.
She balances her day between managing the highly successful Johan Janse van Vuuren satellite yard at Fairview and running her own rehoming operation on her family's De La Ranch, just 3km away from the Nelson Mandela Bay Racing headquarters.
While only 25 years old on 27 June, Kelly has horses galloping through her veins and it's difficult to imagine time when she didn't have a bridle in her hand.
And for her relative youth, her experience in racing yards makes her a valuable asset to any trainer.
She has worked for Justin Snaith, Corne Spies, Gavin Smith and helped out at Yvette Bremner during the top lady trainer's tenure.
"I have been fortunate to have worked for top trainers who have taught me plenty. I originally became a stable employee at Gavin Smith and was with him for four years. And then moved to  Corne Spies Racing and worked there for two years. I got a phone call from Jonathan Snaith and they offered me the job to run their PE Satellite yard, which meant I had to then write my Assistant Trainers licence. I worked for the Snaiths for almost three years but unfortunately they eventually  closed their PE yard. I moved to Cape Town for four months to work for Snaith Racing. But I really was just too far away from my family and De La Ranch Equestrian, so I decided I needed to come home."
Kelly recalls that on her return she helped out at the Yvette Bremner Yard for a year.
"Then in December last year I got a phone call from Mr Johan Van Vuuren asking if I could start as Assistant Trainer in January this year to run his Fairview yard. I grabbed the opportunity and we now have about 13 horses at the yard."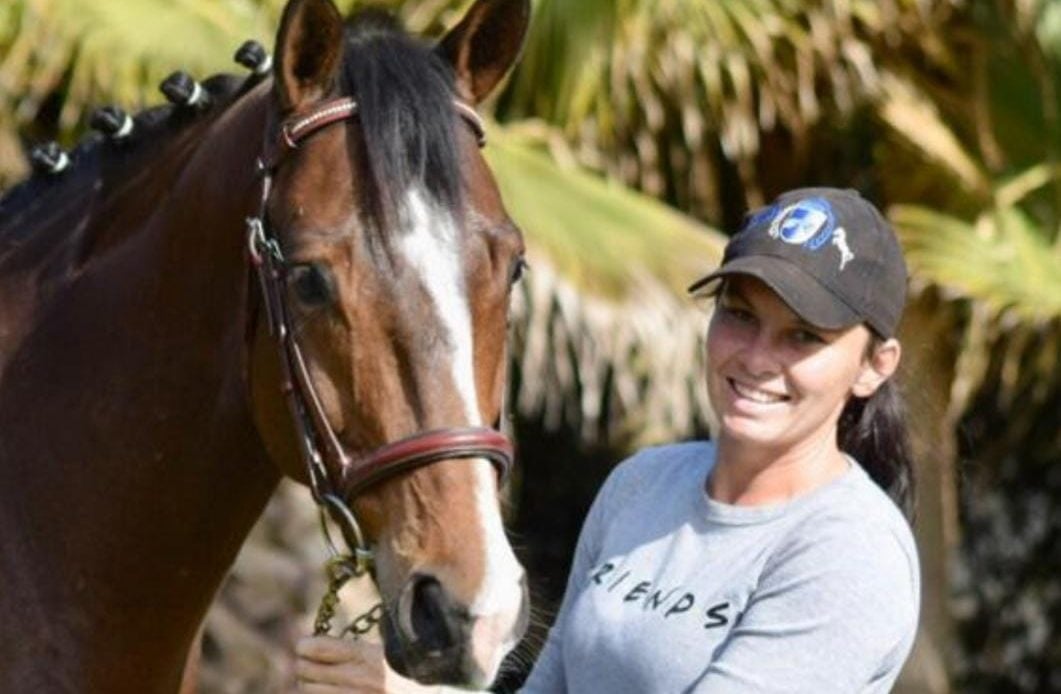 She says that as it's a fairly small operation, she works from about 07h00 in the morning to 10h30.
"I love riding work every morning for Johan and the Tara Laing Racing Stables team. Then I am off to De La Ranch Equestrian from 11h00 until 13h00 and then start at the stables again from 14h00 to 16h00.  For a small string I believe the Janse van Vuuren horses hold their own on the racecourse, and I really have to thank Johan Janse van Vuuren Racing and all their owners for allowing me this great opportunity," she says sincerely.
While she says one never stops learning around horses, she values every ounce of skill and knowledge imparted over the years.
And it all started in the Mitchley household.
"My journey started when my mom was 6 months pregnant with me – she had already bought me two ponies and a horse – so no pressure! So as far back as I can remember, there has always been a love for horses, as I have come from a family that has always had horses. Both my Mum and late Dad used to ride. I can't actually remember a time in my life having any other interests but horses. I started going to shows and I have had some really very special horses throughout my life," she tells the Sporting Post in what is a rare interview.
We asked the Westering High School graduate her why she is so low profile?
"Horses are a 24/7 commitment and passion. I don't have much time to talk," she laughs.
Kelly has her own house on De La Ranch and lives on the beautiful farm with her Mum and partner Clement, her sister Paige, and Mum's 'left and right hand', Vonnie.
She tells that she got her foot into the racing door as Mum had known former trainer Grant Paddock for many years.
"My friend Joshua Sutton and I went to stables before school to ride work every morning. I absolutely loved it! And then we all went to races one Friday at Arlington after school. I was hooked!" she laughs.
Kelly talks about her two 'babies' that she has received off the track and have become part of her life.
"Green for Go (aka Max A Million), a horse my mom chose from the racecourse from Grant Paddock Racing. I got him twelve years ago as a colt and only gelded him at the age of 13. He is now 15 years old. Another special horse I was given in 2015 was from Mr Fred Crabbia and Emma Rorke. Money is now 13 years old and both of them are retired here on my farm."
It was during the time that Kelly worked for Gavin Smith that she sadly lost her father in 2013.
"It was a devastating time for my family and I," she reflects.
At the time Gavin Smith had some horses retiring and a friend and Kelly started finding homes for them.
It was to be the birth of her rehoming operation!
"We moved horses from the racecourse to my mom's farm and it gained momentum. I have now been owner of this business for the past 8 years! And we have grown. Susan Chamberlain joined the team 2 years ago and she rides a lot of the horses. She also does the contracts with the clients. We also have Jorja Rohrich riding for us and she joined in January 2021. I've been really lucky to have Susan and Jorja part of my De La Ranch Team and my Mum is a massive supporter."
Her boyfriend Kyle Paddock shares her love of horses and he helps out on his weekends off at De La Ranch.
Kelly says she also needs to mention her support professionals.
"Our Farrier Steven Kane  does an amazing job with the horses and he knows most of them from the racecourse. Our Vet Dr Ashley Parker is always a comforting phone call away. I am proud to say that we are privileged to enjoy a fantastic sponsorship from Blue Steel Equestrian & Royal Feeds. We are really glad to have them part of our team."
Kelly explains that all of their horses that get rehomed receive individual attention, and the majority get basic schooling before they move on to their forever homes.
"As I said earlier, buyers have to sign a rehoming agreement. We have enjoyed massive support from owners such as Ralphs Racing, Mr Fred Crabbia and Emma Rorke, Mrs Suzette Viljoen, Mrs Lee-Ann & Mr James Drew, Mr Etienne Braun and many others. We really appreciate that the owners trust us with finding their horses good homes. We also have great support from various trainers at Fairview. We really do sincerely appreciate all the support that we get from everyone."
An additional service offered at De La Ranch is Spelling and Livery to the local trainers.
"We also get horses of all disciplines from clients that want to sell – it's a one stop equine service and we do it all at De La Ranch. So literally no job is too big for us."
Kerry says her motivation is a love of the thoroughbred.
"I work with them every day and they give me pleasure. And I want to make sure that they give pleasure to someone else once their racing career is done and dusted. I have about 20 paddocks and I prefer for them to live out , with waterproof blankets."
Since January 2021 De La Ranch has roughly re homed 220 horses, where we have followed each and everyone of their journeys with their new owners , and, we also do monthly updates with their new owner, to give their previous owner peace of mind where their trusty steeds have been rehomed.
Longstanding local trainer Tara Laing is an avid De La Ranch fan.
"Kelly is someone that  strives to reach her goals. Through hard work, dedication and perseverance — she's an ambitious person that doesn't give up. She pushes forward and is determined to succeed. She's young, energetic with a bubbly personality and is very much a people person. She and her team do a great job and render a wonderful support service to horseracing and our beloved horses. East Cape Racing is fortunate to have her doing the job she does so well," said Tara.
If you have horses coming of the racetrack looking for there forever home, horses to be produced, or already produced horses that you want to sell, please give De La Ranch a call on 081 266 6763.
‹ Previous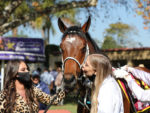 Love Really Does Conquer All