Alongside South African racing's greatest ambassador, Mike de Kock, Dylan Cunha is one of the youngest trainers to have saddled a Summer Cup winner.
De Kock was only 24 when he won the Gauteng flagship in 1989 with Evening Mist, while the then 28 year old Cunha won the big one with the Australian-bred Strategic News scoring under Glyn Schofield in 2008.
Last year in August, the Sporting Post reported that the then 42 year old had reached another milestone in what has been an extraordinarily diverse life, when he saddled his first winner from his new base at Newmarket.
And when Dylan Cunha opened for business in Newmarket he had ambitious hopes of establishing a boutique operation – all he needed was something to put in the shop window! www.thoroughbredracing.com reported earlier this week that he has found the magic in the shape of a grey gelding called Silver Sword, whose success at York in August brought a set of famous silks back into fashion.
Fifty years after Secretariat's historic Triple Crown-winning season, Penny Chenery's unmistakable blue-and-white block colours have visited the winners' circle in Britain.
Big Red's livery has been revived by another American in the shape of Linda Mars and Richard Ware, her partner in Martians Racing. Wyoming-based Mars is a member of the family that owns the Mars confectionery business, at which Ware was global ambassador before retiring.
Mars grew up watching Secretariat, and the iconic colours were duly worn by jockey Greg Cheyne – another UK-based South African expat – when he steered Silver Sword to victory in a £100,000 handicap at the Ebor Festival at York in August.
"I have to thank [Andrea and Jeremy Brereton [breeders] for bringing in Martians Racing, Linda Mars and Richard Ware – Linda Mars bought my sister's half-share so he could stay in the stable," explains Cunha, 43. "She had seen the Secretariat colours for sale at a charity auction," he goes on. "She made enquiries as to whether she could race them in England and they were allowed, so she bought them.
"We also made a replica of the bridle Secretariat raced in for the York race. We took photos of him and sent them to the tack lady to make it, which made the day a bit more special."
Such attention to detail is typical of Cunha's hands-on approach to training racehorses since he moved to Britain in 2020. In South Africa, Cunha earned Gr1 honours with Strategic News in the 2007 Summer Cup when still in his 20s, only to hand in his licence years later ahead of a drastic career change as he became a pilot for Mango Airlines, which he dubs the 'Ryanair of South Africa'.
He flew mainly domestic routes until that career was grounded by the Covid pandemic; as well as an airline pilot, he is also an ultramarathon runner, by the way. When Cunha decided to return to his first career, his training accomplishments and a three-year stint in Britain with trainers Robert Armstrong and Barry Hills from the age of 17 counted for little. He had to complete his BHA modules and put together a team of horses to get licensed.
"It was not easy to get going," he recalls. "Even though I was a Grade 1-winning trainer in South Africa, the hurdles were still there for me to jump.
"I had to have three horses to get a licence so I bought Mr Fayez for £2,000, Expressionless for £5,000 and Silver Sword for £11,000," he goes on.
"For the first year it was me and my father – we mucked out the boxes together and I used to ride the horses, with no days off. I couldn't afford to employ anyone but thankfully I had that experience behind me."
"Robert Armstrong and Barry Hills were probably the two strictest men I've ever met in my life but brilliant to work for, and because of that when I started training I was able to do a groom's job."
Cunha's debut season in Newmarket yielded just one win from 28 starts but 2023 has seen a rather more satisfying return with 11 victories from 56 runs, with his three foundation horses having contributed seven successes between them.
"We can't do much more than we've done with what we've got," says Cunha. "We've been at a 20% strike rate for the whole of 2023. We've only run ten individual horses, we've had 11 winners.
"We've won a £100,000 heritage handicap at the York Ebor Festival, we've run second in a £100,000 heritage handicap on Derby day, we've had an Epsom winner and a Glorious Goodwood runner. We have been squeezing the lemon dry but they are still running well."
All a big change from 2022. "Last year Silver Sword and Expressionless were two-year-olds," he explains. "Silver Sword refused to race twice. They weren't ready as two-year-olds.
'You have to have confidence in yourself. I was confident we had three nice horses but there were times when I thought 'Am I going to get any more?' You have to have confidence in yourself."
Silver Sword's success was timely just before the yearling sales season for which Cunha's father Luiz, who also used to train, does all the pedigree research. "In South Africa he picked out Group 1 winners and has shown he can do it here too," says Cunha. "It's a big advantage to a small operation. If we didn't have that edge we wouldn't have been able to do this."
He adds: "The goal is to have 40-60 horses in training – if we can get up to that we can have runners every week and keep in the limelight. I don't want 100, as it's very difficult to maintain staff but there have been times when we have had no runners for three weeks."
One thing's for sure: he isn't training for the fun of it. "Training is a good business if you run it properly and have the right runners in the right races," he says.
"I've never had a social runner and slowly people have come and people have started to notice us. We are punching way above our weight."
The Sporting Post wishes the former Durbanite well – he certainly has come a long way in short time!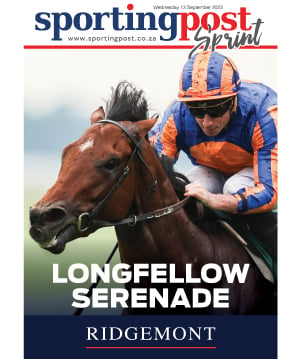 ‹ Previous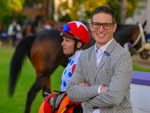 Bright Blue Sky In The Cape!