Kangaroo Jack has stormed onto our headlines – and winners' enclosures – with authority over the last two seasons. Currently on a 5 race win streak and unbeaten in his 4yo campaign, Turffontein-based trainer Gary Alexander chats to us about his sprint sensation with the catchy name and electric turn of foot.
Kangaroo Jack was bred by the late Mr R Wallace and is by Querari out of Rainbow Flag, a daughter of Model Man. Rainbow Flag used to race in Joyce Wallace's colours and her husband did the mating that produced Kangaroo Jack shortly before he passed away. Kangaroo Jack (or KJ as he's known at the yard) was foaled down at Barbara Sanne's Oldlands Stud and then moved to Peter and Jenny Blythe's Clifton Stud in Mooi River as it was easier for the Johannesburg-based couple to visit their horses in KZN.
When the time came to send the horses into training, Mrs Wallace selected Gary Alexander. He picks up the story. "Joyce Wallace approached me and asked if I could take two of her horses. Of course one's always got room for new clients. We'd also been neighbours in the same complex at the time, we got chatting and it worked out quite well."
Kangaroo Jack was backed and received his initial schooling under the very capable hands of Sharon Patterson and made his track debut as a very late 2yo, hefting 60kgs in a 1160m maiden juvenile plate at Turffontein on 19 July 2015. Stable jockey Andrew Fortune was in the irons and they finished 6th, a little over 5 lengths off the winner.
3yo Campaign
His second start came as a 3yo, exactly 2 months later. Again at Turffontein, Kangaroo Jack lined up for a 1200m open Maiden Plate. Despite not wanting to load and incurring the wrath of the Stipes, he made short work of the field, winning by the best part of a lengths in 73.62 secs.
Two months later, he contested a 1450m MR72 Handicap at Turffontein on 5 November. Again stubborn loading and with another admonishment from the Stipes, he finished just under a length second to 4yo Dakiwe.
Gelded and given a 4 month break, Kangaroo Jack returned to the track in February 2016 in a 1450m MR75 Open Handicap. Without troubling the handlers this time, and with 59.5kgs on his back, he finished within half a length of Irish Pride, shouldering 58kg.
Gary explains, "He shouldn't have needed gelding, but unfortunately we had to. After his first few starts, he was getting a bit thick winded and starting to make a bit of a noise. Between Andrew and myself we decided it was a good time to get it done. Since then he's done nothing but improve and the noise has gone away too."
Gunter Wrogemann partnered him next time out in the Non Black Type Egoli Mile on 3 March, where Kangaroo Jack lugged top weight of 60kgs to finish second to Val Et Al carrying 58.5kg.
Three weeks later, it was back to 1200m on 22 March when, with Anton Marcus in the saddle, he cantered up an easy winner in an Open MR80, by 3.75 lengths in a time of 72.24 secs, starting his current 5 race win streak.
Andrew Fortune was back on board on 7 May, by which time Kangaroo Jack's MR had jumped to 93. They took on a 10 horse field over 1450m at Turffontein, having been assigned a welterweight 64.5kg, but returned victorious by just under half a length in a time of 87.81secs.
Kangaroo Jack closed off his 3yo term in style, travelling to Durban for the Post Merchants on 17 June, where young Craig Zackey got the opportunity to pilot the stable star. Craig came back all smiles after dishing out a 3.75 length beating to some pretty smart sorts in open company, completing the 1200m in 69.78.
4yo
After an 11 week layoff, Kangaroo Jack stepped out as a 4yo in the Gr3 Spring Spree Stakes on 3 September. With his MR now up to 106, and the services of Andrew Fortune in the saddle, 'KJ' franked his Post Merchants form, carrying a top weight of 61 against older horses. It wasn't an entirely straightforward trip, but Fortune steered him through in style and it was again all smiles as he cruised his way into the winner's enclosure by 1.75 lengths in a time of 70.98secs.
That run set him up beautifully for the 1450m Gr2 Joburg Spring Challenge on 8 October. Now saddled with a MR113, he again trounced a quality field at WFA by 2 lengths in a time of 88secs, making it 5 wins on the trot.
Speaking about his star charge, Gary commented, "When he first started out, he had this nice action. I don't push my babies, let them dictate to me the pace they want to go. He did show us a bit, but not like he might be champion, at least not initially, although he was a horse that was going to win his races. Then he came out and won with Anton and really won well, but when we ran him with 64.5 on his back and he won – then we knew we had something special. With every race, he's just getting better and better and he pulled out very nicely from that race last Saturday."
Where to next?
"He's got tons of ability, so we're discussing future plans between my brother, Dean, myself and Andrew. Sometimes horses that have so much pace and speed, when you go a mile sometimes they just don't get it and it's not their fault. Kangaroo Jack is brilliant over 1200 and 1400m and it may be pushing him over a mile, but we're still discussing it."
"At this stage we're still on track for the Horse Chestnut Stakes. I think we've got to try him over the mile. If he stays, fine. If he doesn't, we'll know about it. He'll more than likely prep in the Hawaii Stakes and then run in the Horse Chestnut. If we do run him, we'll try him in a mile beforehand and if we see he doesn't stay the trip , we'll aim for the Computaform Sprint. The 1000m is perhaps a bit on the short side, but unfortunately there are only two Group 1's for him up here – the Computaform over 1000m and the Horse Chestnut which is 1600m. There are no Gr1's in between and he's the type of horse that you have to have a go at a Gr1."
Are there any hopes of seeing him for the Cape Summer Season? "With our programme in Joburg, we'll give the Cape a miss this season," says Gary. "If we know for sure he can get a mile, maybe next year's Queens Plate will be on the cards for him. But he'll have a tough season here and we'll take him to campaign in Durban, so at this stage I doubt if he'll be seen in Cape Town."
Querari
Being sent a horse is always somewhat different from picking one at the sales, but they don't come a lot better than the speedy son of Querari. "The Queraris are very, very nice. I wish I could afford a few more," says Gary, "but we don't have the sort of owners that are able to get you the horses you like at the sales. Kangaroo Jack is so well put together – he's very athletic, very supple and one of those horses that really moves well underneath the jockeys (borne out by Andrew Fortune's comment after the Spring Spree that 'I could swear if I closed my eyes I was in my Merc!')
"He's a nice, well conformed horse and soundness-wise, touch wood, we've had no problems. He's a very nice horse to train. He's very different to training the likes of Tommy Hotspur, who had such offset knees. He really had to be nursed along and every time he came back from a race, he'd be off for nearly 2 months. Those are the hard ones to train."
But the big talking point about Kangaroo Jack is his temperament. "He's really a special horse. I've worked with some very good horses in my time – Ruby Clipper, Tommy Hotspur, etc – and I can say that temperament plays a very big part. He's always been quiet, even in his box and that's a big plus when you're working a nice horse – they don't lose it prior to a race and take up too much energy."
Team
With some promising young talent in his string, Gary says, "We have had some nice horses and I've been very grateful. We haven't spent big money, we don't have that sort of client base, but we bought quite well and have a nice little system going. It's all about team work. My brother Dean is a big help in the yard and of course Mark Khan rides a lot of work. We've also got John Seeger back in the yard – he's the top farrier in SA and absolutely brilliant and then of course Andrew Fortune. Andrew is a very good judge, especially when it comes to young horses. He will say this needs time, this you can step on – that's the type of input into the yard that's so important. It's a really good team and some of our staff and managers have been here 25-30 years, so they know exactly what they're doing and all pull their weight. Having the right people makes all the difference."
Owners
"Joyce and Claire have been great. They've let me do what I have to do and haven't interfered, especially taking the route I've taken with this horse, which is great. What often happens is when owners get a good horse, they want to get very involved – which I don't mind – but when they start saying that a horse has got to run in this or that, when you as the trainer know where the horse needs to be placed, that makes life very difficult, but the Wallaces are fantastic people to train for." Gary also trains Kangaroo Jack's half-sister by Lateral, Sha-Boom Sha-Boom as well as another half sister by Kahal that has just arrived and Gary enthuses, "She's lovely and has a lot going for her." Asked whether she still has Rainbow Flag, Mrs Wallace confirmed, "I don't know anything about breeding, so I just carried on with the mares until they'd had the foals they were carrying and then I sold them, so the mare is now standing at Oldlands with Mrs Sanne." Kangaroo Jack has a lot of sentiment attached, making his success even more special and she continues, "He has a very special place in all our hearts. He's a really super little horse with a wonderful temperament. It was my late husband's greatest wish was to breed a Gr1 winner – possibly that will still come true."
‹ Previous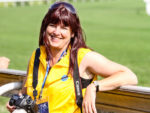 Liesl King