37 year old Gregory Michael Cheyne, or Greg as he is known to most, is a perfect example of the modern day, successful, jockey. After first laying the foundation for a great career in his home country Greg took the step to widen his horizons by heading overseas. This was after winning the 2009 Durban July on Big City Life and ensuring that his name would be well and truly remembered in South Africa. In Hong Kong, as a club jockey, he was not always on horses which were very competitive. Despite this, he managed to ride 38 winners including two Group 3 victories. His win on the ex-South African filly Sweet Sanette, in the Bauhinia Sprint in Hong Kong must rate as a highlight as she managed to beat the highly rated Sacred Kingdom in the process. Greg has finished as high as 3rd on the National jockeys log and has won the East Cape jockeys title on 3 occasions. Greg is now associated with the powerful Ramsden stable in Cape Town and is the stable jockey for top Port Elizabeth trainer Alan Greeff. With these two powerful trainers, amongst others, behind him he looks assured of riding many more winners. WINNING FORM and HOLLYWOODBETS.NET will follow Greg's career with great interest.
What is your name? Gregory Michael Cheyne.
What is your star sign and birthdate? My birthdate is 10 June 1976 which makes me a Gemini.
Where were you born and where did you grow up? I was born in Pretoria and am still a true Blue Bulls supporter!
Where do you live? I live in Cape Town.
Tell us about your family? Claire and I have been together for 16 years  and have been married for 8 years.
Do you have a 'nickname?' Not that I know of.
Favourite food? I like spicy food as well as curry.
Favourite drink? I enjoy red wine.
Favourite music? I like a variety of music-nothing specific.
Favourite sport? I am passionate about golf but support all sport and I really follow British soccer keenly.
Favourite soccer team? Tottenham Hotspur.
Favourite holiday destination? I have been to many places but in naming one I would have to opt for Vietnam.
Who is your favourite author? My two favourite authors are Jeffrey Archer and David Baldacci.
What book are you reading at the moment? A book written by David Baldacci called The Camel Club.
Which characteristic about yourself do you like the most? Honesty and loyalty.
Is there anything the public don't know about Greg Cheyne that they would be interested to know? I doubt it. I am a very uncomplicated person-what you see is what you get.
Who is the one person that you would love to meet and why? I have met him but I would love to spend a day with him on his farm to see how he thinks and how he goes about his business and his life. That person is Gary Player.
Where did you go to school and what qualification did you achieve? I went to Pretoria Boys High before going to the academy.
Who was the main person that influenced you to become a jockey? I must say that me becoming a jockey happened purely by chance. I was involved in all sport and particularly wanted to earn my living by playing sport. I read an article about the academy and took it from there.
In which year did you begin your apprenticeship, where were you based and who were your fellow apprentices at the academy? I joined the academy in 1991 with Alec Forbes and Paul Devlin.
Which senior people in racing had a major influence on you early on in your career? Before I went to Cape Town Gordon Whyte and David Payne were very influential in my life. When I got to Cape Town Colin Burroughs and Stephen Page were my main influences.
You have enjoyed an illustrious career in horseracing. Tell us about it? A stand out career highlight for me was winning the 2009 July Handicap on Big City Life for Glen Kotzen. Another highlight was winning the Paddock Stakes on a filly I part-owned, Emblem Of Liberty.
Total winners to date, including overseas? That figure is about 1200.
Total Grade 1 winners? It is now on the 10 mark.
Total of other Graded winners? 30 plus.
Best finishing position on National Jockey's Log? In 2009 I finished 3rd.
How many times have you won the Cape Jockey's Title? I am yet to win that title.
Have you won Jockey Title's in any other provinces? I have won the Eastern Cape title 3 times.
How many July's, Met's and Summer Cups have you won? I won the 2009 July on Big City Life.
Which is your favourite Grade 1 race to ride in? The July and the Met are the two races all South African jockeys strive to ride in.
Apart from the above three, which other Grade 1 races in South Africa have you won? I won the Paddock Stakes on National Emblem and the Gold Cup on Desert Links. I have also won the SA Fillies Sprint three times, the Garden Province and what was called the Chairmans in Cape Town.
Best racehorse you have seen in your life, either in the flesh or on the television? I was privileged to see Horse Chestnut.
Mention the different countries you have ridden in? I have ridden in Zimbabwe, Mauritius, Germany, Korea, Hong Kong, Singapore, Malaysia and Macau. 
Overseas achievements i.e. Jockey's Championships, Grade 1 winners etc.? I won the Malaysia Sprint (Group 1) and the Malaysian International Jockeys Challenge.
Most competitive jockey you have ridden against? Dougie Whyte and Joao Moreira.
Best friend you have made within horseracing? Barend Vorster. We communicate on a regular basis.
Best advice you have received about this wonderful sport, from whom did it come and more importantly, what was it? As can be expected I have received lots of 'advice' from all quarters but some of the best advice I have been given is probably, "Keep your nose clean," and "stay true to yourself" and, perhaps, the most important, "stay grounded". 
Most famous racing person that you have met?  Lester Piggott but to him I could add Frankie Dettori and Sir Alex Ferguson.
Favourite South African racecourse? I think Fairview is the fairest course in South Africa.
Favourite overseas racecourse? Sha-Tin.
Before going off to ride in Hong Kong, you won the Durban July aboard Big City Life. Tell us about that experience? Big City Life had a perfect July prep. Before the race we had a plan and the plan worked to the T. All in all it was a great team effort.
Tell us about your life in Hong Kong. Were you contracted to ride for a trainer or were you a club jockey? I was a club jockey.
Did you ride work every morning? I rode work most mornings.
How many winners did you have there? 38.
Which major races did you win in Hong Kong? I won 2 Group 3 races. The Ladies Purse and the Bauhinia Sprint on Sweet Sanette who was previously with Roy Magner in South Africa. In winning Sweet Sanette beat Sacred Kingdom who was rated amongst the top horses in the world.
Are there any big differences between racing in Hong Kong and South Africa? In all honesty racing in Hong Kong cannot be compared to racing in South Africa. For a start the money in Hong Kong is unbelievable. Money is simply no object. The tote takings per race in Hong Kong is about 100 million dollars. Everything is of the best and whatever they want they get. It is actually unfair to try to compare the two.
What was the main reason that you came back to South Africa? Before coming back to South Africa I spent 18 months in Singapore where I rode about 50 winners. I was not getting enough rides to be competitive and I wanted to be where I could get more rides and be competitive again. I had been away from South Africa for 4 years and felt that the time was right to come back.
You are currently doing a lot of riding for Joey Ramsden. Are there any horses from the yard that will be worth following in the Cape season? I am very fortunate to have hooked up with Joey. His stable has now turned the corner and must be followed. I am also very fortunate to have landed the job of first choice jockey for Alan Greeff in Port Elizabeth.
The Cape summer season is about to start. Have you already earmarked a couple of horses you would really like to ride in the features? King Of Pain has caught my eye and I would like to ride him in the Met depending on the weight he is given. Of the younger horses Bush Ranger has potential.
What is your most comfortable riding mass? I can ride 52,5kgs.
From what you have seen and experienced in Hong Kong, and other places, what would you say the authorities could, or should, do to attract more people to the race tracks? The tracks have to be made more attractive for people to want to visit. There must be alternative in house entertainment provided and the restaurants must be of a very high standard. A lot of work is needed and I must admit that I do not have the answers.
You will be having a very busy day at Kenilworth on Saturday. Please tell us about your rides?
Race 1: WATERS EDGE (3) – First run back from KZN was very promising. He should run well.
Race 4: FLYING COMFORT (9) – He has loads of speed and he has a light mass. He has ability over the minimum trip.
Race 5: PUNTA ARENAS (11) – He has a tough task from the draw. He is capable on his day and should do well over this short course.
Race 6: JUDDERING ANGEL (11) – He is improving and this run will give us a line on how he compares  with the 3 year olds.
Race 8: CROWN OF GOLD (2) – Has the weight to carry but stays very well. Should be competitive.
Race 9: SHADES OF INDIGO (14) – He feels well at home in work. He must beat the youngsters.
Race 10: GOLCONDA (5) – He had a very good last run. I am hoping to go one better this time.
Many jockeys are now sponsored. Do you have a sponsor and how important do you think it is to have a sponsor? I don't have a sponsor right now but I would like to be sponsored. Having said that, I do believe it should be a two way relationship with both parties benefitting from the sponsorship.
The prize being offered by Klawervlei Stud for the countries champion jockey is very worthwhile for a jockey to win. Will you be chasing the title? Not really. I think I would be joining the hunt too late in the season. To win I think a jockey would need to build some relationships with a couple of trainers so I will see how things are going at the start of next season. I think it is a very worthwhile prize to chase and Klawervlei must be commended for putting up the prize.
You are a professional jockey and make your living by it. Is there anything else in life you are passionate about? I am passionate about my family and I am passionate about golf.
If, for any reason, you could no longer be a jockey how would you like to earn your living? Numbers fascinate me and I think it would be a great job being a statistician. I am also very interested in TV work.
Now that you are back and settled in SA do you think you will be staying for a while? Yes. I think I am back to stay.
Does the expression, "Behind every successful man is an equally successful woman" apply to Greg Cheyne? Most definitely. Claire wears the pants in my house and is the backbone of the family. She is a fantastic wife who supports me in every way and I love her very much.
‹ Previous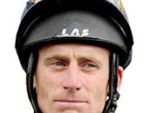 Johnny Murtagh