After over 30 years of a relatively accident and injury free career in the saddle, senior Gauteng jockey Gunter Wrogemann's  world came crashing down around him at Turffontein on what was ordinarily meant to be a routine working Sunday.
Sunday 3 June 2018 feels like a bizarre freak blur nine months down the line as the top jockey chats to the Sporting Post from his home at Waterfall Country Village.
He had just been to see his Specialist on Monday afternoon.
Having reached his half-century, Gunter was riding better than he ever had – his 104 winners that season meant that it was the best of his career.
Twenty four hours earlier he had ridden a beautifully judged race to get Surcharge home for Stuart Pettigrew and owner Ian van Schalkwyk in the Gr1 Daily News 2000 at Greyville
"It was Sunday at Turffontein. I remember Robbie Sage chatting in the parade ring just prior to me mounting Ancient Code. Next thing I recall is Father's Day a fortnight later. I woke up with my family around the bed and I remember asking them what on earth was going!"
He recalled nothing of travelling five lengths back on the rail on the Robbie Sage-trained Ancient Code, when the filly appeared to falter and go wrong. She sadly sustained a fatal fracture of her left front fetlock and was humanely euthanased.
Badly bruised and swollen, Gunter lay on the turf, his jaw and other bones broken in his face. He was struggling to breathe because of the swelling and had to be intubated. A tracheotomy was another option considered. Gunter was rushed to hospital. He had a ventilator breathing for him and they had no option but to put him into an induced coma.
In what was described at the time as a Father's Day blessing by his wife Samantha, the surgeon started gradually bringing Gunter out of the coma and he woke up on the day that Dads usually get spoilt with a breakfast in bed.
He had lost 14 days of his life, but it was the greatest gift he had received on the day and was just happy to be able to hug his wife and twin daughters Jordan and Jamie again.
The Langebaan born Gunter Wrogemann moved to Pretoria at a young age.
Both his Mom and Dad were in the SA Air Force and were based at Voortrekkerhoogte. Gunter went to the High School of the same name and he excelled in sport – getting his colours in rugby, baseball and softball.
It was a chance suggestion by one of his parents' colleagues that saw him being interviewed at Turffontein Racecourse for a possible career as a jockey.

He joined the SA Jockey Academy in 1982 with the likes of the late Warren Bailey, Ricky Kleinschmidt Donovan Habib, Paul Vermaak and MJ Odendaal – the latter will shortly commence a second career as a trainer.
"None of the guys from my year are still riding. I'm the last one left and I can consider myself fortunate to have steered clear of injury – beyond this accident. I am physically fit and fine and believe I can go for a long time yet," says Gunter, adding that race riding and horses are his passion.
"I have conditioned myself not to think too much about what I'm missing right now. I watch the big races. But I find if I watch every day it works on my mind and plays games with me. I need to be emotionally strong at this point as I want to heal and have every intention of coming back. My mental state and strength is important in the healing process. I always had a career plan and this accident has just delayed that process temporarily."
He saw his specialist on Monday afternoon.
Gunter says he is just about ready to ride right now  – he is fit and well. But there is only one aspect arising from his injury that has not been fully resolved.
"I suffer from vertigo from time to time. I lose my balance. I turn in bed and then feel like I'm falling out. You reach for a cup and have to grab the counter. I saw my specialist on Monday. He has booked me off for another two months. I must get shot of the vertigo and then I'm ready to ride. The doctor explains that when one has an ear infection, which can cause vertigo, it can be treated with an antibiotic. But mine is symptomatic of my brain being in the process of resetting itself. I need to be patient and positive and while I was expecting to come back last November and then in February for the season, I now have to put that on hold."
He asked that he be allowed to express his sincere thanks to all the doctors that have been so attentive and professional.
"The on-course Medical Officer Dr Richard Albrechts as a start has been wonderful. He feels like our family GP. All my numerous specialists have been world-class. I have been fortunate to receive top-class medical care. I am very thankful for that."
A family man, with his five year old daughters keeping him 'very busy', Gunter says that he has turned the 'injury enforced leave of absence' into a positive as regards his family.
His wife Sam is a Sales Director with a large company and she travels internationally. Sam returned from the East on Monday to see the specialist with him. But she is off again to distant shores in a few days.
"When I was riding, I really only had Monday off. So that was my family day. Taking the girls to school, fetching them, making lunch and doing homework and playing in the park. Now I'm getting to do all the things a stay-at-home Dad gets to do. I see Jordan and Jamie at ballet, go to their school functions and really enjoy the quality time with them. So I am looking at things philosophically and saying that everything in life really happens for a reason."
We asked him why the raw determination to return to race riding at the relatively advanced age of 51?
"I'm in a good place physically. I believe that the body and the mind will tell one when to call it a day. And I'm nowhere near that day, yet! I have pondered a lot about how we view what we have. Maybe we take our careers for granted. It was never a job for me. But I never thought much about being in a position where I couldn't ride. So this has been a wake-up call. It will soon be close to a year off, the way things are going. I cannot wait to get back into the saddle."
Watch this space!
‹ Previous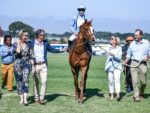 Stars Of The Summer