One of our emerging generation of riders is Jarryd Penny, who caught the headlines with an enterprising ride on Duncan McKenzie-trained Stratocruiser in last month's Founder's Trophy at Fairview.
Jarryd let Stratocruiser bowl straight out of the gates prompting Alistair Cohen's unforgettable call that Stratocruiser was 'going quicker than last week's pay," followed, as they streaked to a widening 12 length lead, "if Stratocruiser can maintain this, it will be an absolutely brilliant win." He did, and it was and as they crossed the line to lots of pats from Jarryd, Alistair dished out a well-deserved, "10 out of 10, Jarryd Penny. Absolutely brilliant."
There are no short cuts in life and fewer in racing. The first few years after a jockey comes out of their time is one of the busiest of their fledgling career, something a cursory glance at the jockey log bears out and apart from his sensational Founder's Trophy victory, Jarryd has steadily been doing the hard yards and carving a name for himself in the SA rider ranks.
The 25yo Jarryd is a Johannesburg native, was born and bred in Kempton Park and is the middle of the family's three children. He freely admits that horse racing hadn't crossed his radar until the Academy scouts visited his school when he was in Grade 9. "I didn't enjoy school that much and wasn't the best academically, so I decided to try a new venture."
Academy
Jarryd joined the Academy in 2010, alongside Donovan Dillon, Mandla Ntuli, Franklin Maleking, Lerato Mohapi and Bryan Claassen. Although battling to get going initially, Jarryd says he enjoyed the Academy, particularly once he was able to transfer to Johannesburg, where he could be closer to home. "I hadn't seen my family much for the first three years, because we didn't get much leave, so when I moved back, it was fantastic. Mr Waterston helped us a lot and Mr James Maree. He's actually one of the best," he reflects.
In what must be the envy of all his colleagues, Jarryd has the happy problem of struggling to keep his weight up, but it's not quite the advantage one might think. "I can do 52kgs, easy, but some people actually don't like to book you for the 60kg rides because you have to carry so much lead. I'm probably the only jockey who drinks protein shakes to put on weight."
However, on the up side, he adds "You might not always get the best rides in the world, but you do get lots of opportunities. My aim in life is to try my best every day. If a horse has finished 10 lengths back at its previous run, I'll see if I can try and get it to 7. The more experience I get, the more I learn, so when you do get on the good runners, it all comes together at once."
Agent
After coming out of his time, Jarryd didn't cast his line too far from home, but in addition to Joburg and Kimberley, has recently started riding in PE and also goes to Zimbabwe on a Sunday, thanks to his agent Simon Zackey. "There is so much racing that you can't do your noms, phone for rides and ride as well – it's just too much. Simon is doing a fantastic job and my rides have doubled since he's come on board. I've also got to acknowledge all the owners and trainers who've helped me. There are so many who have given me opportunities and chances. And of course, the horses."
Highlights
The first winner is always good for a lifetime of memories and Jarryd's came aboard Alyson Wright's good grey, Penhaligon. "I think it was my 34th ride," says Jarryd. "Your first winner will always stay your most special and riding that first one is a different feeling in itself."
Jarryd has the distinction of winning the Tommy Hotspur handicap twice in a row – first on Viking Hero and then on Wrecking Ball. "The first year was for Grant Maroun," he recalls. "The second year, I didn't have a ride, but S'manga Khumalo fell off that day, so I got the ride and won for the same trainer – it was a special day."
Another highlight was winning the OK Grand Challenge earlier this year, when Paul Matchett raider Royal Honour won it for the Bridget Stidolph yard.
Pressed to name the best horse he's ever sat on, Jarryd selects dual Summer Cup winner Master Sabina and it is a little remembered fact that Jarryd steered him to his maiden win on 30 March 2013.
However, Jarryd is quick to say the biggest highlights aren't always the best horses and the big wins. "Horses are amazing animals. You just fall for them. I'm mad about motorbikes and had to change from bikes to horses, but within a month, I'd made the transition. I don't think you can be a jockey if you don't love horses. I've loved them from the day I started riding."
Highs and lows
Jarryd prefers keeping a low social media profile, posting his wins to thank connections, but that's as far as it goes. He recalls an incident where he put his hands down and was beaten. "I read ABC – it was the worst thing I ever did. So I don't read that sort of stuff and I never go on ABC anymore. We all make mistakes – that's how we learn – but that negative stuff can bring you down. To me, the worst thing a jock can do" – and here he singles out the younger riders – "is to stop working for people when you're not getting rides. It's not because you're being difficult, but one starts getting despondent. In that sense my family are awesome and they used to push me to go to work every day and to push harder and to ride harder. Now I often get comments that I'm one of the hardest working jockeys out there. I'm always at work and I always try my best and I think that's a good thing."
"My family have always been my biggest supporters and it's a really big help when you've got that behind you. They've helped me through the bad times and the hard times," he reflects.
In terms of people who have helped shape his career, Jarred names his Academy riding masters. "Steven Jupp, Rhys van Wyk, Lawrence O'Donoghue – I wouldn't know how to ride a horse if it wasn't for them. You have to admire Piere Strydom for how he gets horses to run and Weichong Marwing for being such a powerful rider, but there's one jockey I really look up to and that's Andrew Fortune. I've never met a better horseman. The feel he has is amazing. He's always willing to give advice and he always phones me when I do well."
Asked to choose his own best characteristic in the saddle, he chooses patience. "I will plug away until I figure out how a horse likes to run."
Future aspirations? "If you had to ask any jockey, they will say they want to be Champion and ride overseas – everyone does. But there are so many jockeys in racing and only one can be champion. Every year my goal is to look at the stats and see if I can try and improve from there. The year before last I was 47 on the log. Last year I was 33. I just like to try and improve every year."
Life outside racing
Jarryd prefers to separate his professional life from his personal life and spends most of his spare time tinkering with engines with his father. "At the moment my father, myself and my brother are building motorbikes to race with." His other pet project is his 1990 Nissan 300ZX. "It's a left hand drive, so it's a bit tricky, but I'm rebuilding it as my fun car. It will be a full restoration," he says proudly. It is quite a mean looking machine, but Jarryd says while it does look fast, age has caught up with it a bit.
Jarryd is at his most animated talking about cars. "I've just bought a Volvo and I deliberately bought an older one because I can fix it myself. "You can't fix modern cars, you have to send them to a shop. To me it's a waste of money. Rather do it yourself," he says firmly.
Stratocruiser
PE's Duncan McKenzie saddled Stratocruiser for that spectacular Founder's Trophy win and comments, "The horse is a galloper, but you've got to hold him together and let him go at his own pace. If you restrain him, he doesn't run on. I said he would go to the front and Jarryd must just hold on and let him do his own thing. Half way round the turn I was panicking a bit and thinking he'd done too much, but it was a brilliant ride."
"Jarryd rides a lot for us in Kimberley. Jarett Rugg swears by him. He's a very pleasant guy, he does exactly what you want and he rides them to the line. He always gives 110%, so if your horse runs a bad race, you can go home and know there are no excuses, which is all you want."
Kimberley Connection
Jarett Rugg is proud to have had young Penny as his stable jockey for the last year and a half. "He was the second choice rider for Cliffie Miller and got first choice when Marco (van Rensburg) was away," he explains. "When Marco came back, I offered him the job as my stable jockey and he took it with both hands."
"Kimberley doesn't have the advantage of having jockeys to ride morning work, so to me it's very important to have a stable jockey who gets to know your horses and is there for your rides and yours only. That's something Jarryd is very strict about. He won't take rides for anyone else unless he doesn't have a ride for me."
"We work well together and since Jarryd's been riding for me, the yard has got stronger and stronger. He comes here to ride, not to play games. He gets here focussed and gives every horse the best chance possible. Racing is all about getting home the wins and doing the best you can on the rest and that's what he gives me every time he gets on. I've never had to question a ride, he always gives good feedback and something that you can take home to work on."
"For a long time my stable was the smallest in Kimberley, but we've got the highest strike rate and we bring home the winners and with our 15-20 horses, we are able to be competitive against the guys with 80-100. That's got a lot to with the fact that Jarryd is my jockey. I believe he has a bright future. He's a very underrated rider. Obviously one has to pay your dues, but I believe he will succeed and be a top jock because he is determined to get there."
‹ Previous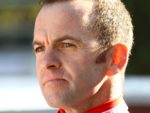 Francois Herholdt