Jeff Lloyd was born in the UK on 1 September 1961. He and his family settled in South Africa in 1973 and Jeff joined the SA Jockey Academy a few years later. The rest, as they say, is history, with big race wins and SA Championship titles aplenty. After suffering a stroke in 2013, Jeff has clawed his way back to the top. With an Aussie title and another 7-card whitewash, at 55 years young, he is riding better than ever. We catch up with 'The Guv'.
The horse gene seems to have come from Jeff's father, who was keen on racing and had aspirations to be a jockey as a young man, but didn't have the necessary connections to follow it through. He settled for electronic engineering and the family found their way to South Africa when he was offered a job here.
SA Career
Jeff joined the Academy in 1975 under the tutelage of Cyril Buckham, David Cave and the evergreen Vince Curtis and seniors included the likes of Stephen Jupp, Paul Gadsby and Felix Coetzee, who is a still close friend. Apprenticed to Brian de Villiers, Jeff had his first ride under rules over 1600m at Greyville finishing 8th. His first win came courtesy of a grey filly named Panache in a 1200m C Div sprint at the Vaal in January 1978. He remembers, "It was my 38th ride after riding for 7 months. She won by 5 lengths."
Jeff was Transvaal Champion Apprentice in 1977, 78 and 79, leaving De Villiers to join the up and coming Ricky Maingard stable. Jeff comments, "I still think this was one of the best decisions I ever made, he taught me to be a true professional and conduct myself well." It also afforded the opportunity to ride horses such as Bodrum, Rotterdam, Fairy Ring and of course, the mighty Wolf Power, who Jeff counts as one of the best he's ridden alongside the Gary Alexander speedster, Tommy Hotspur.
Championships
Jeff was SA Champion jockey 6 times (finishing on 313 wins for the 1991/92 season to break Muis Roberts' long-standing record), Mauritian champion 5 times and now has an Aussie title to add to the list. The hard work, travel and commitment it takes to win a title are not for everyone – what is the key to his success? "I would have to say my hunger to always be the best and always keep improving myself was thanks to my father who always made me work for everything I was given and taught me to never give up, something that has stayed with me forever. However I do think my laid back attitude, and separating my professional life from my home life has helped."
It wasn't all smooth sailing though.  "Most young sportsman don't know how to deal with the lows when things go wrong. I was no different when my hot, inexperienced head got the better of me in the Cape Guineas riding Wolf Power when I brought down 2 horses and received a 6 month ban. Thankfully Ricky Maingard stuck by me and kept me focused. He put me back on Wolf Power in a Group 1 my first meeting back, despite the owners wanting Michael Roberts. Of course the Wolf won by 5 lengths."
Support
Aside from Maingard, Jeff was associated with many of SA's top trainers, including the likes of Jean Heming, David Payne, Mike Bass and Tony Millard. "I've always loved working with a stable rather than freelance as you get more attached to the horse. They all train their own way, but one thing they all had was work ethic, there are no short cuts to being a great trainer. I still regard Mike Bass as one of the best conditioners I have ever ridden for and he holds a special place in my heart. Since relocating I have ridden for David Payne with great success in Australia. I have been lucky throughout my career to be associated to many top yards and still believe Philippe Henry to be one of the best trainers I have ridden for."
Some of Jeff's SA highlights include 5 Met wins, 3 Queen's Plates and a Summer Cup and although Pocket Power is most easily associated with Bernard Fayd'herbe, it was Jeff who rode him to his first Queen's Plate and Met wins. In fact, Met day 2007 was particularly memorable as Jeff rode 6 winners on the day's card including the Met on Pocket Power, the Cape Derby on Jay Peg and the Fillies Classic on Sun Classique.
Moving Downunder
Jeff moved to Australia in 2007. "It was quite a rushed decision but we felt we were doing the right thing by our children. I had no idea how difficult it would be and just how tough racing is here in Australia. Giving up everything I had back home, coming off a season where I had just ridden 12 Group ones and having to start from scratch was not easy. No one cared what I had achieved before it was all about what I could do here."
"We initially immigrated to Sydney where I rode successfully winning for my old boss David Payne on my 1st meeting. It snowballed from there and after a very successful first season I was invited to ride in Hong Kong on a 3 month contract. I stayed for 3 and a half years before deciding it was time for my children to return to Australia." This time they settled in Queensland. "We have so many friends here and it has been very easy to settle. We love the life style here on the Gold Coast and couldn't be happier."
Aussie racing
"In Australia there are three levels in racing, Metropolitan, Provincial and Country. Metropolitan meetings are held twice a week, where the bigger stake money, top jockeys and better horses race. Unlike SA, the premiership is won on how many winners you have at Metropolitan meetings only. Racing in Australia is like a cult. It receives so much following, there are 4 racing channels on TV and a whole section in every newspaper every day. Children from a young age love horse racing and everyone, young and old get dressed up for every meeting."
Jeff won his first Australian Gr1 aboard Nom Du Jeu in the 2008 AJC Derby for the Murray Baker yard. "It was a big moment and definitely cemented my place amongst the metropolitan jockeys. I am currently riding a horse for Bjorn Baker (the son of Murray Baker), called Winning Rupert who has won 3 from 3 and is very special."
Stroke
In March 2013, Jeff suffered a serious setback. He suffered a fall at a mid-week Doomben meeting and despite breaking a finger and getting whiplash, fulfilled his engagements for the rest of the day. He took some medication for what he thought was a headache overnight and headed to work as normal the following day. "As we were told to get on our mounts in the 1st race, I got a very bad dizzy spell which never passed, so had to get off the remainder of the day. Not knowing I had suffered a stroke, I still drove 2 hours home." Upon seeking medical advice, it was discovered that he had suffered an ischemic stroke (a tear in the main artery to the brain). "I was taken straight to ICU and remained in hospital for 2 1/2 weeks. I was told I would never ride again, which at the time I accepted quite easily, just being relieved to have got out of it without any permanent damage."
Ten months later he considered getting back in the saddle and after getting the all clear from his neurosurgeon, he went back to the track and started riding work on 5 March 2014. "It honestly felt like I had never been away. In some ways I think it helped me because having a forced 14 months on the sidelines gave my body that had never had a break time to rest. My back feels better now than it has for the last ten years!"
Australian title
Jeff's recovery has been nothing short of miraculous. Almost a year after his stroke, he was back at the races and on 22 April 2014 he was back in the winner's enclosure on the David Payne trained Paederos.
Not content with merely making a comeback, Jeff became the oldest jockey to win this year's Brisbane Metropolitan title in Australia – with a little help from an old friend. "I was quite a long way off the first 2 jockeys lying 3rd on the log and content thinking how well I've done, when Felix Coetzee phoned me to catch up and say well done. When he heard I was content finishing third with 2 months to go he wouldn't have it and in his way of saying things, by the time we finished talking I knew I had to push harder and try and achieve the impossible. It was a fight till the last week, but I went into the last meeting 5 ahead and when I won my 3rd ride on the day I had secured the title. My family and friends had all come up to Doomben to surprise me so it was so special arriving at the winners box and seeing them all cheering. My sons were crying. I finished the day with two winners, winning the title by 7 and I have Felix to thank for it."
Better than ever
Jeff followed that up with a fantastic 5 winners on the Eagle Farm card in September and a record-breaking 7 wins at the Sunshine Coast on 30 November. "I have had 7 wins on 3 occasions in South Africa, but this time I rode 7 winners at a Metro meeting and am the first jockey in history to do this in Australia. It was really special to me as my kids, who follow my career very closely, were able to witness it."
Jeff's wife Nicola and their three children are his biggest supporters. His sons have taken to calling him the 'GOAT' – Greatest Of All Time – and there may be a book in the pipeline with the same name. "My kids are the reason I'm still going and striving to break all the odds, it just gives me so much satisfaction seeing their faces after days like that. It always worried me that the majority of my career had taken place before they truly understood it and it is so rewarding to have them be part of my journey."
"I am so lucky to have my wife Nicola and the kids to share this with and am very fortunate to have had more ups than downs throughout my career. Nicola is by far my biggest supporter and motivates me all the time."
Jeff is currently associated with the Toby Edmonds yard and enjoying a strike rate of nearly 30 percent. Although it's hard to imagine there are too many goals left for the internationally acclaimed rider, he is as focused as ever. "I will be trying to keep surprising myself and setting more goals while I'm still riding. After riding I'll go where the sport takes me, hopefully keeping myself busy."
‹ Previous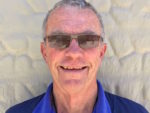 Jim Antrobus