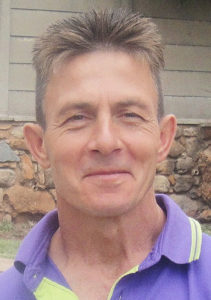 JOHN VOS (49) has dedicated his life to the 'sport of kings'. His determination was evident early on in his career as he brushed aside the disappointment of not being given the chance to be an apprentice jockey, and became an assistant trainer.
He worked under some excellent horsemen for a quarter of a century before finally taking the bold step of training in his own right. He began with just eight horses but enjoyed success early on in his training career as he claimed back-to-back Gold Bowl's with Pacific Warrior in 2008 and then Western Walk in 2009, the former interestingly winning the above-mentioned Grade 2 contest, on his first run for the yard. He has also won the Grade 2 Fillies Nursery with Spring Clover.  John has credited his early success to his patience with the thoroughbred and also his attention to detail. His main objective is to keep his horses sound. Whilst there is no doubting his ability, John knows full-well that one is only as good as the horses he trains. With most of his seasoned campaigners retired, he currently has only a small string of a dozen horses at his Turffontein base, but is hoping that prospective owners will come aboard and afford him the opportunity to showcase his skills.
What is your name? John Vos.
What is your star sign and birthdate? My star sign is Aquarius and my birthdate is 30 January, 1964.
Where were you born and where did you grow up? I was born in Johannesburg and grew up in Alberton and Primrose.
Where do you live?  I live in Southcrest, Alberton.
Tell us about your family? I have a large family and we are all very close.  I am married to Denise and have a son Ryan.  My mom and dad are central to all our lives and I have 2 brothers and 2 sisters, plus their families.
Do you have a 'nickname'?  No, I don't.
Favourite food?  I am a light eater but I enjoy curry and rice and I also enjoy fresh kingklip!
Favourite drink?  Coke – I think my family keep the Coca Cola company in business.
Favourite music?  When I get the opportunity to relax I enjoy the mellow sound of country music as well as the meaningful messages in gospel music.
Favourite sport?  Outside of horseracing I enjoy watching professional football (soccer).
Favourite soccer team?  I am a Liverpool supporter.  I really enjoy the style of football played in Europe.
Favourite holiday destination?   I love Natal because I enjoy being able to swim in the warm ocean but Cape Town is fantastic for the beauty and the clean city.  It really is family time and being together in a beach environment is the ultimate relaxation.
Favourite author?  Whenever I get the chance I love to read and I find the Wilbur Smith books to be intriguing and easy to read.  I also spend time reading about horses and training.
What book are you reading at the moment?   Assegai.
Which characteristic about yourself do you like the most?  My honesty and integrity but in racing I think my patience is a credit to be able to train horses and not rush their readiness for racing.  My horses get a lot of attention and my main objective is to keep them sound because sound horses win races.
Is there anything the public don't know about John Vos that they would be interested to know?   I was a football player in my youth.  I was a goalkeeper for Germiston Callies and Wits and achieved my Southern Transvaal colours.  If I never went into horseracing I probably would have continued on my path in the world of football.  I am also a keen health fanatic and exercise every day.
Where did you go to school and what tertiary education did you achieve?  I completed my schooling at Dawnview High School and went straight into horseracing after school.  Horses have always been my passion and I could not imagine a life without an involvement with them.
Where did your interest in horseracing begin?  My dad introduced all of us to horseracing at a very young age.  His father and brothers were also avid horse fanatics.  The industry was very different in those days and as kids we used to go racing with my parents and spent Saturdays watching racing at the track.  It was very exciting and captured my imagination.
When did you decide you would like to be a racehorse trainer?  My involvement in racing goes back many, many years. I wanted to be a jockey and started learning to ride with Harold Taylor, who used to test the youngsters wanting to go to the South African Jockeys' Academy. I applied when I was 16 and was given the go-ahead up in Johannesburg. But then I had to meet the board at Summerveld. They deliberated for an hour before turning me down. They said I might grow too much. At that stage I only weighed 34kg. Even today, not sticking to any diet, I'm only 56kg, but I lost my opportunity.
Who was the first trainer you worked for?  I still wanted to be involved in horseracing, so when I left school "Uncle" George Scott gave me a position. He was the first person to see the potential in me because of my commitment and dedication and gave me the opportunity to learn to train horses. Throughout, I've been an active work rider and rode in work riders' races when they first started. I rode in 16 races, won eight and placed in another five. When the work riders started going to James Maree's school to qualify to ride in races, I stopped race-riding because I never had the time to attend.
How long were you with him and how valuable was that experience?  I was with Mr. Scott for 5 years.  The experience was invaluable.  He taught me the ropes of training and working within the industry.  When I felt I had learned everything I could with Mr. Scott, I moved on and worked with many of the great trainers who all taught me something new.  My biggest learning curves in terms of different training methods and scientific approaches were with Johnny McCreedy and Ricky Maingard. Ricky was a trainer who really got to know his horses and was very scientific in his methods. I was with him for just over a year. His methods of preparing horses, especially for big races, were finely tuned. Johnny McCreedy was a jockey before he became a trainer. He was an excellent horseman and got good results with the youngsters. From him I learnt how to prepare young horses.
What year did you take out your trainer's licence and how many horses did you start with?  I started training in August 2006 with just eight horses. I was 42 years old and decided if I didn't do it then, I wouldn't get the opportunity to do it at all. After 25 years as an assistant trainer, I felt I had to take a chance and try it on my own. It was a difficult step and finding clients was not that easy. I have Leon and Hester Potgieter to thank for getting me started. They believed in me and my approach to horses and my training methods. They had three horses in training, including Drumbold, which they sent to me. Since then they've owned many more horses and have supported me.
Tell us about your first winner? Drumbold gave me my first win in a 1200m handicap at the Vaal. It's a feeling you can never describe. I'd worked in some top stables and we'd had many wins, but it's different when you're on your own. I had butterflies before the race because I wasn't sure we should even run Drumbold. He'd gone a bit flat and I didn't feel he was ready. The Potgieters were so confident in him and me that they insisted he ran. The jubilation when he won was incredible.
Which were the best horses you worked with early on in your career?  Too many to mention but the one that stands out is Turf Blazer.  She won her first 6 starts under the care of trainer Johnny McCreedy.
Where are your stables located and how many horses do you have?  My stables are located at Turffontein Racecourse. Right now I have 12 horses having just retired a few.
Who assists you in the running of the stable?  The actual training of the horses I do on my own – I like to be personally involved in every horse.  I obviously have work riders who ride work for me, a boss groom who manages the grooms and oversees the stables and the grooms who take care of their horses.  I also have a few family members who are mentors, administrators and business managers.
What can the Vos team offer to any potential clients?  Firstly, I am personally involved in every horse.  My focus in training them is to build a foundation based on nutrition and well-being.  Thereafter, it is about getting to know each horse and hone in on their abilities and building on this, thereby increasing their potential for great performance.  Another issue is the readiness of each horse for racing.  I am patient and ensure they are ready for racing.
What training aids does the Vos stable have for their horses?  Knowledge and a good eye is very important.  I still believe in the traditional methods and take a very hands-on approach to training race horses.  Every horse is an individual and you need to be tuned in to each horse's needs and abilities.  You cannot have a broad based approach to all your horses.  Nutrition is the key foundation to any training program and you have to use good feed to achieve good health and the well-being of each horse. We weigh horses regularly and devise individual programs which varies for every horse.  We use qualified vets, dentists and farriers to ensure they have the best professional support.  I have a simple facility to treat muscular issues when required. I obviously also try to keep up with the latest trends and apply what I learn where necessary.
Does the Vos yard have a marketing plan or a website?  Yes, we have a website which is in the throes of being overhauled.  We do have a marketing plan which we launched in March 2013 with a strong strategic focus and we continue to pursue tactical marketing opportunities when they present themselves.
Does the yard have a stable jockey or a sponsor? At this stage we do not have a stable jockey. Gavin Lerena has played an integral role in my stable and has ridden many winners for me and contributed to the success of the yard.  We are currently pursuing sponsorship opportunities but I think there is much work to be done to promote the industry to create a fertile ground to make sponsorship more attractive to potential sponsors both on an industry and stable level.
Horseracing has changed a lot over the past two decades as there are many more trainers around, making it much tougher to acquire loyal support from patrons. In order for a yard to be successful it seems that marketing has become a very important tool. What are your thoughts on this?  The industry is dominated by the big players who have been in horseracing for decades.  It is incredibly difficult to break into this no matter how good you are.  Marketing does play a role but you also need to get an opportunity to train good stock to build your name and this requires more than traditional marketing methods.  One of the big owners once told us "when I see your success I will consider sending some of my horses to you".  So the old vicious circle applies.  But I do think there is a place for smaller trainers. What is lacking is growth in the industry and also the expansion of facilities.  We do use various marketing methods but I think the industry is too small and closed for this to be effective.  My marketing manager was a director of corporate marketing at one of the major South African corporate organizations, so we continue to pursue different ideas to market my stables but I think that the industry representatives could be doing much more to promote the smaller stables and promote the industry as a whole.  This would serve the bigger principals for South Africa of job creation and will promote the growth of the industry.
Would you like to pay tribute to some of your loyal patrons that have been with the yard for any length of time? On the whole my patrons have been loyal supporters and we have a relationship based on honesty, integrity and trust.  The horses in my stable are as important to me as they are to my patrons.  But I would like to mention Leon & Hes Potgieter who have been with me since I started training on my own and they have stood by me through thick and thin. I look forward to many more years of their support.
The workrider races are a great hit in Gauteng and especially at the Vaal where there is a huge following. What are your thoughts on these events and does your yard like to support them?  My family and I have always believed in giving people opportunities they may never normally be afforded.  I do support them as they give the grooms great reward for the important work they do in a stable, which often goes unnoticed.  Obviously I ensure that my grooms who participate in these races are adequately equipped and prepared.
There is no doubt that science is playing a bigger part than ever in training the racehorse. How much interest do you take in the latest findings and in particular in the feed given to the horses? The old adage "you are what you eat" applies to horses as much as humans and particularly for athletic performance.  My whole foundation of my training program is based on nutrition so I try to keep up to date with scientific findings. I am continually trying and testing various feeds and proportions to get the best out of my horses.
How big a difference to your horses do you think the feed makes? Feed is vitally important to a thoroughbred along with a healthy physical training program.
Have you seen any major changes in the everyday training methods since you started training?  Yes I have – science plays a bigger role today than ever before.  But I think this is fine tuning and providing more precision to support the traditional approach not changing it.
Describe a day in the life of John Vos?  I rise at 04h00 every morning and we start our training at the track from 04h30.  We train until approximately 11h30 then I return to the stables and spend a few hours on checking horses, placing orders and general administration.  I then leave the stables and go to the gym for my daily exercise program and have lunch. We return to the stables for the afternoon and focus on the horses and address any medical issues and overall stable management issues.  We then feed up in the late afternoon and spend an hour or two with the horses to ensure all is well before I finally leave at about 18h30. I arrive home, shower and get ready for dinner and quality family time with my wife and son.  We generally go to bed early because we rise so early in the morning.
Which is the best horse you have in your yard right now?  At this moment in time it is Silent Angel.  She is a difficult filly to train but she has loads of ability and great potential.
Do you have any unraced horses which you feel could have a big future? I don't have any young horses at the moment.   Most of my horses are older horses in training.  But there are a few which have great potential.
How many feature races have you won?  I have won 3 feature races.
Tell us about your biggest feature race wins that you had thus far?  I won the Gold Bowl 2 years running with Western Walk and Pacific Warrior.  Then I won the Fillies Nursery with a horse called Spring Clover.
You are a professional trainer and make your living by it but what else keeps you passionate about being a trainer? The reward when the horses are at their optimum and the adrenalin in every race.  I take great pleasure being involved in this sport and I am working hard at trying to get the support I need from patrons to be successful.  You need someone to believe in you!  This game is about true partnerships.  A trainer is only as good as the horses he trains and the horses are only as good as the trainer who trains them.  I could not do anything else and working with horses and being outdoors is so important to me.
Do you ever have a bet on a horse or is your enjoyment limited to training the winners? Essentially I am not a betting man.  I may take a small bet every now and then but just for the fun of it.  My enjoyment is playing a role in training horses and being able to get the best out of every horse.
What are your short-term ambitions for yourself and your stable? My short term goal is to convince patrons to give me the opportunity to prove my abilities. My dream is to grow my stable and to train for some of the well-known studs and owners.
How do you celebrate a particularly successful day? I enjoy taking my family out for a special dinner, just relaxing and being with them is a great reward!
Does the old maxim, "Behind every successful man is an equally successful woman," apply to John Vos? Yes it does.  My wife is successful in her own right.  She is a working mom and she supports me in my career as well.  Without her it would be very difficult.
‹ Previous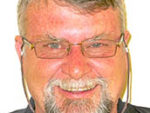 Cliffie Miller