With less than a week to go before he is crowned SA Champion jockey for the third time, Lyle Hewitson has announced that he will soon be packing his bags for another stint in Japan.
Our youthful champion departs South Africa on 8 August.
The South African jockey brain drain continues, and hot on the heels of the news of the new season plans for Luke Ferraris, Callan Murray and Diego de Gouveia – Warren Kennedy we hear is staying put – the 23 year old Lyle's return to Japan just over a year after he first made such an instant impact in the Land Of The Rising Sun comes as little surprise.
Despite a generally more subdued season for the yard of his longstanding ally Sean Tarry, the Kuda-sponsored rider has really and truly set our tracks alight this season – and his superiority at the top of the national log is underscored by his current 82 win lead over reigning champion, Warren Kennedy.
In fact the Hewitson lead margin over second placed Kennedy amounts to more winners than 85% of our jockeys have ridden all season. Sobering stats.
Lyle is on 260 winners for the season after Tuesday's Vaal racemeeting.
On 1 June at the Vaal he set a new personal best of 220 winners in a season, when scoring on Last Song.
The Hewitson graph is clearly on an upward trend! When he won his first SA National Championship title, as an apprentice in 2017/18, he booted home 184 winners.
A year later he improved that tally to 219 winners and he's patently just getting better – practically in a race of his own, as it were. And a rider of his enormous ability must surely be lost to his homeland, sooner rather than later.
In a chat with the Sporting Post, the modest and softly spoken former work rider explained that he had returned from Japan in June 2020, a 'mentally smarter' and better experienced rider.
"My stint in Hong Kong and Japan really gave me a dimension of invaluable experience that I have tried to build on and I'm looking so forward to returning in August for three months."
While that almost inevitable Gr1 success has eluded Lyle this term, he still has a chance to strike on the final day of the season on Saturday, where he has nine rides, including three Gr1 chances.
"You know, it just worked out that some of our leading horses were sidelined. So very often we were thereabouts with the second stringers. I think I had about seven Gr1 second finishes! So I would like to think we are overdue – but racing owes nobody anything, so we will go out doing our best as always," he smiles.
While he is hopeful of a very decent day on Saturday, Lyle says that Sean Tarry's Duke Of Marmalade filly Rain In Holland is probably his best chance – she runs in the Gr1 Thekwini Stakes.
"She is very smart and goes for five wins on the trot. It is her first start at Hollywoodbets Greyville but she is sensible and if she copes with the new track, she is a big runner," he adds.
He feels that the Tarry team's recent DSTV Gr3 Gold Vase winner Nebraas is a decent staying prospect, and is a runner off his weight mark in the Marshalls World Of Sport Gr3 Gold Cup.
He thanked Sean Tarry and team and all the trainers and owners that had given him the chances to ride the winners.
"Nobody can do it without the horses and solid support. I'd also like to convey my appreciation to my sponsors Kuda – it's a true honour and a privilege to be associated with a leading brand. I hope I added value for them."
In his 2020 Japan stint, Lyle rode 19 winners in two months – that's from only 17 meetings. So he has big expectations ahead of him.
He outlined the professionalism of the Japanese racing set-up and also the warmth of the local people.
"It is absolutely fantastic and works like clockwork. It is a very professionally run jurisdiction. Hannah (my partner) will be out towards the end of August. At least this time round, we will be able to enjoy more of the tourist and cultural attractions, which the travel restrictions prevented us from seeing on our trip last year. So that's really exciting," he says.
In order to maintain his race-riding fitness, Lyle will only be taking Gauteng home rides in the new season.
He leaves on Sunday 8 August and Hannah is expected to follow him a few weeks later.
We wish him every success and safe travels.
‹ Previous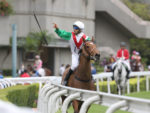 The Man Is Pure Magic