South Africa's 20 year old Champion jockey elect Lyle Hewitson, the first man since the legend Gerald Turner to lift the national title while still an apprentice, will be at Greyville on Super Saturday.
Lyle cannot mask his disappointment that he will be at the Durban track on crutches rather than on a possible Gr1 winner – but says he 'wouldn't miss the big day for anything'.
Our reigning champion apprentice's world came temporarily crashing down around him at Fairview last Friday.
The Crusade filly Press Release dropped him on the way to post and he knew it wasn't going to be a positive outcome as his knee took the brunt of the impact.
He says that there are no words to describe it – a downright miserable ending to a dream season and shades of Fairview in May 2017 when he fractured a collar-bone in a fall from Gitano Giant.
On Tuesday morning he was smiling again though – hobbling around the Sean Tarry yard, helping out where he could. That's dedication!
"Mr Tarry has shown the most extraordinary belief and confidence in me. He has put me on maidens. On Gr1 horses. I am still alive. I am not going to sleep late just because I can't ride work. There are plenty of other things to do at the yard. And life goes on," he said, laughing about a chirp from a colleague that was surprised to see him and who said that 'out of sight was out of mind' in this game.
"We have to take the good with the bad. I am trying to maintain a positive mindset. And staying involved and busy is one way. But disappointed doesn't quite describe the way I am feeling right now," said Lyle who had scheduled an MRI scan on his damaged knee for midweek.
"I was really still hopeful of riding on Saturday. I had some great rides this whole week and was aiming hard for a third Gr1 winner. I am hoping that the damage to my knee is not too bad. If it's a problem with the ligament then I have to be careful and the doctor says we will have to take the necessary time to allow the healing process."
A top-class sportsman throughout his school days, Lyle's competitive spirit shines through when he says that he was hoping to improve on his season total of 185 winners – like it's not quite enough to have won both the senior and apprentice national titles!
"I was hoping to finish nearer 200 winners, but it has been a nice season for me," he adds modestly, citing his lowering in March of Gavin Lerena's longstanding record of 283 winners ridden while an apprentice, and his two Gr1 winners as the term highlights.
"My goal was to ride my first Gr1. I managed to win the Gold Challenge on Undercover Agent and the Garden Province on Redberry Lane. Two top Gr1 races on two great horses. So I suppose I cannot exactly complain," he adds, with a smile.
As to talk of overtures from Hong Kong, the self-effacing Lyle says that he personally has not been approached.
"I imagine that it would be the medium-term ambition of any jockey to spread one's wings and ride internationally. And I'd be lying if I said that an overseas stint wasn't on my professional bucket list."
On a lifestyle question and as to whether he socialises or parties up a storm with his colleagues – and how he manages to ride work, ride races, fly around the country and still enjoy recreation time, Lyle said that he hadn't had much time to do much socialising.
"I have been travelling a lot. It takes up a lot of time as you point out. I think I have been out exactly twice this season. Both were to celebrate my Gr1 winners at dinner with family and friends. Sleep and rest is quite important to me," he laughed.
We asked if he paid his own way  for air-tickets and whether he was actually making a living, given that the SA Jockey Academy took quite a hefty slice of apprentice income in terms of their contractual agreement.
"My air-tickets cost a lot of money. That gets paid out of my share of my income. But this really is not about the money for me. I am building the foundation of my career and travel is a very necessary component in obtaining a competitive edge. And considering that I rode close to 30% of my winners in PE, where would I be without that opportunity, as an example?" he asked maturely.
We suggested that the Eastern Cape was not a major destination for many of our top riders and asked if he would be curtailing his travel once more established out of his apprenticeship.
"I know they say never is a long time-but it's where I started. It's where I rode my first winner. Yvette Bremner is my second Mom. My Dad Carl, who has taught me so much, works for the stable. Í will always be loyal to Port Elizabeth racing and enjoy my time there."
With his Mom playing polocrosse and having been an amateur rider herself, and Dad a jockey, together with the eagle-eyed guidance of two older sisters keeping him in check, Lyle already understands a lot about life. Importantly he also loves horses and knows the horseracing game. He 'has a good mature head on his young shoulders' – to take a quote from the mouth of his sponsor, Pippa Mickleburgh.
We asked, given all the attention and admiration, how he managed  to keep his boots on the ground and the stars out of his eyes.
"Like most sports, just as quick as racing can pick you up today – it can drop you down tomorrow. A pat on the back this morning, can be a stab in the back this afternoon. I'm lucky to have grown up in a family that was involved in racing and that taught me the right principles. I try and apply those every day. Nothing that is worthwhile in life is ever easy. One has to remember that every day, I think."
Lyle is active on social media and posts after every meeting. He says that he believes horseracing should be reaching out to the new generation via the new age media.
"I and many of my young colleagues do our bit to promote horseracing as a great sport and in a positive light by talking about our raceday experiences on Facebook and Twitter. It gives the public a chance to reach out and talk to us – and hopefully discover the dynamics of the game," he muses.
He says the time has flown by since he sat at his Kearsney College desk and stared out of the window, dreaming of life as a jockey. He adds that his current position on the brink of his first SA title 'feels like a dream'.
A rare apprentice to be sponsored, leading Cape breeders Avontuur have been proud to have Lyle carrying their branding.
"We are so privileged  to have Lyle in our stable. He is such a rare talent. And his attitude and approach to life and to his profession makes him the complete champion package. I am sure his parents are so proud of what they have produced and he has a very bright future. I look forward to seeing him at Greyville on Saturday and to following him as he builds on this wonderful achievement,"says Avontuur GM Pippa Mickleburgh.
Lyle turns 21 on 30 October this year.
He rode his first winner at Scottsville in October 2013 as a 15 year old amateur. It was five years ago that he made application at the SA Jockey Academy. A decision by his family that he rather completes his matriculation as a weekly boarder at Kearsney College has certainly been the right one in hindsight.
His proud Mom Samantha, who will be attending the Equus Awards and 'have a tear or two to shed', says that they didn't want Lyle in a position where his weight suddenly increased and he was left with fewer career options.
"This way Lyle has benefitted from a quality schooling, fulfilling his cricket and hockey potential, achieved a top matric and has the credentials to pursue any career, should that need arise. He is also mature and level-headed. But he has always been a driven competitor – from his early primary school days. We are so very proud of him!"

Lyle asked if he could take the liberty of sending a personal message via the Sporting Post to all of the wonderful people who had supported him this season.
"There are so many cliché's in sport – I don't want to sound corny either. But I mean it from the bottom of my heart that I really am so appreciative and grateful to every trainer and owner – even for the rides that didn't win or place. I learnt something in every one of the 1400 odd races I rode in this past season. To my sponsors Avontuur, and all the supporters and racing enthusiasts – to the well wishers and all of those folk on social media. Every message is important to me. It means a lot to know people care and are interested. And of course, again, my wonderful family – they are the reason I have reached this point."
Ed – many thanks to Samantha Hewitson for supplying the snaps from the family album
‹ Previous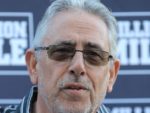 South Africa's Mr Racing