At the age of 20, Ewan Garratt ranks as South Africa's youngest racehorse owner.
The son of one of our seasoned lady trainers in the inimitable Tara Laing, the former Woodridge College ace rugby player and cricketer loves horseracing and is determined to introduce youthful blood to the sport of kings.
A member of the tech savvy 'generation Z', Ewan was born two days before Barend Vorster got Polo Classic up to beat Grand Jete in the 2002 Met. That feels like yesterday to some of us.
He tells the Sporting Post that a life growing up in and around his Mom's racing stable has given him an intimate insight into horseracing, and the ups and downs associated with one of the most testing hobbies on earth.
Today he works for Tara Laing Racing and, besides dealing with all marketing and communications with owners, Ewan has also adopted the role of in-house horse whisperer of sorts. He enjoys the work of KZN-based Horse Behaviourist Mike Shaw.
"I am a bit young to know a top guy like Malan du Toit well, but enjoy Mike Shaw as he publishes clips of his work techniques on social media. It makes it interesting to follow and learn," he says as he tells of his efforts with 'naughty, crazy and generally problem' horses like Raise A Red.
He adds that he has also been 'doing some promotional work'.
Mom Tara is proud as punch and labels her son the new kid on the block. She gives him more credit than the promotional work to which he refers.
"He has so much energy and passion and enjoys a wonderful relationship with my owners. This industry needs young, fresh and energetic people. The last 6 horses that entered my yard were all Ewan's doing and he really has a knack of getting people involved," adds Tara, who has 35 horses and is one of the game's great survivors.
Mature beyond his years, Ewan explains that Tara Laing Racing is not a punting yard and that he gets new blood involved for the fun and not the money.
"We want our owners to be looking forward to having a runner on Friday, not stressing about their bills. That's why syndication and partnerships are the way to go – it's 100% of the fun for say 10% or 15% of the cost. So we encourage partners – it spreads the costs and the risks."
A gregarious personality, the outgoing Ewan clearly enjoys dealing with people.
"Being an owner in our yard means being welcomed into our family, and many lasting friendships have been forged. I have brought in about 15 new clients so far and I really enjoy interacting with them on a daily basis," he adds.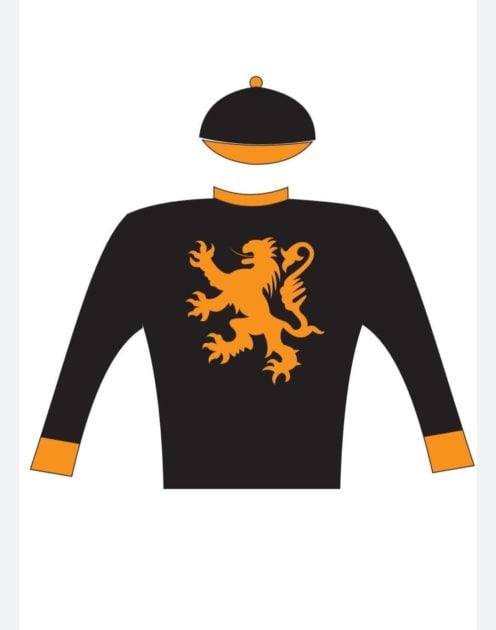 Ewan proudly shows off his new black and orange silks, with the Scottish rampant lion standing upright on its back legs and the 4 legs are raised, claws unsheathed, as if to strike.
"There is no time like the present to get involved in racing. We are fortunate that the sport is very popular here in the Eastern Cape and hopefully 4Racing can take the game back to great heights. While it's all my Mom knows in terms of her career opportunities, I have had other choices and I have chosen to stay involved and help with the rebuild. I believe the future is bright!"
Please read more news – click on the cover of the SPRINT: