"I gave up training racehorses because frankly there are just too many uncontrollable elements in that side of the game. From horse injuries, to jockeys transferring blame, to big talk and promises to owners. It just gets too much. I take my hat off to trainers in this day and age. They have the added burden of a tough economic climate to contend with. I love horses and the game is in my blood – but nobody can ever tell me that it is the most desirable profession on earth."
The unassuming straightshooting 75 year old legend Colin Palm is one of South Africa's most respected Bloodstock Consultants and judges of horseflesh, and a man with one of the uncanniest eyes for a good horse.
His illustrious record of selecting top horses and a quest for quality over quantity after over 60 years in the game speaks for itself.
Champions
He trained champions Harry Hotspur, Over The Air and Fly By Night and it is probably a little known fact that he was instrumental in the matings of two of our great performers and Horses Of The Year of the nineties, in Flaming Rock and Peter Kannemeyer's Met winner Pas De Quoi.
"I advised the late Shirley Pfeiffer to buy the broodmare Flogera and send her to Ballad Rock. She was eventually imported with Flaming Rock at foot and in foal to another stallion. Same as with Merci Beaucoup to Roland Gardens that produced Pas De Quoi. But let's talk about racing rather than me blowing my own trumpet. There are more than enough braggers in this game," he laughed.
Saddle Up
Colin was always destined to ride horses for a living.
He was the youngest of four jockeys in a family of six brothers born to – you guessed it – jockey Bennie Palm in Johannesburg. His Dad rode in races at Auckland Park as early as 1918.
A newspaper cutting from December 1955 reported that Colin was one of a handful of schoolboys in the country who earned more than his teachers. They described the life of the only schoolboy in Natal at the time that was licenced to race ride and said his single pleasure was an early movie on a Saturday evening.
"My brothers Oscar, Ernest and Bobby were all jockeys and I followed suit. I was a 14 year old when Fred Rickaby decided to pack up in Joburg and move to Durban. I met a Cape trainer called Cookie Amos in Durban – his offer for me to come and work for him at Milnerton was to change my life inexorably. I never hesitated – he was known as a top trainer and Cape Town is Cape Town!"
Colin was a lightweight apprentice and struck a winning partnership with Cookie Amos.
Two Met Winners
He rode the first of his two Met winners for Amos in 1958/9 on a horse called Bul Bul.
"Mr Amos won over 1200m and 1400m with Bul Bul and the horse went into the Met as a four-time winner off bottomweight and the first time over 2000m. It was a big day in the life of a young apprentice and I listened intently to instructions. They had backed him into second favourite to win buckets of money. I was drawn 19 out of 20. The instructions were simple. 'Go to the front'. I bounced him out and hit the front. They never saw me again and we won by 4 lengths! Bul Bul never won another race," he said with a smile.
With Cookie's brother, the legendary Stanley Amos riding for Syd Garrett, the young Colin got another Met chance in 1964 and won the race on The Giant.
"Stanley was on a good wicket with Syd Garrett. The yard had the pick of the Birch Brothers and other horses and their string was just so strong. I also rode just five races for Mr Garrett – and I won on all of them. But things changed when Garrett packed up and naturally Cookie gave Stanley first choice of rides. Stanley was a good jockey, but as things happen in racing yards, we were successful with our team set-up before he arrived. It was never quite the same again after that," he said.
Golden Age
Colin said that he felt that he had experienced a golden age of great jockeys.
"Tiger Wright was simply poetry in motion. Often the instructions from the trainer would be to 'just follow Tiger.' But there were other top men – my memory is fading but guys like Shorty De La Rey, Johnny Westwater, Raymond Rhodes, Duncan Alexander, Peter Kannemeyer and Johnny Cawcutt. Top, top jockeys. And you know what – there was an innate respect between trainer and jockey – you wouldn't get a jockey in those times having a big say and spinning the owner a story."
While Colin had no weight problems, he said it still required a lot of sacrifice as even lightweight jockeys had to maintain their weight. "I was tired of the lifestyle, but wanted to stay in the game with the horses."
So he eventually handed in his jockey's licence and started training.
Lifechanger
In 1972 Springbok rugby player Bobby Johns offered Colin the chance to switch two of his aunt's horses from Theo De Klerk in Phillipi.
The owner was Edith Ovenstone and things were about to start looking up.
"The first thing I did was told her to sell the De Klerk horses. They weren't too good. I bought her first horse called King Chestnut at a deceased estate horses in training sale. I paid R7 000 for him and he was first rate. But he was running in the Jockeys International at Kenilworth and I went into his box to saddle him and I saw his tendon was swollen. Try explaining that to somebody who knew nothing about horses – that they can run high temperatures or got sore backs and the like! Flesh and blood as opposed to machines! King Chestnut never raced again."
Colin bought eight horses at the Johannesburg sale for Edith Ovenstone.
Over The Air was the top priced yearling at R32 000 that year. "She was a lucky owner. They all won good races!", he recalls.
Social Climber
It was 31 years ago that Colin Palm made the decision to focus on bloodstock and hand in his trainer's licence.
"I didn't enjoy the socialising after racing with owners. I used to leave as soon as my runners were done and go back to the stables. I was being paid to look after their horses, yet they wanted me to drink and socialise after races. That's not my scene. "
Colin's wife of 54 years, Marlene, chips in here.
"I recall the one day at races, one of his top owners came up to me and said that Colin had walked straight past her as if he had never met her! That is just the way he is – not a big talker or social animal," she laughed affectionately.
Final Straw
He was riding a horse he trained and which he felt was destined to be a champion in work at his Milnerton yard, when the horse stumbled and fell, breaking its shoulder.
"That was it. Just one too many disappointments. And I had some damn good horses but I never trained more than 40 horses. I always wanted to maintain control and ensure that I delivered optimum results for every owner. If a horse wasn't good enough we moved it on. Why mislead your owner? Bad horses make bad trainers and it's a funny old maxim that very few owners think their horses are bad," he said.
The move proved a boon for Colin's champion neighbour Peter Kannemeyer, who inherited the Ovenstone horses. Paddy Kruyer took over his yard.
Colin maintained his colours for a few years, but gave them up eventually.
This Weekend
Will he be attending this weekend's sales?
"The costs of attending are prohibitive from out of province today. So unless I have a mandate, I won't go- it makes no sense. I still buy for one of the game's top men in Andre Macdonald. We are both straight no-nonsense people. It is a relationship that works well. I give him my honest valuation and he decides what to do from there."
On the subject of Salesgate, he said that while the TBA would be the natural sentimental choice for many as they had been around for so long, he didn't feel that CTS's approach could be criticised.
"At the end of the day for me, business is business and it is about doing the best for the buyer. I will go wherever the right horses are. I have been dealing with the TBA for years and way back to the old Milner Park in around 1968. The auctioneers were still Meikle and Co but the move to Germiston improved things as the old place was too far away."
Convenient
On the game today, Colin said that he never went to the races anymore.
"The television is so convenient and I watch all the racing every day. But times and lifestyle options have changed completely. I remember that there would be numerous traffic cops on point duty in Koeberg Road at Milnerton Racecourse for an ordinary race meeting. And the public parking was crowded. I think the casino's have killed racing, more than the game itself."
He added that racing had been good to him and he would never change anything that he had done.
"Life is all about experience and taking the good with the bad. I have met some great people and trained and bought champions. It is a great sense of achievement."
Tough Task
And what does he think of the racing administration in this country today?
"Look here- who wants to compete in this tough economic climate for the gambling rand? But in my time Abe Bloomberg and Arnold Galombik were men who loved the game and did everything in the interests of racing only- never in self interest. They loved to win too – but that is a given and it made the game great. They were wealthy men, but I don't need to tell you that," he laughed.
‹ Previous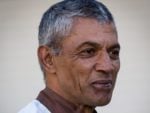 Fareed Anthony