The picturesque Ngong Racecourse is modelled on Ascot and is set to host the party of the decade in January.
Believe it or not, horseracing in the Republic of Kenya is 110 years old in 2015. The beautiful country in the African Great Lakes region of East Africa will host visitors from across the globe and the passionate Tom Fraser has promised a celebration to end all celebrations .
What is your name and age?
Tom Fraser recently hit the magic 60.
Please tell us about your schooling and upbringing
I was brought up on a coffee farm and in my youth spent my holidays fishing, going on safaris and playing golf and club rugby. I went to Nyeri for my primary education and then to Nairobi and St.Mary's for my secondary education.
What do you do in horseracing?
For the past 40 years I have owned racehorses and had our own stud with two stallions. I was also a track bookie named 'Play Cash'- nowadays I am 'just' an owner.
You have some interesting family connections in the sport?
My grandfather was Harry Rosenberg a Bookmaker and Chairman of the Transvaal Cubicle Association and my second cousin is Len Salzman, whom some may recalls as a big time owner in South Africa.
Racing was in our family blood so I got hooked at an early age. My wife also holds a trainer's licence in Kenya.
How did you land up in Kenya?

My mother, Sylvia Rosenberg, married my Swazi born father Thomas Fraser in Springs, South Africa. My father inherited a coffee farm from his aunt in Kenya and arrived here in 1948 to run his new farm, Belingwe (means House On The Hill)
As you can see from my age, I was born in Kenya.
Are you involved at any level in the Kenya Jockey Club?
A am a past Director/Commentator/Presenter but am now just involved in sponsorship for the Jockey Club of Kenya.
Does Kenya offer the visitor/ investor anything beyond racing?
Oh yes! Kenya has plenty to offer especially in tourism. And the market is always wide open and has many opportunities for multinationals to invest with many sectors.
Does South African horseracing subsidise the sport on any level in Kenya?
Not that I am aware of, although we have daily betting on racing worldwide which brings in a small income especially from Tellytrack on Ngong's Sunday racing.
Does Kenya have a tote and bookmakers?
Yes we have four off course betting tote shops and on course as well as three bookmakers on course.

What are your racecourse facilities like?
Ngong is based on Ascot so it's a wide 2400m grass track.
We have on site trainers who have yards and three gallop tracks to work on. Most of the trainers train from the racecourse. The Jockey Club also boasts a 9 hole golf course, restaurants and beautiful grounds for weddings and other functions.
What are the Kenyan horseracing stakes comparable to and as an example, what would the rand equivalent be of a Maiden Plate?
Our stakes would classify as the lowest stakes worldwide. A win would barely cover just cover one month's keep, unless it was a sponsored meeting with added stakes. A maiden plate is Zar2500.
Many South African punters are not positively disposed to Ngong racing – how do you hope to change that perception?
Sadly, due to not enough race horses being bred for the trade our fields are small due to the pool of horses in training, small fields don't interestany punter. It's a difficult one as the only solution is to increase the number of horses. A committee is currently working on this and involving a few trainers in South Africa to pave the way forward.
As you say, your fields are very small and the camerawork is also limited in terms of quality. Is there any prospect of boosting those in the future?
We are hoping to bring in more horses to improve the fields but this is an expensive exercise!
A pallet for three horses flown in from Joburg costs $3000 per horse.
The camera quality is poor I know but Jockey Club is working with experts from SA, hopefully to improve the quality. A lot of money has been spent on new cameras,
Is the Kenyan horse population actually big enough to sustain regular racing with average field sizes?
 Currently we only have 220 horses in training and with racing every fortnight racing manages to hang in.
 Is South Africa your major market for horses and which sales do you attend?
With our stake money so small the only sale that makes sense for us to attend is the National 2 year old sale run by the TBA every August
 What sort of horses do you target?
We are not really into big horses due to our ground. All buyers naturally come with a budget and try and source good bloodlines and good form on the mares side- preferably a line that will get a middle distance and stay on even further.
Are your riders professional jockeys?
Yes, we have all local Kenyan born riders and all of these jockey's have started their careers at Ngong
The Kenya Jockey Club 110 year Anniversary celebrations are scheduled for January 2015. Do you have major plans?
On the big day we have planned several activities to attract people from all walks of life with a 4 nation Jockey Challenge incorporating SA, Mauritius, Zimbabwe and Kenya, being the highlight.
Hopefully 'Bling' Khumalo will be available to represent SA!
Sponsors, especially the South African horse breeders, have been incredibly kind and come forward to be part of this day. Other big names, like Bloodstock SA and Gold Circle are also committed and then several local companies in Kenya are backing us to.
We intend to have a real party with a family festival atmosphere for the day. We will hosts a Golf tournament as a build up on the Saturday with live bands, fashion shows, acrobats, vintage car club, Kenya Rally car club as well as national sportsmen and women ,including our Rugby Sevens team .
How do you see the event raising the profile of the sport in that country and internationally?
 We would hope to attract many visitors for the event who will hopefully stay on longer to visit our beautiful country.
Interestingly, outside South Africa, racing in Africa can only be found in Zimbabwe and Kenya.
We hope that we will gain International recognition and possible sponsorships.
If South Africans would like to participate, how do we go about it getting more information?
Currently we are having meetings with the carriers to open travel arrangements with group bookings for those wishing to join us.
Information is being put together offering various places of interest to visit which will start going out next month.
For example, deep -sea fishing deals have been secured through the Driftwood club. Kingfisher safaris have several lodges and have made very generous offers in Lake Nakuru and the Masai Mara.
We are also working with the Kenya tourism board in securing good deals from hotels and other accommodation facilities.
As of now the two main contacts heading the sponsorship are myself on [email protected] and Vicky Osure on [email protected]
Should any company or individual wish to enquire about a contribution, visit or being a sponsor, including race sponsorship, please contact us.
‹ Previous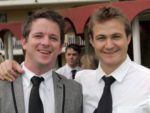 3A Racing