There was a lot of talk when Legal Eagle was promoted to a 120 rating ahead of the 2015 Vodacom Durban July, but Sean Tarry's charge has done nothing but underline his class ever since. With a second Queen's Plate title firmly in the trophy cabinet and the 2017 Sun Met at his mercy, we caught up with champion trainer, Sean Tarry.
"Legal Eagle was in good health and we were always confident of his honesty and his ability for the Queen's Plate, but we were obviously worrying about the conditions and factors out of our hands. The wind was a huge worry. The day before Carry On Alice was exposed for most of the race and found wanting in that last 100m and the way the draws had panned out, I was hoping we weren't going to end up in front."
"I watched the race from the RA facility on the first floor. At no stage was there any concern about his position or how he was travelling and at every check he was in the right place, so there was no concern. Even though the head wind can stop you, it was fast going in terms of the ground and looking at where the dangers were at certain stages in the race, there wasn't a lot to worry about. Once he hit the front it was very hard to imagine them coming to get him."
Matching set
Consecutive Queen's Plate victories with the same horse is an incredible achievement. "You say that, but the first one was very special. Last year I'd never won the Queen's Plate; secondly, there had been big talk about some of the other runners and we were the under dogs and lastly, we weren't quite sure how he would run. The Queen's Plate was part of his Met prep programme. I knew he'd run well, which is why Anton was on the horse and I felt he had a chance, but he was not one of the fancied horses, even though he was the highest rated and went out as no 1. So to me, last year's win was big."
"This year there was more expectation, so it was a completely different race for me. It was a matter of making sure all the i's were dotted and the t's crossed and just trying to make sure everything was right on the day. In my heart of hearts, even though Marinaresco had got that close to us in the Green Point Stakes, it was hard for me to imagine that Marinaresco would improve at a quicker rate than my horse, but you always respect the opposition. It's brilliant to have won it twice, and probably the best part is that it is a double."
Deserving owners
"Mayfair have formed a great team who are very loyal to each other and it's great that Markus can be rewarded for the money he's put in. Obviously it has nothing to do with finances – you can never catch up with the expenditure – but to be rewarded with the Gr1's he's had in Cape Town of late – the Guineas and then this – he deserves it. We would have preferred it if we weren't the victims in the Fillies Guineas, though!" he quips.
Top of his game
As a 5yo, Legal Eagle seems at the height of his powers. Sean comments, "Yes, he is stronger this season, bearing in mind we were fortunate enough not to have to race him after his last Gr1 win and he was afforded quite a bit of time between runs. I think that helped him strengthen and tighten up and as I said, at no time did we ever have to get hard on him in work and that allowed him to get fitter without us having to push him. From that rest, I was allowed to just keep building him and I believe we are still in that routine."
Legal Eagle has campaigned all over the country and has 9 wins and 5 places from 15 starts, which makes it all look pretty straightforward. Is he an easy horse to manage? "He's got this air about him and this x-factor, but he's actually a horse that may actually fall apart if you had to get too hard on him. Behind the scenes there have been issues, but we've never been pressurised and have always been able to take the best decision for the horse. I wouldn't say he's difficult, but he is a delicate horse and does need looking after."
"In terms of racing, the time he ran in the July was horrific in terms of the interference he found at certain stages of the race. He was going so well at the 500m mark, it looked like he would win it, but the complexion of the race changed so quickly. Being the big, free-striding horse that he is – when I talk to Anton, we always talk about him going through the gears – you've got to let him build up and build up – in that race he was knocked from side to side and just couldn't recover his stride in time. He still ran a courageous race and finished only 2.5 lengths off them. I wouldn't call his career trouble-free and that race in particular stands out in my mind."
Picking horses
Tarry is renowned for his eye for a good horse at a good price, with Legal Eagle looking particularly good value as a R425k purchase from the 2013 National Yearling Sale. How does he do it? "I believe first of all you have to look at all the horses on the sale, if possible. If you're short on time, you have to focus on certain pages, but then you don't know what might be stashed away, so the time you put in is essential. I buy a type and I tend not to deviate. I like a classic type that walks well. Then we sit down and look at the pedigree afterwards. Sometimes I'll consult with my brother and he will advise on certain families, but if I like a horse strongly, I'm not going to take advice from anyone. If I like it, I buy it. Often the extra advice does help when it comes to pedigree and things like that, because you can't cut yourself in too many pieces. You have to focus on certain aspects and take advice on other areas."
What made Legal Eagle stand out? "First of all, he was my type and he had an awesome walk. He may have been somewhat immature, but he looked like he would fill out. You always hear everyone talking at sales, saying this is the best walker on the sale. I heard many numbers of all the good walkers, but no-one mentioned him."
"Obviously I did consider spec buying him because I didn't have anybody in mind and hadn't had any instruction for him. It was fairly early in Greys Inn's career, so maybe he was a little under the radar based on the stallion still having to do his bit, but in the arena I was going to buy him. He got to R400k fairly quickly, but once the price went over that, I said to myself 'I might have to bail out here'. I hadn't had any interaction with Markus Jooste or anyone from Mayfair as far as this horse was concerned, but Markus happened to be standing next to me and must have been watching. He asked 'Do you like this horse?' I said 'yes, I like him a lot' and he gave me the go ahead. It was something of an unorthodox purchase by Mayfair's standards – they are usually a lot more structured and well-researched – but Markus obviously trusted my judgement."
Gelding
"We did run him a run as a colt (on 28 October 2014) and although the distance was a little sharp for him, he finished the race off quite nicely. Piere Strydom rode him on debut and he thought he may need gelding. I wasn't convinced at the time, but I felt he was a decent horse and didn't want to have to interrupt his programme later on. It was a team decision and he seemed to improve after gelding, so I certainly can't knock the move."
Team effort
"I think the word team says it all. My front line include Monique Mansour who is managing the Cape Town string at the moment, Deshone Steyn in Durban and in Joburg I've got Andries Ndzongo, Shylock Mtwesi and Thabiso Nako. Thabiso, Andries and Shylock have a massive job. We divide the horses into teams, each guy heads up their team and they do it with distinction. Deshone is in Durban and we have 40 stables there. Sometimes it's at 75% and sometimes it's 100% full, so his numbers fluctuate, but it's a consistent operation. Johannesburg is where all the hard graft takes place – all the planning, sending horses from Joburg to Cape Town or Joburg to Durban. You can't do too much in the way of pre-planning, but broadly speaking you have a list of horses that are doing well and as they progress, you move them around to the areas where they are needed."
Met plans
Legal Eagle has pulled up well from his Queen's Plate outing and plans are on track for the Gr1 Sun Met. Legal Eagle will jump from gate 9 and stablemate French Navy has drawn pole position. Sean says, "Obviously I'm very pleased with French Navy's draw. For Legal Eagle things could have been worse, so it's not panic stations, but we're not over the moon either."
Will there be any special preparation? "Legal Eagle is a natural, so I err on the side of caution when I'm at a crossroads with him and his work. Knowing his ability, I rather go in to a race doing a little less and focus on keeping him more sound and well than trying to get him 100% fit. I don't try and get him fit, I just try and keep him at a certain level and keep him ticking over. I maybe do a bit less with him than with my other horses. Where you don't know if you've got the best horse, then you rather try and have the fittest horse. With him, I leave a little to play with."
"I don't want to get ahead of myself, but obviously I've got a plan in place for the Met and we just go from day to day. It's about everything going right every single day and getting everything right and concentrating every single day. But to have the favourite for the Met is fantastic and he's a worthy favourite."
‹ Previous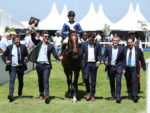 Craig and Ross Kieswetter