At the age of 54, five-times SA champion trainer Sean Tarry remains a top-level competitor.
But the days of grinding his teeth at big-race panels and losing sleep over puzzling handicapping decisions are behind him.
And he is determined to enjoy his racing – that means dropping the stress!
With six Hollywoodbets Durban July entries in the mix, the Randjesfontein resident is more than hopeful of a third success in the race that every owner, trainer, jockey and breeder wants to win.
Talking to the Sporting Post on Monday, Sean recalled the days he lambasted the Durban July panel for making what he felt were 'hometown decisions'.
One example was his class filly Trophy Wife, who failed to make the final field for the 2016 renewal.
"Last year I was gutted when Nebraas didn't get in – in fact I believe he deserved it ahead of one of mine that did make the cut. But the guys have a job to do, and we probably need to accept these decisions graciously."
It has been a solid ten years since the multiple SA champion trainer saddled a Durban July winner.
Tarry trained Heavy Metal (2013 – Smanga Khumalo) and Pomodoro (2012- Piere Strydom) to win the Durban July when it was still sponsored by Vodacom.
Both horses raced in the silks of then leading owner Chris van Niekerk.
Has he come close in the ensuing years?
"I really felt we were unlucky with Al Sahim who ran second in 2017 behind Marinaresco. Anthony Delpech knew him well and got along with him like a house on fire. But Anthony was retained by Mary Slack and I called up Smanga Khumalo. They didn't click as well and that was the difference between victory and defeat. But that's history and now we look forward to Saturday 1 July 2023!"
With 6 of the remaining 48 entries for the 2023 Hollywoodbets Durban July, and three in Bless My Stars (5), Rain In Holland (13) and Nebraas (19) on the first big race log published earlier this week, the Randjesfontein conditioner might fancy his chances in the 127th renewal of the big race on 1 July.
He says that he will never run a horse in the July for the sake of having a big race runner.
"If they come in off the right weight, I could make a case for all my six taking their chances. I see Litigation is not on the log, but he is worth considering. He and Rascallion were the two horses behind Pacaya to emerge with credit from Saturday's WSB Gr2 1900. I think we make a mistake of not looking at the result holistically and rather tag the winner with a preferential ticket for the July. We need to look at what they carried on Saturday and what the weight differential will be in the July rather. I thought Winchester Mansion was a near cert off that mark on Saturday, and he ran a cracker. But come the Hollywoodbets Durban July, it's going to be a different story, as one example."
The top trainer said that he hasn't appealed or argued a handicapping decision in ten years.
"They are kind enough and happy to listen but seldom change their decisions. Look at Litigation after beating Nebraas in a Pinnacle some time back got a 113. On Saturday that kind of call makes a difference as to what he carried – he finished only 2,20 lengths off Pacaya. I think it was a smart effort by Litigation. He will enjoy the extra 300m of the July and he is the kind of horse who can be ridden on or off the pace. He is back at Randjes this week and we will assess the options."
He adds that Bless My Stars is likely to skip the Woolavington and perhaps have a mile pipe-opener at home a few weeks before the big race.
Rain In Holland he feels is a bit high in the handicap but will go via the Woolavington into the July.
"Her Premier's Champions Challenge third was exceptional. Richard Fourie wasn't sure whether to go forward or drop her out. Eventually she settled and was running on smartly – but suffered interference close home."
The soldier Nebraas is at 19 on the first log.
"He will go into the July and then into the Gold Cup, a race he won in 2021. We went a bridge too far with him in that Gold Bowl build-up. That wasn't his run and he will come in freshened up on 1 July."
As for 3yo Future Pearl, who won the Gold Bowl, Sean says that he won't run him in Daily News.
"He's off our best 3yo's, so why risk running a place there and then being lumbered with extra weight on 1 July. I will probably go the Lonsdale route with him. He could be interesting in the July off a light weight!"
Sean says that Pyromaniac is a Graduation winner but is a talented 'under the radar' 4yo.  "He had no luck last time," he adds.
Currently second on the national log behind Justin Snaith, Tarry recently celebrated his 2500th winner and will go down in history as a leading South African 21st century trainer, with an impressive 277 stakes winners and 65 Gr1 winners, including all of South Africa's 'majors'.
The Tarry honour roll lists 32 Equus Awards, a Triple Tiara winner and five National Trainer titles.

The Hollywoodbets Durban July timetable:
Second declarations close at 11h00 on Monday, 29 May
Final supplementary entries close at 11h00 on Tuesday 13 June
Weights will be published on Tuesday 13 June
Final Declaration close at 11h00 on Monday 19 June
Final Field and Draw announcement will take place on Tuesday 20 June
Public gallops (compulsory) will be held on Thursday 22 June
‹ Previous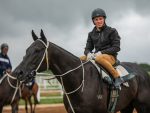 The Boy Has Become A Man