Devastating news as injury rules S'MANGA KHUMALO out of the July. This interview was conducted prior to the shock- Ed.
 The 28-year-old from Kwa Mashu in Durban wrote his name into the history books when, in 2013, he became the first black jockey to win the Vodacom Durban July.  Not that his triumph aboard Heavy Metal was the first taste of Grade 1 glory for S'manga, he rode the same gelding to victory in the Champions Challenge little more than two months earlier, and he also enjoyed Grade 1 success with the likes of Dancewiththedevil and Wagner. Now, with roughly one month of the season to go, S'manga stands on the threshold of becoming South Africa's first black champion jockey. The season has not been all smooth sailing for S'manga, but he is tantalizingly close to "mission accomplished" and we dearly hopes he achieves it!
.
What is your name?  S'manga Khumalo.
What is your star sign and birthdate?  My star sign is Sagittarius and I was born on 29 November 1985.
Where were you born and where did you grow up?  I was born in King Edward Hospital, Durban and grew up in Kwa Mashu, 'L' section.
Where do you live?  I live in Glenanda, Johannesburg, which is 5 minutes away from Turffontein Racecourse.
Tell us about your family?  My family consists of my mom, three sisters and my brother. I also have three kids, Persia (6), Kaidin (4) and Mbali who was born in September last year.
Favourite food?  I enjoy seafood.
Favourite drink?  I enjoy a glass of whiskey.
Favourite sport?  Of course, horseracing is my number 1 sport and then I also enjoy watching boxing.
Favourite holiday destination?  Mauritius.
Favourite racecourse in South Africa?  Turffontein, the standside track.
What book are you reading at the moment?  Computaform.
Who is the one person that you would have loved to meet and why?  Nelson Mandela, for obvious reasons. It's only because of him and all the other anti-Apartheid heroes, that black people like myself, Muzi Yeni and millions of others have the opportunity to showcase our talents in the various sectors. They sacrificed their lives for our freedom and that is remarkable and unselfish.
Property aside, what is the most expensive thing that you have bought?  A BMW 335i convertible.
Where did you go to school?  Mzuvele High School before joining the academy.
Where did your interest in horseracing begin?  The South African Jockey Academy sent scouts to my school and I was one of the shortest so they enquired if I would be interested. At first, I was very sceptical because I had never seen horses and didn't know what was required. Then I did some research and read newspaper articles and began to take an interest. Probably the most inspirational thing for me was reading about Gift Funeka becoming the first black jockey to ride in the July. The fact that he was from my hometown, Kwa Mashu made it even more satisfying. The South African Jockey Academy assisted me with my application and my mother supported me whole-heartedly.
How difficult was it for you to fit into the lifestyle at the academy?  It was very tough as I, for the first time, had to adapt to being around people from all races and they spoke very good English. It certainly helped me a great deal to have fellow black jockeys like Robert and Sandile Kathi, Sihle Cele and the late Sylvester Mtshali with me. We developed good friendships.
Who were your fellow apprentices when you joined?  Robert and Sandile Khathi, Sihle Cele, the Late Sylvester Mtshali, Sean Veale, Christopher Puller and Chase Maujean.
Who were your riding masters at the time?  Paul Gadsby and Vincent Curtis.
Which trainers took an interest in you and mentored you early on in your career?  When I was an apprentice I went to Zimbabwe for 6 months and trainers Lisa Harris and Kirk Swanson gave me very good support. In fact, my first winner was in Zimbabwe for Lisa Harris aboard Lightning Dawn.
How tough was it to make the transition to becoming a qualified jockey without any allowance?  It wasn't that difficult as I received good support from trainers Alec Laird and Sean Tarry.
Upon qualifying as a jockey, where were you based and which trainers supported you?  I was based in Gauteng and got a lot of support from trainers Alec Laird and Sean Tarry.
Who or what convinced you to make the bold move of relocating to Gauteng? Robert Moore saw me riding in Zimbabwe and liked my riding style. He spoke to the Gauteng Academy Master and recommended me to go to Johannesburg. That was certainly the best move of my life and I am eternally grateful to Robert Moore.
Were you contracted to any stable during your early days on the Highveld?  I was stable apprentice to trainer, Alec Laird.
Which yards did you ride work for?  The Late Cyril Naidoo, Sean Tarry, Alec Laird, Chris Erasmus and Joey Soma. These trainers gave me great support.
You formed a brilliant relationship with the superstar mare DANCEWITHTHEDEVIL. Tell us about your success aboard her?  I rode two group 1 winners on her, the Laurie Jaffee Empress Club Stakes and the Horse Chestnut Stakes. She was a big help in my career as that is when I started to get noticed by other trainers. I would like to thank Mr. St John Gray for having the confidence in me and allowing me to partner her in those big races. She will always hold a special place in my heart.
Last season was undoubtedly the best of your career and it began with your brilliant ride from the front on WAGNER in the Summer Cup. Tell us about that?  It was always the plan to go to the front as he was a natural frontrunner. Trainer Joey Soma prepared him to the minute and he felt very good. It is a pleasure to ride for Joey Soma as he trusts his jockeys. The horse was very fit and he kept giving me all the way to the line. A great training feat on the part of the trainer and I was very pleased to have a Grade 1 winner for Mr and Mrs Jooste.

How did your association with trainer Sean Tarry begin?  It all started when I rode work for him as an apprentice and he is never shy to give the youngsters an opportunity. He is a tough man to work for but is very fair and gives very sound advice. I have learnt a lot from him and for that I am very grateful.
Mention some early successes that you had with him?  I had many winners for him during my apprentice days and that continued after I became a professional jockey.

Six months after your Summer Cup success, you started to form a relationship with HEAVY METAL for the Tarry stable. He won a good contest in the Grade 1 Champions Challenge at Turffontein. Did he feel to you at that stage that he was good enough to win the Durban July? I must confess that after this victory the July wasn't on my mind at all. I only started to think about the July when he ran an excellent race in the Grade 3 Jubilee Handicap under a big mass, next time out. That run really impressed me but of course, I wasn't sure that I was going to get the ride on him in the July. Trainer Sean Tarry didn't commit until very close to final declarations.
The son of Silvano then went on to win Africa's most prestigious race, the Vodacom Durban July. Can you relive that finest moment in your career when he passed the post first and you made history by becoming the first black jockey to win this event? Trainer Sean Tarry had three runners in the race and Pomodoro was the stable elect after his excellent prep and due to the fact that he won the race, the previous year. Mr. Tarry didn't put me under any pressure and more importantly, I knew what I had underneath me. There was a decent pace in the race and I sat in midfield. Just before turning for home many horses went wide to get the best runs and I had a beautiful split on the inside between the filly Do You Remember and Run For It. He felt good but I reminded myself that he has a short burst and that I needed to keep something in reserve. I left him loose over the final furlong and he surprised me by finishing off the race extremely well. It was certainly the greatest moment of my riding career. I was ecstatic and extremely emotional. This was a dream come true for me and felt like my first winner all over again. Of course, none of this would have been possible without the great assistance of Mr. Tarry, Mr. Chris van Niekerk, riding masters and everyone else that helped me at some stage of my career.
Many non-racegoers aren't aware of the commitment you showed a day after winning the July. Of course, you hopped onto a plane the next morning and headed to Turffontein racecourse for 4 rides, 1 of which you were victorious on. The July win obviously took your passion and desire to a different level. Tell us about it? That win did a lot for me. It ignited my passion and desire even more. I was determined to honour my commitments the next morning and I didn't party until late the night before. I felt really proud of myself that I made my riding engagements at Turffontein on the Sunday.
You haven't looked back since as right from the start of this season you signalled your intentions to make more history and become the first black jockey to win the South African Jockey's Championship. Almost 11 months later and you have amassed 174 winners, 35 clear of your nearest rival with just weeks to go. What does S'manga Khumalo make of this? Firstly, I don't want to get ahead of myself. I haven't won anything yet and neither am I taking it for granted. I am obviously pleased with my work ethic, the hunger and desire that I have displayed but most of all the endurance to last the entire season. I believe that I have had about 1300 rides this season and trust me, I still feel good. Whatever happens from now until the end of the season, I am extremely proud of myself. The reality of this whole situation is that without the support from trainers around the country, none of this would have been possible.
Many critics remarked that it was impossible to achieve this feat as you rode consistently for more than 5 days a week and that fatigue would catch-up with you. You have had a staggering amount of rides in all of the racing provinces thus far. That in itself, is a remarkable achievement as you clocked up plenty of voyager miles. What drives S'manga Khumalo and how telling has this experience been on your body? Believe me when I tell you, I love this game with all of my heart. It isn't work to me, it's a chance to express myself and I enjoy every minute of it. I always remind myself that I am one of only a few people in the world who gets paid to do something I love. In terms of my body, I am fine and with regards to the travelling, I enjoy that too. The only time I am irritated by the travelling is when I haven't had a winner at the races.
The trainers in their respective provinces have given you great support. Would you like to pay tribute to them? I owe a lot of thanks to all the trainers and owners that have supported me along the way, without them there wouldn't be racing. A special thanks to Markus and Ingrid Jooste, Chris van Niekerk, Mrs Slack and Mr. Javett.
The 2014 Vodacom Durban July is just days away. The field size has been reduced to 16 runners. Have you secured a ride to try and defend your title? Unfortunately not, but I am hoping that Mr. Tarry gives me a horse as he could have a few when the final declarations are announced. One thing for certain, I will be giving it my all on whatever I get to ride.  
Which horse do you feel is the horse to beat? I know that all the talk is for the current favourite Legislate and he deserves to be respected after his Guineas and Daily News 2000 wins on this track. However, I personally feel that the Triple Crown winner Louis The King is the one to be with. He produced an excellent run in the Daily News 2000 despite coming off a hard Gauteng campaign and being slow into stride in that outing. That was also his first try on the tight Greyville circuit and he will be better equipped to handle the track this time. Go King Louis!!!
Tell us about your other rides on the 'big' day at Greyville?  I have a very strong book of rides. I ride the filly CARRY ON ALICE for Mr. Tarry and she will love the 1400m. She has excellent form and beat male rivals in a Grade 1 sprint in Gauteng, before being slightly unfortunate to be beaten a neck into 2nd, again behind male rivals in a Grade 1 sprint at Scottsville in late May. I am not yet sure whether she will go for the colts or fillies version of the juvenile contests but she is very easy to ride and is a special horse. She deserves plenty of respect. The best advice would be to follow me on most of my rides because I will give it my all. I really thrive on these big days.

Speaking of Greyville, the new polytrack has been the talk of the town and you have had the opportunity to race on it. What are your thoughts on the surface? To be very honest, I am not really a fan of the polytrack but I am aware of its importance to the industry. This all-weather surface will eliminate the abandoning of racemeetings. It is obviously a great initiative on the part of Gold Circle, so well done to them. I have listened to the feedback from fellow jockeys and they are excited by it. Probably, the one criticism that I have is that the track is too narrow.
What changes, if any, would you like to see implemented in and around the track?  I am concerned about the tarred road on the inside of the course but I am sure that the authorities will address this issue.
It's obviously great for KZN racing that we can race on this all-weather surface but is it disappointing from a jockey point of view that this has ultimately resulted in a maximum field of only 16 runners in Africa's most prestigious race i.e. the Durban July? Yes, this is the harsh reality of having the polytrack. It will be tougher for younger jockeys to get a ride in the big race but it is a no-nonsense sport and it is survival of the fittest.
Of course, your season hasn't been short of controversy as you received a rather harsh two-month suspension by the NHA for your ride on SUPERTUBE at the Vaal on 5/11/2013. You have appealed against the decision and have referred it to the High Court. How confident are you that the decision will be overturned? Firstly, I just want to go on record to say that I have done nothing untoward, hence I have taken this to the High Court. I am very confident that the decision will be overturned. I have received positive feedback from my Advocate.
Is it pleasing to know that a top class senior jockey like Piere Strydom is behind you and feels that this decision was a poor and harsh one? Yes, I heard about Piere's article in the paper. He has vast experience in this sport and I was really happy that he showed his support for me. In fact, he knows the horse in question so could probably understand what type of ride he gave me.
You represented South Africa in the International Jockey's Challenge in November last year. What does that achievement mean to S'manga Khumalo and what did you learn from the experience? It was an unbelievable experience to be competing against world class international jockeys. I learnt plenty from both sets of jockeys and will forever treasure the memory. I was so proud to achieve my Springbok colours and naturally it was a great honour to represent my country. It was also nice to work with my fellow countrymen as opposed to competing against them on a daily basis. The team spirit in our camp was brilliant.
Who is your favourite overseas jockey? Joao Moreira.
Now, onto some statistics that outline a relatively short but very successful career!
To date, how many winners have you ridden in your career?  760 winners at last count and 3136 places. I have had plenty of graded success and a good few of them have been Grade 1 winners.
Most winners you have had in a day? I rode the first 5 winners of the Pick 6 on 20 July 2013 at Turffontein. Naturally, I rode the jackpot that day and it returned R397.00. I have also ridden the Jackpot in Kimberley and Port Elizabeth.
Total winners during your apprenticeship?  +/- 120.
Most comfortable riding mass?  53kgs.
Richest race you have won?  The Vodacom Durban July, which is worth R3.5 million.
Which jockeys do you rate as the most competitive to ride against?  Piere Strydom and Anton Marcus.   
What are your short/long term ambitions?  My short-term ambitions are to continue riding winners and working hard. I have plenty more to learn in South African horseracing. Of course, deep into the future I would love to go overseas and learn even more.
How do you keep your body in great shape?  I don't do any gym work but just riding in races and keeping on a strict diet helps my body to be in great shape.
What advice can you offer to youngsters who wish to become a successful jockey? You have to be totally committed and work extremely hard. Even that, may not be enough in the initial stages but it is important to keep persevering and to never give up. You have to back your ability and a lucky break will come your way, just like what I was fortunate enough to receive.
Speaking of youngsters, which apprentices have impressed you by their desire and riding styles? Jose' Barnes is improving and should make the transition.
Shortly after your momentous July victory, you signed up a deal with your new sponsors WILDEKRANS. This must have been a lucrative deal and it involves a company outside of horseracing. Tell us about them?  Apart from the award winning wines available for tasting on the Wildekrans farm in Botriver Valley, in the Western Cape, their estate offers accommodation in their 8 luxury self-catering cottages. The brand is huge and they are set to sponsor the entire card at the Turffontein racemeeting on July day.
How has your relationship with them progressed through the season and are they really pleased to have you on-board?  As you know, I have been busy everyday throughout the season and so too, has the owner of Wildekrans. However, I have visited their offices and met some of their friendly staff. Also, they follow my every move in racing and are often the first to congratulate me after a successful day's racing. I am very grateful for their sponsorship and I hope that I have flown their flag high during the season.
Have they offered you a huge incentive for winning the jockey's championship?  Unfortunately not, but things could change, especially if I do manage the achievement.
Your previous sponsors were WINNING FORM, the country's largest horseracing publication house. What convinced you to move away from them and more importantly, was it the right move by S'manga Khumalo? I knew this question was coming. Firstly, Winning Form was really great to me. They supported me when S'manga Khumalo was a relative unknown and you never forget these things. Winning Form and Hollywoodbets.net contributes millions of rands into the racing industry in terms of their jockey and trainer sponsorships and they are a great lead for others to follow. Was it the right move to change sponsorships you ask, probably not, if I were to be totally honest.
What are your main interests outside of racing?  I must admit that horseracing takes up most of my time but my wonderful family is extremely important to me. I try to spend as much time as possible with them.
Does the maxim, "Behind every successful man is an equally successful woman," apply to S'manga Khumalo?  As mentioned above, I am very fortunate to have a great family who has supported me, every step of the way. Well, if you mention a woman that has been behind me, then my mother has been my pillar of strength. Without her, there would be no S'manga Khumalo.
‹ Previous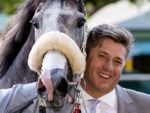 Joey Ramsden