Family and horses are all that really matter in his life. Slightly unorthodox in his gentle approach, and a passionate horse-lover to the tips of his immaculate boots, Randjesfontein-based Phillip Vermeulen celebrated an early career maiden stakes winner at Turffontein on Saturday.
Savannah Storm made a mockery of his modest rating to win the Listed Drum Star Handicap – in new class record time, nogal!  The 4yo is now rated 106 – a healthy jump from his 76 prior to Saturday!
Many trainers in South Africa are playing a  combination of poker and chess daily with Lennon Maharaj and his not-so-merry band of NHRA handicappers, as they conspire to squeeze every last ounce of advantage from the system for their hard-pressed owners.
But not Phillip Vermeulen – he threw the conventions text book out of the window on Saturday and ran the 76 rated Savannah Storm, owned by his wife Jeannique, all of 13kgs under sufferance.
"He is a lightly raced 4yo. I have brought him along very slowly, and felt he had improved to the point where was ready to step up and show his worth on Saturday. I am thrilled it worked out and we will take our medicine from the handicapper," he adds philosophically.
Jockey Marco van Rensburg graciously accepted the riding engagement and then had a look at the entries, believing the horse would probably not make the cut anyway. Then when he saw the final fields, he started thinking about excuses he could use afterwards! A smiling Van Rensburg was full of half embarrassed praise for Savannah Storm afterwards.
Saturday's Drum Star Handicap victory was special in more ways than one for the Vermeulen family. Phillip owned horses from the age of 25 and Roy Unsworth, the top-class Drum Star's original trainer before Mike de Kock took over, was his first trainer and mentor – and the man who inspired his interest to train horses.
"So to break my stakes ice by winning this race – and with a horse owned by my wife – was really very special," he adds.
An almost  spiritual and kind approach to training comes to the fore when chatting to Phillip.
He has policies – like he won't run a 2yo. Before horses race they enjoy a fun trip to the course on racedays to absorb the vibe and positive experience. Paddocks are important – he doesn't believe in keeping his horses standing in their boxes all day. He feels strongly about a grasp of equine mental health. His stopwatch accompanies him all the time – "times don't lie," he says.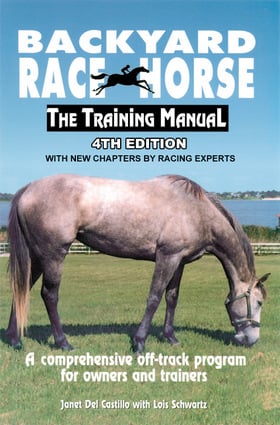 Phillip tells how he trains by the guiding principles of a fascinating book – Backyard Race Horse – written by trainer Janet Del Castillo with Lois Schwartz, and published some 28 years ago
It describes how to condition horses naturally at home or off-track in one's own environment. Without medication.
"It's really mostly about a lot of common sense and plenty of respect for the horse," adds Phillip.
The book draws from De Castillo's own experiences in transforming a $2 500 cast-off into a $300 000 earning racer and explains her natural way of training, which includes no meds, plenty of space to run, and a non-aggressive training regimen. In contrast to widely accepted outlooks, there are suggestions that the track isn't the only place to train a winning horse.
The 51 year old Phillip Vermeulen grew up in Kimberley, matriculated at Helpmekaar College, and qualified as an Electrician after his compulsory military service was completed.
He always had a fascination for horses and racing, and was an owner  from a relatively young age. Roy Unsworth, Roy Howe, Bev Snow and Brett Warren – Phillip absorbed all he could learn and drew on the decades of experience and guidance offered by these veterans.
Phillip says that a special word of appreciation is due to Jurgen van Heerden, who has played a key guiding role in his development, and still does.
"Jurgen's assistance was a gamechanger for me in the past twelve months. He is such a knowledgeable person and has been an inspiration," he says.
He was originally going to be an owner-trainer, but now has an open licence and has attracted 'two good owners' in recent months.
His first winner came courtesy of the 7yo Kings Cup, who won a modest MR 71 Handicap over 2400m under Cole Dicken at the Vaal on 22 September last year. The old boy has since won again.
Phillip, who bought Jurgen van Heerden's beautiful property next door Randjesfontein when his former colleague headed South, has 10 horses and is building a new barn to accommodate the anticipated growth in his operation.
But he is not in a hurry. Only 4 of his string are in training and racing, and the other 6 are 'babies' – and he doesn't race 2yo's, remember!
He declares that he is in racing for the horses and the thrills of racing.
"If you are in this game for the money, you are making a big mistake. I am fortunate to have the resources to live my dream."
Phillip's current leading owner – his wife Jeannique – is also his key staffmember and assists by running the Vermeulen Racing set-up with a well established team.
His children – Hannah turns 15 on Wednesday – and 11 year old Caleb, also enjoy getting involved.
"What a life. We are so blessed and really have so much to be thankful for. Horses and the great outdoors. As a family we love and live it together."
Back to Saturday's star, Savannah Storm, Phillip is monitoring how the son of Sudden Storm takes Saturday's run. It seems like all is good and the programme is set to map out.
"We may look at the Horse Chestnut 1600. As long as he keeps on improving and he is happy, we will step him up again. I rate him."
Savannah Storm's breeder Juan van Heerden was thrilled about the big victory as it was a first stakes strike for his semi-retired Jet Master stallion, Sudden Storm.
"Phillip bought the whole family off Riverworld Stud. He clearly is an astute judge! I still have two of his here with me. I am so happy for him. They are in good hands," added Van Heerden, who has retired and given up breeding.
Besides the 4yo Savannah Storm, Phillip has his 3yo chestnut full-brother My True North (pictured below), as well as the 2yo sister and a yearling brother. The latter two are still in Paarl, as pointed out by Juan van Heerden.
"I don't want to put the youngster through the trauma of a long road trip to Joburg yet. But My True North is doing well – make a note of his name. He will run soon."
Phillip recalled that when Savannah Storm arrived from the Cape, he had colic and was a very sick horse.
"He stepped off the float and I was very worried. But patience, TLC and the R20 000 vet bill later, he has repaid us over and over again after Saturday."
The family man is unusually positive about South Africa and horseracing's future.
"Negative energy is a wasted emotion. This is a beautiful country. There are issues all over the world. We are here – we must make this work. And for racing, I believe MOD and the new team are going to make a difference. The development of Randjesfontein is also an exciting vote of confidence in the future of the sport."
‹ Previous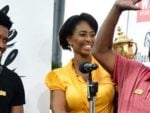 Racing Is Not Only For The Rich