Just days after uprooting his decades long rural Ashburton home base for the quite different environs of Summerveld, former KwaZulu-Natal champion trainer Duncan Howells celebrated his first winner, and two second cheques, from just three runners at Hollywoodbets Greyville on Easter Monday.
The decision to mothball the Ashburton Training Centre and relocate Duncan and the four other resident trainers and their horses to Summerveld was made at a Gold Circle board meeting in February. In the years that the centre was originally built by the Pietermaritzburg Turf Club, the financial dynamics have changed dramatically.
In a week where his former stable superstar Via Africa, described by the Hollywoodbets-sponsored veteran horseman as 'one of the best I have had', set the Inglis sales ring alight Down Under when her yearling daughter sold for a sale-topping A$1,8-million on Day 2 of the Inglis Easter Sale in Sydney, the enforced move down the N3 from Ashburton is being taken in his stride.
"We have been thinking on and off about moving for years now. Ashburton has changed character in the last five years – the illness level of horses, for example, has increased. The drive up the N3 has also become a nightmare. And racing has shrunk, so we have to be realistic. We didn't jump in the end , we were pushed. But we were probably stuck in a rut anyway and the reality is now upon us. That said, the whole team are really looking forward to the exciting challenge," an upbeat Duncan told the Sporting Post on Monday.
After Poppy Of Bayeaux had gone second in the fourth, the lesser fancied Mission Rock bolted home under Muzi Yeni to beat stablemate Birdwatcher in the final event of a tough Easter Monday card.  It was a 'Howeller' of a day in the end, and a deservedly defining launch from the new home base for a man who has been known to be his own worst critic over the years.
At age 57, the one-time accomplished amateur rider is mellowing and, in his own words 'learning to become a good loser', and realising that life is not always as serious as he may have made it – which includes not getting as peeved off as he used to with his jockeys!
And being back at Summerveld is something of a circle of life moment. Duncan worked at the scenic training centre for eight years under the leading now Australian based trainer, David Payne.
"You know I often think that we don't realise the true value of experience. David Payne once told me that he regretted not being more experienced when he had a great horse like In Full Flight. Look how well he did with the champion,"he reflects.
With Payne, and other top notch mentors of the ilk of Andy Smith, Roy Curling and Eric Sands, Duncan Howells and his racing operation garnered national respect at his peak, from humble beginnings where he was reminded that he no longer had the luxury of the Payne bombs and would need to learn to train lesser horses to win.
"It's all about the basics– keeping them sound , feeding them properly, and practising good stable  management. Cathy Rymill, my partner, has been the foundation of our success, finding the quality horses at the right prices. We are going to have to adjust to the tracks here at Summerveld but I'm very happy with what I have seen so far and there are many experienced brains around me that I can pick," he adds with enthusiasm.
Duncan has built up a strong team and says that bar one individual, his loyal Grooms all made the move and appear to be settling in quickly.
"We haven't done too much yet and are still finding our feet. The results today were thus really encouraging. Bar having two winners, I couldn't be happier and am not complaining," he smiles modestly.
On a personal front, Duncan is happy with the scope of the accommodation at his yard, and rather than commute up the frustrating N3 daily, he intends to overnight at Summerveld.
"It's a big move on the personal front. Cathy and I have been happy living up in Pietermaritzburg, but we  realise we are going to have to sell up there eventually. Life is all about change," he adds philosophically.
In the short term, Duncan intends to build his twenty six strong string up.
"I probably don't have any genuine Group 1 horses, but I have some really nice sorts of the likes of Kitchakal, Mia's Athena and El Rey Viene, that will be competitive in the features. My aim is to build the string with young horses, and to start having fun again. That's the essence of enjoying this wonderful again and I have proven my capacity to train Gr1 winners. That's where we'd ultimately like to get back to."
So will he be attending the National Yearling Sale on the 21st and 22 April? And does he have briefs and mandates?
"I am not so sure I have ever had briefs and mandates, as you say!" he laughs,  but confirms that be there they will.
"I have three of my ex charges with their first foals in the catalogue. So that's exciting. Let's see what happens. We need to restock the arsenal and It's encouraging that I recently have had inquiries from owners that are coming back into the game. That's a very good sign!"
You can follow Duncan Howells Racing on Facebook!
Watch this recent interview with Duncan Howells:
‹ Previous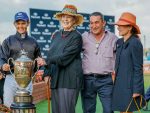 None Other Than Lucky!