Normandy Stud has been enjoying a great run of form, celebrating a Cape Nursery double in 2016 and from a draft of six at the 2015 CTS Ready To Run Sale, three are graded stakes winners. We catch up with Veronica Foulkes.
We arrange to meet at her flat in Cape Town, mid-morning, after her walk in the mountain. Veronica greets me at the security gate, elegantly, but comfortably attired in black with pearls at her ears and throat. With an energy and athletic physique that belie her years, she greets me with her trademark warm smile and then shows me briskly upstairs. Despite being just above the busy main road, the beautifully appointed flat is quiet and peaceful, even with the sliding door open onto the little balcony. Trophies, awards and equestrian art adorn the surfaces, a testament to a lifetime's contribution to racing.
A little background
The De Wet family settled in Robertson as far back as 1859 and Veronica grew up in Robertson as one of four children. Her parents, Oscar and Margaret de Wet, farmed and her father ran the finest twice a day milking herd of Fresian cattle in the country from their Excelsior farm. Oscar and Zandvliet's Paulie de Wet were cousins. "Willie Langerman boarded horses with my grandfather and then my father. My mother did the Thoroughbreds and she loved it," explains Veronica. "When my father died, she carried on with the horses. My brother Stephen finished school, studied viticulture in Germany and then came home and also took an interest in the horses." Did Veronica pursue any studies? "Nothing useful," she smiles mischievously. Excelsior enjoyed success, producing the likes of Country Cousin, San Louis, Gondolier, Ethno Centric and Bushmanland, although Stephen later focused on breeding Arabians instead.
Veronica married veterinarian Tommy Foulkes and the original Normandy was established in 1971, on what is today Litchfield Stud. They later acquired the additional tract of land that the current stud occupies, eventually selling the Litchfield portion to Ken MacKenzie. "Tommy did vet work and I did the stud work, although I learnt an enormous amount – even about small animals. I never lost a patient," she smiles. "But we worked bloody hard. We'd be up at 6am, even after being up all night for foalings."
Alongside Tommy, Veronica bred Aquanaut, Enforce etc. Being from the Karoo, Tommy knew all the old families and bought three mares from Alec Robertson, including Tramore and Entre Nous, from which the farm has produced a number of good horses. Entres Nous produced Cape Fillies Guineas winner, In Camera in partnership with the Jaffees. Tramore's first foal was a colt named Tribesman by New South Wales, who went on to win the 1977 SA Derby. She also produced a Drum Beat filly named Terpsichore, who was a 4-time winner, but more importantly produced French Muse (dam of Horse of the Year, Winter Solstice), and Russian Muse (dam of Mother Russia) with other branches of the family producing the likes of Bravura and Cap Alright.
Winter Solstice
Normandy beats the statistics in terms of the number of top horses it produces off a relatively small base, but the one Veronica is perhaps most readily associated with is dual Queen's Plate winner and Horse of the Year, Winter Solstice. "Actually, between myself and my cousin Dan de Wet, we won the Queen's Plate 7 years in a row – Winter Solstice won it twice, Pocket Power four times and then I won it again with Mother Russia," she says with pride.
Was Winter Solstice a standout on the farm? "Not really," she answers candidly. "He was a nice horse, but he was born, went through a sale and so on." While she was on course for his first Queen's Plate win, she did not receive a trophy from that run. The following year, her sister was visiting from Australia and the pair went to lunch at Kirstenbosch and Veronica missed his triumph. "It was shocking. Unforgivable really," she reflects. Fortunately the story does have a happy ending as she did get a commemorative plate for his second victory.
Sentiment
Not only does Normandy breed off a relatively small base, the stud has also found success from very economical broodmare purchases. "Luck comes into it too, but I've had a lot of success from sentiment. I bought Princess Daisy (the dam of Joshua's Princess and granddam of Grand Jete) for R2000 because I'd stood a family member for Bev Rodseth." Through an association with the owners, she acquired Helenita, who has the distinction of producing Little Ballerina (one of the few fillies ever to win the Cape Guineas), and Trojan Belle (Majorca Stakes) and she purchased Nordic Vine because she was from a female line that her ex partner Jan de Clerq had had. Happy Jean was another she purchased in partnership with Etienne Braun, later buying Etienne out. When mated to Captain Al, she produced the very promising Crowd Pleaser.
Veronica eschews electronic mating programmes and still prefers to design matings by 'the Charles Faull' method. "I print out a 7 generation black and white pedigree and then get to work with my highlighters. If it looks like a fruit salad, I know I'm on the right track." Veronica prides herself on producing sound horses with good feet. "When you hear the colts running outside at night, your heart stops, but it all strengthens the bones and tendons. Their feet are good because they're outside all the time." She also believes in feeding lucern. "Don't bring me teff or oat hay" and weanlings are fed grain three times a day.
State of the industry
It is impossible not to touch on the state of the market. How does she feel about the future of the industry? "Top horses are always going to be good sellers, it's the middle market that's frightening me," Veronica muses. "It's hard for the man in the street to buy a horse. We're all going through tough times." Here she does feel the industry ought to be doing more to market racing to the general public. "Channel 239 isn't reaching anyone other than people already in the industry. There's no way the race clubs can't afford some additional advertising."
Rising costs have prompted some practical business decisions. "I don't breed enough horses to split across two sales companies, so I've nailed my colours to the mast and sell through CTS. You know you get your money," she says simply. "Also CTS, Markus Jooste, Chris van Niekerk and Bernard Kantor have been fabulous to me. They support me, but more than that, they've been kind to me." With the rising cost of feed and transport, she is considering a Cape based programme of the CTS Premier Sale, the CTS March Sale, the Klawervlei Farm Sale and the CTS Ready To Run. She is not concerned about the Premier Sale coming in January, "My horses are always all in good condition. All I've got to do is keep them out of the sun so that their coats don't get bleached. It's easier than trying to prep horses for sales going into winter with blanketing and lights and so on. They want them straight off the paddock for the farm sale and the Ready To Run is a piece of cake, because I don't have to do the preparation. It's worth noting that Veronica has a particularly strong draft lined up for this year's Ready To Run sale including a Captain Al, two Dynasty's, a Trippi and a What A Winter filly.
Buying In
Veronica is not afraid to put her money where her mouth is and will often either buy into a horse she really likes, or race them herself if they do not reach her reserve. Proving that sentiment often pays off, having sold Entre Nous' Fillies Guineas winner, In Camera, Veronica bought back a daughter named Private Lives, who produced 2001 Equus Champion Female Sprinter, Tatler who raced in Veronica's colours. She was a 5 time winner, including the Odessa Fillies Championship, a race Veronica has claimed three times to date and Veronica has recently managed to acquire one of Tatler's daughters, Taomina. "She's easy to get in foal, but hard to keep in foal. But we'll keep persevering," she says determinedly.
Markus Jooste permitted her to keep a quarter of the wonderful Bravura, and she also kept a share of Cap Alright with Etienne Braun and Paul Loomes "Nobody who's not in racing can understand the high of winning and leading in a horse. It's a lot of fun. A lot of heartbreak too," she reflects. "We've been second in the Met five times now – at one stage it was three years in a row!" How does she cope with the disappointments? "As they say, 'Laugh and the world laughs with you, cry and you cry alone.' You've got to accept things happen," she shrugs. "You just need a good horse every now and then and it makes it all worthwhile."
Heavy Responsibility
Interestingly, Bravura is retired at Normandy. "He paid his way and more and I wanted to make sure he had a good home." Homing of horses off the track is becoming a big conversation and what to do with uncommercial, old or unwanted breeding stock is also a challenge breeders routinely grapple with. "It's a big problem," agrees Veronica. "I don't sell on broodmare sales. If a horse has no use, it's better to put it to sleep. If horses are given away to good homes, I feel it's the duty of the initial owner to check up on them annually, but trying to keep track is difficult."
Having devoted a lifetime to breeding, what gets her out of bed in the morning? "I have to – I'm unemployable!" she jokes. "Tommy once said it ages you, because you're always looking ahead to the next horse, the next race, the next season. I remember once teasing 100 mares and then spending 6 hours on the road. But I couldn't be a trainer, the routine would kill me. I find sales prep boring, but I love the breeding season. You have to be on your toes all the time. And I must make a point of saying how helpful the various stud managers are. I can't think of one I hesitate to phone. I do come here," she gestures around the flat, "but I can't stay more than a few days before I've had enough. I love what I do. It's my comfort zone."
‹ Previous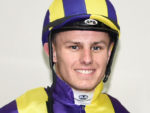 Mathew Thackeray