There's an underlying tenacity about South African jockey Warren Kennedy that says New Zealand has yet to see the best of him.
The thoughtfully-spoken 43-year-old follows in the footsteps of several South African jockeys to have ridden here over the years, but none left their home country with the success that he'd achieved.
Kennedy caused a sensation in South African racing when he announced he was leaving for New Zealand at the end of the 2021-22 season.
For a jockey described as a journeyman for so many years, Kennedy had won his first South African national premiership as a 41-year-old then repeated the achievement the following season, only to quit his home country as the reigning champion. The motivation was two-fold: he had ambitions to become a champion jockey abroad but he also wanted a better life for his wife Barbara and their two young daughters.
Among the places Kennedy sent his resume was New Zealand and former South African jockey Donovan Mansour was quick to reply, telling him this was the place to come. Kennedy's brother and sister had already immigrated here and after a reconnaissance visit, he decided to follow their lead.
Breaking into the close-knit jockeys ranks is the first challenge for a foreign rider but Kennedy quickly won over his new Kiwi colleagues and it wasn't long before he won over New Zealand trainers, owners and punters with his skills in the saddle. His style might be considered unorthodox by New Zealand standards but it has been effective enough to see his first part-season here successful by any measure.
He has claimed Group One success, won one of New Zealand's three NZ$1 million races and filled a spot in the top five on the national premiership. It's a great start. But Kennedy is far from done even scratching the surface of what he wants to achieve here. That's par for the course for a jockey who has overcome many obstacles on his path to success, once even considered too small for a sport that demands many of its riders to starve themselves in order to participate.
Kennedy was born and grew up in Durban. His father Terrance was a small business owner and his mother Sandra worked for a packaging company. He enjoyed gymnastics, soccer and chess but because of his size, his teachers would frequently tell him he should consider a career as a jockey.
His father had a brief career as a jockey but had never pushed his son in that direction. "I was always a sporty boy and I thought I'd give it a crack. I enjoyed it from the start," Kennedy says. He joined the jockey academy in Durban at 14 and began race riding in his third year, despite initial concerns he might not be big enough to be a jockey. He had undergone all the standard tests at the academy to weed out riders who might get too big but those weren't the main issue with Kennedy.
"I was actually too light. I weighed 26 kilos when I went in when I was 14 years old. In South Africa, we claim four kilograms as an apprentice and the bottom weight is 52, so you'd ride at 48. Deadweight on a horse is the saddle and a leadbag and the most (deadweight) you could carry was 13 kilos so to get rides was impossible. I was still nine kilos too light. The academy said because I was struggling to get bigger they wanted to give me steroid injections to pick up weight, which I refused. They had an academy opening up in Port Elizabeth and they sent me down there and I was able to get heavier naturally. I hooked up with a trainer, Nic Claassen, and after three months, I became his number one jockey and away we went."
Kennedy returned to Durban at the completion of his apprenticeship, having claimed the national apprentice title in his final year, and set about making his way to the top of his sport as a senior jockey. But the pinnacle was still 20 years away.
"It took a while and a lot of hard work. You've got to get noticed. You get an opportunity which might not seem like much at the time but you shine and it leads to better chances to climb up the ladder," Kennedy says.
"I was riding winners but wasn't the name on everyone's lips. Then I joined Gavin Van Zyl's stable in Durban and became his stable jockey. We had a lot of success, won the Group One Thekwini Stakes on Gabor, and then became stable jockey for Johannesburg trainer Paul Peter. I kept flying up and riding a lot of winners for him. He broke the South African record for wins in a season in 2021. Once I had hooked up with him, it began a snowball effect and the rides started flowing. I was riding for bigger trainers and getting more wins."
Kennedy claimed the first South African national premiership in 2020-21 then defended his title before making the shock announcement that he was moving to New Zealand. "It was a tough decision because it had got to the stage where I could pick up the phone in South Africa and get any horse I wanted but I was looking for a new challenge," he says. "To win a premiership outside my home country would be a big thing but it was also for my family. Unfortunately South Africa as a country has really declined. I love the country but we wanted to get a passport for our children that really meant something."
Kennedy is a likable bloke. There's no pretense about him; he's chatty and warm. It's easy to see why he was quick to disarm any initial resistance in New Zealand, which in turn has made his transition to life here seamless.
"It's been great. It's always difficult coming to a new place and starting from scratch but I had a bit of a profile behind me and I got a lot of support early on from guys like Brendan and Jo Lindsay, Lance Noble, Peter and Dawn Williams – really good trainers that have backed me from the get-go and a lot of other trainers have followed suit. You've got to produce the goods to get the rides and I've been doing that so it has just snowballed from there," he says. "It's undoubtedly a change. Things are done differently from home. Nominations and those sort of things are all very different but I've had Donovan Mansour booking my rides and he's been a big help. We had trialling for a short while in my country but it never really caught on. But the racing side is still racing and you adapt to it. You know the spine of it and what needs to be done." Kennedy credits Mansour for opening doors for him in New Zealand and says he is indebted to Byerley Park owner Daniel Nakhle, who has been one of his biggest supporters. "Daniel promoted me a lot. There was a lot of hype for me when I arrived so people were aware who I was and I got fair enough rides when I first got here," he says. "It all changes when you start winning. You pick up better rides and when I won on them and won a few Listed races, people see you can do the job and accept you and are willing to put you on."
One of the most challenging aspects of riding in New Zealand for Kennedy was adapting to the tracks. In South Africa, he rode chiefly at eight racecourses that he got to know intimately but he concedes it has taken time to get to grips with nuances of New Zealand tracks.
"The courses were at first a bit of a challenge to me: tighter tracks, shorter straights, no false rail. You have to adapt to riding that way," he says. "Back home, you could ride a bit more of a relaxed race because you come into the straight and you know you've still got a long way to go and with the false rail, you know you are going to get space for your horse. Here, you've got to start looking for space on the bend at some of those courses. It was a bit of a challenge but I'm getting there. I won't say I've got it done yet but I'm getting there."
It's that attitude that has made Kennedy so popular. His first season here has been a spectacular success. In the space of nine months, he had already won more than 76 races to sit fourth on the national premiership with stakes earnings of $3.1 million. He is striking at better than one win in every seven rides. Boxing Day success in the Gr.1 Zabeel Classic (2000m) aboard Defibrillate at Pukekohe, the ninth Group One win of his career, was a precursor to winning the $1 million Karaka Million 3yo Classic (1600m) on Prowess at the same track, among eight black-type wins for the season. "You win races like that and people get the confidence to put you on in other big races. Once those two got ticked off, it's really cracked on," Kennedy says. "You always want to improve yourself and do the best you can. That's your obligation as a jockey to the owners and trainers that put you on these horses. They've got the faith in you to do the best job possible and get the best result possible for the horse. You're always striving to better yourself but any sportsman wants to achieve better results and get better – that's human nature. To come in and make a big splash was something I had set myself a goal of doing. And it's easy to enjoy somewhere new when you are doing as well as I have. But I knew it was something I would have to stick things out with. The harder you work, the more opportunities come your way and if you shine in those opportunities, people notice. I've been lucky that people have noticed and I'm doing well. I'm really happy with the start I've made. Trainers in New Zealand have been really accommodating to give me a chance and I'm lucky that I've landed running."
One venue Kennedy has made his own is Pukekohe Park. His first 86 rides at the track yielded 24 wins and 17 placings. "I feel I know the course really well. It is more like the South African courses because it's spacious and has a long straight so it was easy to feel at home there and I was able to adapt to it very quickly. It seems whenever I go there, I've been able to get a winner or two so it's hard not to love the course when that's happening," Kennedy says, adding that he can't wait for his opportunity to ride at Ellerslie for the first time when it reopens midway through the new season. "I've heard from numerous people that I'll love Ellerslie. They've said if you love riding Pukekohe, you'll love Ellerslie so I'm excited to get there and to race on it. I haven't been there yet but from what I've heard and the replays I've watched, it seems like a thinking jockey's track, which will suit me down to the ground."
Kennedy has made the move to New Zealand with his wife of four years, Barbara, and their daughters Jamie, 4, and Ryleigh, 2. Barbara, whom Kennedy had first met during his apprenticeship in her home town of Port Elizabeth, had trained a team of up to 30 horses at Summerveld, near Durban, before they moved and she intends training in New Zealand when the time's right. "I'm enjoying being here but I need to start doing something myself too," she says. "I just need to learn the ins and outs of racing here. I've been helping Peter Williams out at the trials but it is a goal of mine to have my own yard here. My happy place is being at the yard with the horses." The Kennedys are living in Karaka, where they have already found a sense of home, even the girls. "They moan a bit about the rain but otherwise they are really happy. They love their kindy. It's been great for them." One of the main contrasts from home is morning trackwork. Riding work at Summerveld, Kennedy would ride up to 25 horses a morning, each mount having already been warmed up for him so he could just focus on the gallop. "Here, you ride them right from the tie-ups. You've got to take them around and trot them and work them and bring them back. It takes time to work a horse so you don't get through as many. Here it's more relaxed. You maybe work eight horses in a morning and it's not really hard work but it's a lot more time you're with a horse than what you would be in South Africa."
It hasn't been plain sailing for Kennedy to get to where he has in the sport. He has suffered his share of broken bones, including breaking his nose on five separate occasions. He was lucky to survive an horrific fall at Port Elizabeth that saw him suffer serious head injuries leading to three months on the sidelines and the lasting reminder of a menacing scar across his head. "It's a dangerous sport and anything can happen. In my mind is that I've got two kids and a wife at home but you can't think like that. You've just got to go and do your thing and take all the necessary precautions that you always do in a race. It's about foresight and paying attention to things happening around you. Freak accidents happen but that can happen driving your car too. As long as my body can handle it. I've got no weight issues and as long as I can still get on a horse and ride competitively, I'll do it." It's clear family is a priority for Kennedy and when quizzed on what motivates him, it's an easy answer. "My kids. I just want to give them the best, to give them everything I didn't have growing up. I guess every parent feels the same way. I just want them to have great lives. I want Barbara to be happy. I want to live somewhere where we feel safe and can do something we want when we want. Unfortunately South Africa wasn't providing that for us. We've come here and it's been great. It's nice and relaxed here. It's pretty easy to be honest." And already the racing bug has taken hold at home. "Jamie has already got her jockey seat down on her rocking horse, which is a bit of a worry. She rides it and shouts me home on the TV. They go to the course and they enjoy it there so it's hard for them not to get into it. I won't push them there. I wouldn't recommend it for them but if it's what makes them happy, that's what will make me happy in the end."
A big factor in Kennedy's contentment in New Zealand is how well he has fitted in. He has already made firm friendships in the jockeys' room.
"When I first got here, the guys were really good. I can understand how they must have felt with a foreign jockey coming in, an outsider, but all the senior guys were really welcoming and that just flowed down the ranks," he says. "Once the senior guys are chatty with you, the juniors see you've been accepted and accept you too. I've made friends with the guys really quickly. We'll fly to another centre to ride and they'll say jump in the car and come to the course with us. There's a lot of camaraderie in New Zealand, a lot of friendships." With Kennedy's arrival here came the talking point on his unique style. He has adopted more of a bustling European style of riding than the compact style most Kiwi jockeys use. "It's a style that suits me. A lot of young kids have asked me about it and I've said 'you'll learn your fundamentals and your basics on how to sit on a horse, how to balance and how to ride out a finish but you've got to adapt your style to what suits you and what you feel comfortable with'. You can't just copy other jockeys because what they do might not work for you. I've found what works for me. Opie Bosson did say to me one day after I'd ridden a winner at Tauranga 'gee, you bounce on them but when you bounce on them, it looks like they lift for you' and I said 'well, most of them do and that's the aim'. Everyone respects each other's riding styles; that's just the way you ride and that's it."
Kennedy is a natural lightweight, walking at 51kg, a key asset for his quest to win a New Zealand premiership, a goal he'd love to achieve in the near future. But as he prepares for the new season, Kennedy is happy to reflect on a job well done so far: a splendid transition into the New Zealand jockey ranks. "Winning the Karaka Million on Prowess has been a highlight. It was a well-thought-out race and everything went to plan. And to watch her go to Australia and win was great too. It's great to see horses reach the potential you think they have. The money was great too but for me it's more about winning the big races and that's where the big money is. But you can work with a difficult maiden and get that past the line and that can be every bit as good a feeling," he says. "I'm not getting any younger and I'd love to win a premiership here while I can. I've been building relationships and I'd like to have a go at it. I have moved to New Zealand to spend more time with my family but to get one would be a huge tick. And I'd love to ride in Australia and Japan at some point, though I'd just want to fly in and out. If the right opportunity came for the right horse in South Africa, I'd probably go back and ride. But my heart isn't set on it. Family comes before that now. I want to make New Zealand my home. We're in the mindset that this is a permanent move. Hopefully that works out." So far, so good.
Written by Aidan Rodley for Auckland Thoroughbred Racing, reproduced with permission.
‹ Previous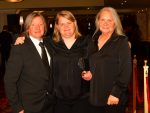 David Downs The Goliaths