Warren Kennedy is a quiet, highly intelligent jockey who takes his profession very seriously. He has recently taken the decision to make a big career move by relocating to Port Elizabeth where he is joining the powerful Gavin Smith yard. Having gained the experience of riding work on many of Mike de Kock's 'stars' he takes this expertise with him to the yard. Exciting times lie ahead for Warren and we, at Winning Form, will be following him with great interest.
What is your name and age? Warren Brian Kennedy and I am 31 years old.
Where do you live? My home is in Durban but right now I am relocating to PE and will be making PE my permanent home.
Tell us about your family? My dad passed way about 3 years ago. My mom, Sandra lives in Durban. My brother, Tyrone (35), is a CA and lives in New Zealand. My younger sister, Robyn (26), has a doctorate in business psychology and lives in Johannesburg.
Your father, Terrance, was a well-known jockey. Did he influence you to become a jockey or did he try to get you into another line of work? My dad was very keen on me becoming a jockey. He also wanted my brother to be a jockey but he was rejected by the academy.
You are quite tall for a jockey but very slimly built. Have you ever had trouble keeping your mass down? I am lucky in that I am naturally light. I do lots of exercise to keep fit.
What is your ideal riding mass? I can comfortably ride at 51kgs.
Do you have an agent? Yes. My long standing agent is Steve West who is both my agent and my friend.
You ride mainly in KZN and PE. Do you enjoy riding more in any one of these centres? I really enjoy riding in KZN but PE is now my first choice.
With the Cape and Gauteng seasons about to start will you be trying to get rides in those centres? No. Right now I am putting all my efforts into settling into the Gavin Smith yard. Muzi and I share the rides in the stable.
The three-year-old In A Rush from the Smith yard has a big reputation. How highly do you rate him and do you think he should take his chances in some of the Cape feature events? He is definitely well above average. Because I have been fortunate to ride many of Mike De Kock's top babies I am able to compare and I rate him very highly. I think he should be given the opportunity to take on the best in Cape Town in the features.
Apart from In A Rush which other horses do you feel are worth taking note of from PE? Hekkie Strydom's Act Of Supremeacy, Deceptive and Zephyr Breeze feels classy to me.
Which has been the most memorable and exciting day you have had in racing thus far? As an apprentice I rode 4 winners in a row in PE. Last season Gavin Smith had 6 winners and I was privileged to have ridden the 6th winner.
PE racing has grown over the years. What would you attribute this to? PE no longer gets all the scraps. The buying power has increased and really top horses are being bought at the sales and start their racing in PE. The playing fields have been levelled.
The Algoa Cup will be run at Fairview this weekend. What horse are you riding and what are your chances? Makzoos. He is definitely a runner. The Cape Town trainers hold the key to this race and it is difficult to make comparisons with them.
Over the past couple of years which do you consider to be the best horses you have ridden in work for the De Kock yard? Recently I have not ridden all that much work for Mike De Kock but I was very fortunate to have ridden Musir, Bold Silvano, Raihana and Imbongi and many more top horses.
Is there big competition amongst the jockeys to get rides for the De Kock stable? Anthony Delpech will obviously get the top rides but there is healthy competition amongst the other jockeys to ride for this great trainer.
If you were given the option to ride any one of the de Kock horses which would you want to ride? Naturally, Bold Silvano and Igugu, but that would be a pipe dream.
You were fortunate enough to ride Bold Silvano before he left for Gauteng and Dubai. How soon did you realize that he was an exceptional horse and did you expect him to have the success he achieved? When I got on him I instantly knew that he was special. He improved all the time and I was never surprised that he achieved all he did.
Apart from Bold Silvano other top horses to start their careers in PE were Lizards Desire and Paris Perfect. Was it obvious from the start that these were exceptional horses and did they improve as they matured? They both looked pretty good early on but both improved a lot as they matured.
Which has been the most memorable and exciting day you have had in racing thus far? Running 3rd on Forest Path in the July. He was a difficult horse to ride and was not given much chance of winning.
What were your thoughts in the final furlong of your July ride on Forest Path? Big City Life collared me on my outside and then Zirconeum also came up on our outside. I thought that with these two now on my outside that Forest Path would, perhaps, find more but he had had enough and went on to finish 3rd. I was thrilled.
Do you currently have a sponsor and how important do you think it is for a jockey to be sponsored? Right now I do not have a sponsor but would very much like to have a sponsor. I believe sponsorship is the way forward. Having a sponsor brings a responsibility to a jockey to be professional about his career, and his life, in that it reflects much about the company which sponsors him. It has to be a beneficial two way agreement.
Racing in SA, and elsewhere in the world, is going through a hard time. What suggestions could you make to get the racegoers back to the track and to follow horseracing as they once did? Because of technology I do not believe that the crowds will ever come back to courses as they once did. The July, Met and Summer Cup will still have big crowds but day to day crowds will be very small.
Do you think enough is being done to keep racing 'straight?' Yes
What is your philosophy on the racing game? Racing is a betting sport but you must enjoy it and have passion for it.
Do you ever advise friends or family to have a bet when you are riding a horse you feel has a really big wining chance? No. I believe the owner is entitled to back his horse and, apart from that, I do not want to put extra pressure on myself by telling people to back my horses.
How do you celebrate a big win? I am naturally a quiet guy so I like to spend time with family and friends. I like to leave racing at the racecourse.
If for any reason you had to give up being a jockey what else would you consider doing? I have always been very interested in law.
Outside of racing what is your biggest passion? Football. Arsenal is my team but they have been very disappointing.
Where is your favorite holiday destination? I haven't had a holiday in years. Being with family and friends is great with me.
What car do you drive? Audi A3.
Are most of your friends, connected to racing or is it a mix of those who are and those who aren't? I have a fair mix. Some jockeys and some not connected at all. This gives me a good balance.
‹ Previous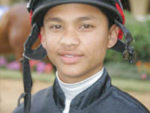 Grant Van Niekerk