Andrew Fortune.  Manne.  The Candyman.  Father.  Grandfather.  Recovering addict.  Mercurial racing personality.  Champion jockey.  While all these terms describe Andrew, none of them define him.  He has a new son, had a top 3 finish on last season's South African jockey log and a championship title in Zimbabwe, a new farm, sheep and wedding bells ringing in the not too distant future.
Firstly, why the move to Joburg?  "I came down at the end of June last year.  I just decided I was dead and buried in Cape Town.  Gary Alexander phoned me two weeks before and asked 'don't you want to come up for a couple of months?'  I thought, I've got nothing to lose."
"I made it my intention to finish last season in the top 5 (he actually finished in third spot), so I came up a bit early in June and it's going well.  But when I first came up, I was sh!tting myself.  I left my family behind and came up on my own.  I was worried where I was going to get a chance.  But joy lies after the fear.  I'm one of those that gets myself ready for when an opportunity comes and I've been lucky.  As Gary Player says, the harder you work, the luckier you get. I rode 172 winners in South Africa and another 27 in Zimbabwe and I was out with an injury for 2 months."
Gary Alexander
Andrew has formed a particularly successful partnership with the Gary Alexander yard.  "He's quite a religious man and I joked that they prayed for an angel and God sent me!" he quips.  "But my God, I love the man – he makes you believe your opinion actually counts.  He's got a good team and everyone gives their opinion.  You can really have your say and he will listen.  I think that's probably the reason we're having so much success.  And suddenly his stable has improved and the horses are going well and it looks like we can win a few features."
Joburg
"I love Joburg, I really do.  I think it is THE racing centre in South Africa.  Joburg is very competitive, but it's nice.  My work rate is very high.  In Joburg you have to work hard, but remember I'm a Ritalin child and I think the pace suits me.  I think I've shifted my addiction to racing, so I'm channelling it in a healthy kind of way.  I'm racing in Joburg, PE, Kimberley and Zimbabwe.  Most weeks I'm riding 6 times a week and I ride work 3 or 4 times a week as well, but I'm enjoying my racing."
"I'm riding for a lot of small stables – Stanley Ferreira, Clinton Binda, Lucky Houdalakis, Brian Wiid, Gary Alexander, Diane Stenger, Mike Azzie and even Geoff Woodruff has given me opportunities and I've ridden a good few winners for him.  But I don't take things for granted.  My motto is if you call me to come and ride, I'll turn up.  If you ask me to come and ride, I'll be there tomorrow and try my best.  I'm very different from the Andrew in Cape Town and I hope people's perception of me is changing."
Zimbabwe
"I've got a got a great job in Zimbabwe.  It is an absolute pleasure to ride there.  People treat you well and are so kind and you get paid in US Dollars.  I ride for the best stables and ride all the best horses up there – I had a 25% strike rate last season and was their champion jockey.  I won't give Zim up unless I'm in the running to win the SA Championship."
Championship
With a little over a month into the season, Andrew is one of our hardest working jocks, having clocked close to 200 rides and opening up a significant gap on the jockey log and he rode a fantastic 4-timer in Port Elizabeth recently.  "That was nice, ja.  I've had a great start and believe me, I'm very grateful.  I estimate if I can get up to around 1500 rides and a 15% strike rate, I will go close to 200 winners for the season.  If it looks as though I've got a shot at the championship in the last three months, I'll go for it.  I'd like to win it one more time.  I won it at 40 and now I'm trying to win it at 50!" he laughs.  "Listen, while you've got breath in your body, you've got a chance, and if you've got a chance, you've got to give it a go."
"But the jockey room is competitive, hey.  And if I have 2 or 3, they know it, I don't hold back.  Piere Strydom and I are great mates and he looks quite pretty on a horse.  The other day I thought, my god, I'm starting to look better!  It's hard to be humble," he jokes.  It is clear his confidence – and his sense of humour – are as robust as ever.  "Every ride I"m doing my best, but at the same time you can't win everything and if I don't, I have peace with that."
Opinionated
Andrew has a reputation for being outspoken and occasionally raising eyebrows with some of his post race interviews.  "Most of the time when I say things on TV, I'm as surprised as everyone else at what comes out!  Sometimes people can be quite negative about racing and that makes me sad.  Let's be honest, we're all human and we all make mistakes.  Lord knows, I've made a lot of bad decisions in my life, but I didn't make them on purpose.  We do what we think is right at that moment.  As jockeys, we're also human, we make mistakes and occasionally ride a bad race – that's life.  We all try our best, but nobody can be perfect all the time.  Like I said, I don't plan the things I say, but hopefully I bring a bit of humour and a bit of shine."
Behind every man….
Andrew met Ashley Panter in Zimbabwe when he was chasing the championship title in the 08/09 season and the two of them are due to tie the knot on 24 September.  "I couldn't do it without Ashley.  I always prayed to God that when I got to two years clean, I wanted to meet someone and then Ashley came along and she's really made my life so much better. She does all my rides and she does a phenomenal job, she looks after the kids, does all the homework – I think my job is easier!  People always think it's me sacrificing, but it's the ones around me.  They've got to get me up at 4am to catch a flight, pack my stuff, make sure it's clean and when one gets a little emotionally unstable, they're the ones who help neutralise me.  God has been great."
"I could never understand when I met her she said she wanted to have a child.  I said I've already got 4 kids from 3 different women – I've got the worst strike rate you can imagine!  Ag, now I've got 5 kids from 4 women," he laughs.
It's hard to keep a connection and the phone cuts out several times.  Andrew rings back apologetically.  "It's my ADHD.  The signal here isn't very good and I keep moving around."  He finally puts the phone on the table and turns it onto speaker phone.  'Here' turns out to be Andrew's new project.
Farm
"I've bought a farm in Joburg.  We've got 21 acres and we've got 180 sheep and about 45 babies.  We're hoping to take it up to 300.  We've just spent a day deworming and working with them all.  There is nothing nicer to sit out here on my days off and watch the babies run and play.  Hopefully in the next month or so we can move in."
While it's hard to imagine the Candyman herding sheep, he just laughs.  "My life has completely changed.  Ever since I got clean I've wanted to do something for recovering addicts to help them lift themselves, give back to the community, you know?  I find that addicts in recovery – at about 3-6 months clean – just need a little push and I've always wanted to do something to help.  Being around the animals is so soul healing ("therapeutic!" prompts Ashley over the speaker) and I think it can help people.  Now that we've bought the farm, hopefully in a year or two's time we'll be able to do that.  It's always been my ultimate dream and I'm finally walking towards it and I'm sure I'll be able to get it right.  Hopefully in a few years can leave racing with my head held high and be an example to my kids."
‹ Previous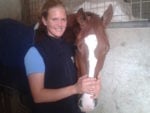 Margot Steyn