Margot Steyn is the daughter of trainer Piet Steyn and niece of trainer Andries Steyn. Having cut her teeth working alongside her father, Yogas Govender and Mike Miller respectively, Margot has recently taken out a trainer's license of her own and set up shop at Milnerton Training Centre. We dropped by for a chat to see what made her want to take the plunge.
The attractive young blonde is quietly, but firmly spoken and surprisingly articulate and self-possessed for her 28 years. Father Piet has been a trainer for over three decades now and although her mom is not involved in racing, Margot says she's always been a big support. Margot has a younger brother, who is currently at Boland College studying marketing, but the horse gene has definitely been passed along to Margot. Asked how she got into racing, she says, "I always looked up to my dad – I thought he had the coolest job in the world. I basically grew up in the stables with my dad. I had a Shetland pony that used to come into the office and eat the plants – you know how it starts," she laughs.
Horse mad
"If I think back, it probably started with the riding. I was not really a competitive rider, but I started riding at a very young age. In fact Spencer Cook, who is my sponsor now, was the first person to put me into a canter on a horse. I had an ex racehorse called What A Whiskey. He was by Justerini and I owned him for 16 years. That horse basically taught me to ride and I got to gallop him at the amateur races at the Darling gymkhanas."
"I used to ride work for my dad – not that I could really hold anything at that stage. My dad had a little grey horse called I'm Ready that was one of the first horses I got to ride work on when I was 10. I couldn't hold one side of him and I remember my dad saying 'Just keep straight' and then whooom, there we went down the track. The speed and athleticism is addictive, I think. I still ride work and still think it's the most amazing feeling in the world."
Why racing?
"It's always been an obsession. I originally wanted to be a jockey, but unfortunately circumstances didn't allow it – I'm too tall," she says ruefully. "But I've always loved the Thoroughbred and the idea of training such a beautiful animal to the peak of condition to perform on the track."
Margot matriculated at High School Jan Van Riebeeck and then obtained a degree in Human Resources from Stellenbosch University. From there she waitressed for a while and managed a restaurant in Melkbosstrand.
Margot says, "While education is important and I'm interested in the HR field as well, horses are my passion, they are what I love. When Dad said he was looking for an assistant, I immediately said 'I can do it!' Working with horses is the sort of job that makes you want to get up in the morning."
Knowing the ups, downs and hard knocks that the industry can dish out, did her father not try and talk her out of getting involved? "I think that's why he supported me going to 'Varsity first and getting something behind me. To be honest though, I don't think he would have been able to change my mind even if he wanted to, but he has been very supportive."
Starting out
Working with parents can be challenging, but Margot says it was not an issue. "When we got to work, he was not my dad, he was my boss. And when we got home, we left work at the yard. I worked with my dad for two years as a stable employee. My dad has survived in the game for over 30 years, so I learnt a lot. From there I worked with Yogas Govender at Plattner Racing for a while and then moved up to Durban and worked for Mike Miller."
Most important lessons
"I learnt my work ethic from my dad and I think it's important that you're always around and keep a close watch on your horses all the time. I think the most important thing is that if your horses are happy and they're sound, that's half the battle won. Mr Miller used to say, "You can put in, but you can't take out," and I think about that a lot."
Striking out on her own
"When I got back from Durban, Dad wanted to open a PE satellite and I was going to run it for him. It didn't work out in the end, so I went to Paarl to help Spencer Cook and his partner Tutti at The Rock stud. Spencer had quite a few 2yo's that he hadn't been able to sell – you know what the market is like at the moment – and I went to help them with breaking in and pre-training. We all got along really well and as we were going through the process, Spencer and Tutti decided they might as well race their own horses. They've put their trust in me and I have to say that Spencer and Tutti have been fantastic sponsors in terms of anything that their horses have needed. At the moment they are my only client, so I'm basically their private trainer, but they won't restrict me if other people would like to send me horses."
Up for the challenge
Margot sat her trainer's exam in June, which she took in her stride. "It covers all the things you learn in your four year training period. It's all things you learn by practical application as you go along. I had good teachers, so I felt quite prepared. Getting stables was a bit more difficult, though."
However, where there's a will there's a way and Margot has been allocated stables in the old section of the Milnerton training stables and has set up shop between Billy Prestage and Harold Crawford.
Has the training community been welcoming? "Initially when people heard I was taking out my license, they all asked 'Are you really sure? It's such a hard industry?' We're obviously all competitive, but everyone has been very welcoming and I'm lucky to have a lot of support from my family and friends."
Is she daunted by the challenge? "It's what I want to do," she says simply. "At some point you need to step out of your comfort zone and to be honest, there's never really a 'good' time – you've just got to get on and do it."
Brand Margot
Her training philosophy is based on hands on care and attention to detail. "Training racehorses is a very rewarding job. It is not just about working and training the horses – it's also the daily care and all the other things that are involved as well. I love my horses and currently have a small string of 13, so I can give each horse a lot of individual attention. The yard team is currently just myself and my head groom who came with me from the farm, plus a few grooms, so it's very hands on. I ride a lot of work myself, which gives me an opportunity to judge each horse for myself and gives me a good idea of where each horse is at and what it needs, which one doesn't always get from a work rider. Tyron Langdon also helps out with work riding when he can. He's a very good judge and gives me nice feedback."
Surviving the industry
"Keeping horses is expensive, so people need to understand that not every horse is a champion, or they are bound to be disappointed. In terms of managing clients, I think it is important to be as open and transparent about each horse as possible and manage expectations so that people have a realistic idea of what to expect and hopefully have some fun."
Has she set herself any career goals? "Everyone wants to win the big races, but at the moment I've mainly got babies and unraced horses, so I've got to see what I've got first. Right now I'm just trying to get them at their best."
"I'm just very passionate about racing and trying to make a success of that."
‹ Previous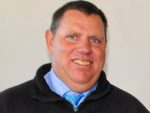 Alan Greeff