We chat to Anthony Oppenheimer about his homebred wonder, Golden Horn
Epsom's Investec Derby is considered one of the greatest flat races in the world. It is Britain's richest horse race and the most prestigious of the five English classics. It constitutes the very pinnacle of achievement for any racing enthusiast.
The Prix de l'Arc de Triomphe, popularly referred to as the "Arc", is Europe's most prestigious horse race. It is currently the world's richest turf race and second-richest horse race (behind the Dubai World Cup). The promotional slogan, first used in 2003, sums it up succinctly – "It's not a race, it's a monument".
Dream Run
To win one of these would be a dream come true for any owner. To win both, the stuff of fantasy. But someone who is experiencing that right now is Hascombe and Valiant Stud's Anthony Oppenheimer, not only the owner, but also the proud breeder of the turf phenomenon that is Golden Horn. With his wonderful colt winging his way to Keeneland for a tilt at the $3 million Breeders' Cup Turf this coming weekend, we caught up with him to see how the nerves were holding up.
"Oh the nerves are going quite well," he said cheerfully. "He had a good gallop on Wednesday. He's had a long season, but he's looking marvellous."
Family legacy
They say the right horse finds you, but in the case of Golden Horn, it was really more a series of fortuitous near misses that kept him running in the distinctive black, white and red silks. Dam Fleche d'Or is from a family that Anthony's father, Sir Phillip Oppenheimer acquired with the purchase of Hascombe Stud in 1965. It is the same family that produced their 1982 1,000 Guineas winner, On The House (who interestingly, also ran in the Oppenheimer silks after failing to make her 10,000-guinea reserve when offered as a yearling in 1980).
Due to a damaged hock, Fleche d'Or didn't race, but she produced two foals – a 2011 Champs Elysees filly named Eastern Belle, currently in training with Graham Motion in the USA, and Golden Horn in 2012. Fleche D'Or was subsequently entered on Tattersalls' 2012 Mare Sale in foal to Champs Elysees, selling to Norelands Stud's Harry McCalmont for 62,000 gns. Fleche D'Or subsequently produced a full sister to Eastern Belle, who was born with white patches on her coat. She was sold to Steve Parkin for EUR150,000 at the 2014 Goffs Orby Sale and is currently in training with William Haggas.
Regime change
While Sir Philip was an owner/breeder in the old tradition, putting everything he bred into training, since taking the reins in 1995 Anthony has taken a more commercial approach. "You have to sell some things," he says philosophically. "It's always been my policy to retain my best fillies and offer all my colts at Tattersalls. Occasionally I get left with a colt."
He remembers Golden Horn being fairly unremarkable as a foal. "He was not a particularly special foal. There was nothing wrong with him, but nothing right either. He was a nice foal and had good conformation, but he you wouldn't pick him out of the paddock and say 'my goodness, that's a nice foal.'" And as per the farm policy, Golden Horn was entered for the 2013 Tattersalls October. However, having sold well the day before, Oppenheimer decided to raise the reserve on his Cape Cross colt to 190,000 gns.  "There wasn't much interest, so I bought him back."
Racing career
Golden Horn was entrusted into the care of John Gosden at this Clarehaven Stables in Newmarket and the rest is more or less history. He had his first and only start as a 2yo over 8 and a half furlongs at Nottingham on 29 October 2014. Ridden by William Buick, Golden Horn cantered to post as second favourite. Initially running from off the pace, he made up ground, duelling up the straight with Storm The Stars to win by a head, with the third placed horse languishing 7 lengths behind.
In April 2015, Golden Horse started 2/1 favourite for the 9 furlong Listed Feilden Stakes with Frankie Dettori in the saddle. Again racing off the pace, he took the lead in the final furlong to win by 1.5 lengths from HRH The Queen's runner, Peacock.
Golden Horn stepped up in trip as well as class for the traditional Epsom Derby pointer, the 10.5 furlong Gr2 Dante Stakes at York on 14 May. With the services of William Buick in the saddle, the colt settled well at the back of the pack, swung wide around the field in the straight and drew away from stable companion Jack Hobbs to win by 2.75 lengths. Significantly the first three past the post were 13 lengths ahead of the 4th placed horse.
Investec Epsom Derby
The Epsom Derby is the race that every owner wants to win and Anthony confesses "All of my life I've wanted to win the Derby. It's what we all aspire to as owner/breeders." His father, Sir Philip, achieved a fourth place with Pelerin in Henbit's 1980 Derby after missing the break. However, the Derby is contested over one mile, four furlongs and 10 yards (or 2,423m for those of us who operate in metric), and Anthony had reservations about his colt's ability to stay. "I bred him to be a mile to a mile and a quarter horse. Before the Fielden Stakes Gozzie asked me whether I thought the horse would stay nine furlongs and I said I thought he was a miler," he recalls. "But he won his only two-year-old race over a mile, so I thought it was worth having a go and I was pleasantly surprised, especially when he finished the race strongly."
"After the Dante, I thought about it for a night. He wasn't entered for the Derby at that stage and I had to pay £75,000 to get him in. I wasn't at all sure he'd stay, but I thought he had a chance. It was a tremendous shock when he started favourite, but it was a very exciting day. I had a lot of family with me and it was absolutely amazing when he won." To make the moment all the more special, Golden Horn's win came in the 50th year of Sir Philip originally purchasing the land on which the colt was bred.
Luck
Golden Horn seems to have created a little golden circle of success around those associated with him. Trainer John Gosden has dominated the British Flat season this year and the colt's success has also helped the mercurial Frankie Dettori to rescue a career which was teetering on the brink a few short years ago. Racing people are notoriously superstitious and Frankie has employed some interesting tactics to make sure Lady Luck has kept smiling on him and Golden Horn.
On race days, the sound engineers are based in the weighing room and share a tea room with the jockeys. Pete Binfield, who has been a sound engineer since 1983, was on hand in 1989 when a valet called Dave Curry appealed for some tape to mend a tear in Willie Carson's saddle. He produced a roll of white tape which duly did the job and Willie won the Derby on Nashwan.
Before his 2007 Derby ride, Dettori was bemoaning his lack of Derby success and Binfied suggested a piece of 'lucky white tape'. After relating the Nashwan story, Frankie decided to wrap some tape around his right stirrup and Authorized duly stormed home. When Frankie was confirmed for the Derby ride on Golden Horn, he asked Binfield if he still had the tape and to bring it along on Derby Day.
In the 5-horse Eclipse Stakes over 10 furlongs of Sandown Park's right handed track, Dettori had another piece of 'lucky kit' – he ripped his left boot at Epsom, but insisted on having it repaired by his valet in time for the 4 July Sandown meeting. It seemed to do the trick. Employing a change of tactics, Golden Horn found the front just after the off and stayed there to post his 5th consecutive win after a thrilling duel with The Grey Gatsby.
Withdrawal
Bad weather forced his withdrawal from the 2015 King George & Queen Elizabeth Stakes and next time out, Golden Horn next lined up for the 19 August Juddmonte International Stakes. Perhaps spurred by his Eclipse run, Golden Horn raced keenly, and Frankie had to work hard to keep him off the pace. The colt seemed to struggle to find his customary stride, only settling in the final stages and going down to filly Arabian Queen by a neck to the roar of the York crowd.
It was back to front-running tactics for the 10 furlong Irish Champion Stakes on 12 September, which delivered a controversial finish when Golden Horn ducked out onto Free Eagle in the closing stages. Frankie had to think fast to get the colt straightened up and although there was an enquiry, the stewards ruled in their favour.
Prix de l'Arc de Triomphe
In this year's Arc, the talk was all about Treve and her historic attempt at a third win, however Anthony was unperturbed. "It was a tough race, but he got the ground he likes. Golden Horn likes good going and when we got it, I thought he'd win on that." The Arc is always an event, but this year's running was tinged with nostalgia as it was the last time it was being run with the old stand. "There was a phenomenal atmosphere. It's such an occasion and the French do it beautifully. It was extremely exciting."
Bluegrass Ambition
Anthony has sold 50% of Golden Horn and confirms that he will join the Darley stallion roster at the end of the year. However, there is one final piece of business to attend to first and Golden Horn will have his final start in the Breeders Cup Turf at this weekend's Breeders' Cup festival. Frankie has been engaged for the ride.
Asked why attempt America with all the travel and logistical challenges, Anthony replies "It's his last race. He's so well and the trainer feels that he's looking the same as he did before the Arc. We looked around and it seemed the only other worthwhile race for him."
"It's our first Breeders Cup, which is extremely exciting. John Gosden trained in the US and Frankie has raced there and won, so they're both very experienced compared to us. There are only a few other English runners, the rest are American. We stand a good chance, I think. We'll just have to keep our fingers crossed."
This year's Breeders Cup is hosted at the historic Keeneland Racetrack. Keeneland was the brainchild of a 10-man volunteer committee led by Hal Price Headley and Major Louis Beard. It was created as a community project, and one of the world's first not-for-profit tracks where proceeds were returned to the sport, with any remaining profits to be donated to local charities. Headley stated, "We want a place where those who love horses can come and picnic with us and thrill to the sport of the Bluegrass. We are not running a race plant to hear the click of the mutuel machines. We want them to come out here to enjoy God's sunshine, fresh air and to watch horses race."
It seems a fine place for Golden Horn to close off his career.
‹ Previous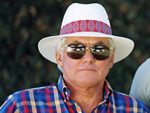 Reggie Knight