He is best known as the man who publicly offered his services to step in for Anton Marcus and ride champion 3yo Hawwaam in the Vodacom Durban July.
With his witty quips and disarming chirps in his post-race interviews, Aron 'Bonji' Xabendlini has broken the introverted Workrider stereotype and become something of the charismatic Andrew Fortune of the amateur riding ranks.
A 100% win strike-rate this season – granted from only two rides – has given the Tsolo born 30 year old a Frankie Dettori-type air of confidence and invincibility amongst his colleagues.
And his most recent victory at Hollywoodbets Scottsville on Sunday on the Dennis Drier-trained Mac 'n Scar was a polished and cucumber cool exhibition from the saddle of an off the pace and well-judged ride.
On the subject of professional confidence, Sunday's victory was tipped by Aron five weeks earlier when he won at the same track on What A Captain for trainer Mike de Kock.
"I'm riding here on 14 July. I will win easily. Make a note," he said during the What A Captain post-race interview with Deez Dayanand on 5 June – a moment which subsequently thrust the smiling wannabe professional jockey into the public domain – with the clip going viral – well sort of, in racing terms, anyway!
At the time, Aron added an entertaining angle to the mostly run-of-the-mill post-race interviews, coming across half boastful, but mostly likeable, at the same instance.
"I'm too strong for the workriders in KZN. They all call me Bonji at Summerveld when I ride work. I want to go to Gauteng in December and ride for Mike de Kock. He is a good man with good horses. I want to build my career and be successful for my family," he added.
After his smooth win on Mac 'n Scar, Aron was again in top form in the interview – but it was winning trainer Dennis Drier who recounted a memorable tale of the L'Ormarins Queen's Plate day some five years ago.
"No question – Aron is a top rider. In fact, he used to work for me. And it was at Kenilworth on one of my best days in racing that we saw him in action. I didn't have a horse in the race but Aron rode a filly for my former assistant Mike Robinson. The filly won for Gaynor Rupert. I won a feature apiece on the day with Master Of My Fate and Beach Beauty and that good horse Barbosa also won. A great day for all of us! Now years down the line, Aron has his first ride for me and he wins it like a professional," added the veteran Summerveld based champion trainer.
Talking to the Sporting Post this week, Aron – a lot less exhuberant and subdued on the phone than he is in front of the cameras – explains that his philosophy on life is that opportunities are created through one's God-given talents.
He was born on 12 May 1989 in the Eastern Cape village of Tsolo.
The keen horseman describes his hometown as a scenic place without 'too much economic opportunity'.
The scenic village  is 40km north-west of the old Transkei 'capital' of Mthatha. He proudly tells us that the Xhosa word Tsolo means pointed – and describes the shape of the surrounding hills which he gazed at during his carefree days at home with his Mother and two Brothers – where he dreamt of making a success of his life.
But school wasn't a walk in the park – Aron managed to pass the old Standard 8 and economic realities dictated that he go out into the world and earn a living.
He headed for the bright lights of the Mother City, where his first job in horseracing was with Mike Bass at Milnerton.
"I have been fortunate to have been mentored and encouraged by so many good people in my career. Mike Bass, Craig du Plooy, James Maree, Dennis Drier and my current boss, Dean Kannemeyer are just a few good men who come to mind. I try and do my bit. I listen and watch and learn. I run to keep fit and to maintain a good riding weight. I'd obviously love to ride more often and increase my earning potential."
Aron's present employer Dean Kannemeyer labelled him an enthusiastic team member and a hardworking individual.
"Good workriders are gold and key to any stable. Aron has a good seat and a natural balance. He has been with us for three years and I'd encourage him to use his talents to improve himself," said Kannemeyer.
Aron says he doesn't have a wife or children to support but sends money home.
He'd like to buy a car and live in his own house one day.
"I live here at Summerveld. It's comfortable but it would be nice to live in my own place."
The Workriders series nationally has proven a major success in uplifting career prospects for a previously ignored sector of the industry. The most high-profile graduates probably being Hong Kong-bound SA Champion jockey Lyle Hewitson and his Gr1 winning colleague Diego de Gouveia.
Trainer Mike de Kock, a great supporter of the series, says that it's an important platform to develop skills.
"It's a really great opportunity for the guys to strive to improve their riding ability – it also gives them a good reason to keep fit and importantly provides an opportunity to earn extra cash. And with the natural improvement in the quality of riding over the years, the races have gained in popularity and credibility with punters. So it's a win-win all round," he said.
A last word from Aron.
"I have my passport in my hand. I'd love to travel anywhere locally or internationally to pursue the opportunity of riding more. I'm not scared of anything and I know I can add value. I hope somebody will read this story and contact me. We make our own luck and create our own opportunities. Thank you for giving me the chance to open my heart and my mouth and tell my story. I hope somebody is listening!"
‹ Previous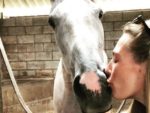 Don't Hanna With Montana!